Who Is Hosting The Big Guys?
Ever wondered who is hosting the most popular blogs in the world? The folks from WhoIsHostingThis.com did a small research to find that out, basing their list on the Technorati Top 100. You can find it out on the article Who Do Rockstar Bloggers Host With?.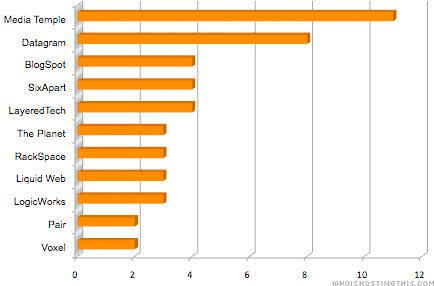 Media Temple is the clear leader, though I suspect that most of those blogs hosted there have a dedicated server. I am not sure how many are using the Grid solution. Curiously enough 6 out of 100 top blogs are hosted on Blogger!

Daily Blog Tips is there as well, but our host is being displayed as CyberLynk. A couple of readers asked me if I had moved away from Doreo. That is not the case, I am still a loyal and happy customer, Doreo is basically the Linux hosting division of CyberLynk.
Browse all articles on the Blogosphere category
18 Responses to "Who Is Hosting The Big Guys?"
prasanna

I want to start my own blog without subdomain as like,blogspot.com or wordpress.com,How i can start my own domain name blog?(example-www.prasanna.com)

Hussein | Random Blog

Where is hostgator under? I'm using hostgator 😀

Eric Martindale

I host using MediaTemple too, and while their support is certainly more than decent, I'm not happy at all with the product.

Good information to know, though.

Jerry Ong

I'm using Media Temple, does it mean i'm close to success 😛 Good research !

Osman S Borutecene

Well, here is a short article I have written a couple of days ago that discusses choosing a blog service:

Recently, I moved a couple of my blogs from wordpress to blogspot. The main reason for this was my hosting service. It has been nearly one month that I started using blogspot often as a blog service. Now is the time to make some comparison as well as suggestions on how to choose a host for your blog.

Well, let's look at what you want to do with your blog. If you trust your creativity and believe that people will enjoy reading whatever you write, there are two options in my mind. You should whether choose wordpress.com or blogger.com. Here is why: both services are very easy to maintain. If you want to monetize your blog, blogspot is the way to go because it is very easy to implement adsense on your blogger blog whereas this is not difficult but impossible on wordpress.com. WordPress.com doesn't allow publishing ads on your blog.

If you say that you are not creative up to par, you will need tools and facilities that will make it easier for people to visit your blog and read more and then come again. And this is usability. Usability in navigation, usability in content creation etc. In this case, I recommend you a self hosted wordpress blog. For a self hosted wordpress blog, I can suggest you liquidweb.

Blogger is better than a self hosted wordpress blog based on some criteria. If you are good in coding, then I would suggest you to use Blogger because they are also very scriptable. However, with the introduction of new Blogger layout system, you have to be en experienced coder because you need to know how to "escape" some of the characters between two blocks of Blogger layout tags. This is difficult for a beginner and very prone to syntax errors. WordPress is not the same. On any self hosted wordpress, you have thousands of different documentation in your hand and even if you are a beginner you can mess with code as much as you want without harming your blog too much.

And this is needed for any blogger because there is always the need for customization. You may want to display ads only on certain posts in certain categories on your blog or you may want some archive pages to look different than ordinary pages in your design. Then a self hosted wordpress is the way to go.

link to my post: How to choose a hosting service for your blog and why?

matjaz krajnc

I want to start with bloging but I dont know where to begin,any advice?

Daniel Scocco

@RealLifeLEED, I would suggest moving to your own domain and hosting as soon as possible.

The reason why Blogger is not a good option is because if you put your blog there, Google will own it, not you.

Apart from that huge problem, you also have far fewer options to customize your website.

RealLifeLEED

I'm relatively new to blogging, use blogspot, and am surprised at how universally negative you are about blogger… I'm curious why?

I'm still quite small, have about 1,500-2000 unique visitors/month and am currently running completely for free. I like how everything is via google, as it's all tailored and fits nicely together, and haven't had any downtime/slow server issues (yet)…

The reason I ask is that I'm at the point where I may start paying for hosting, as I have some tools I want to post for free that have the potential of generating a fair amount of traffic. This might be the wrong forum for this, but I'm curious what you'd recommend?

Osman S Borutecene

Okay, now I got it. Layered Tech is WordPress.com

Osman S Borutecene

I've thought that Scoble's blog was hosted on WordPress? An there is still their bar on the top? If it isn't hosted by wordpress.com right now, that's very bad PR for them because the wordpress bar at the top is very deceiving then.

Deepak

Yes, it is really astonishing that blogger is on No.3 !!!

Nick Stamoulis

Yeah definitely surprised about Blogspot being so high up there as well… this is definitely good PR for Media Temple..that's for sure 🙂

The How-To Geek

I'm using SoftLayer as my host, but I was a faithful MediaTemple customer for a very long time before that, and I still recommend them for most everybody.

I had to switch to a dedicated server since I've got a fairly active forum.

Steven Snell

Very interesting. I am a MediaTemple customer and I would be very surprised if these blogs are using the grid server. That's what I am using and my blog is at the limits of that server, and I'm obviously nowhere close to these blogs in popularity. I like the Who is Hosting This tool, but for this reason I think it's hard to gauge. I did some research a month or two ago with this tool but you have no idea what plan the other sites are using.

G

1and1? No?

Bilingual blogger

I'm stunned that Blogger/Blogspot is No. 3. Geez, louise.

SEO Genius

Something i haven't wondered suprisingly however something i found very interesting to read.

Thanks 🙂
Comments are closed.