Usually I don't write about personal stuff in this blog, but Darren inspired me to share what my home office desktop looks like. Blogs are based on conversations and relationships, after all, so I figured it could be nice to see where all the DBT posts are coming from.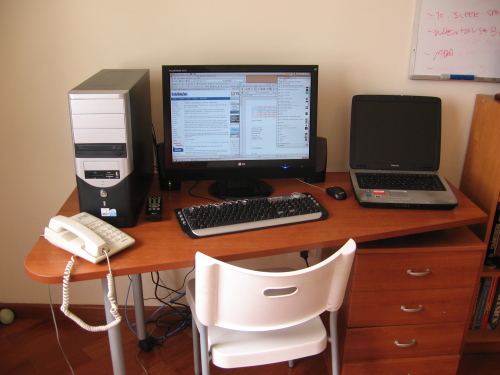 For the exigent readers out there, here is a tip you can take away from this post nonetheless. Invest in a big LCD monitor! I used to work on the Toshiba Satellite all the time, but recently I purchased a desktop computer with a 22-inches LG screen.
It is much easier on the eyes, and my productivity went through the roof. Before I needed to switch between different program windows all the time. Now I have enough room to leave Firefox, Gaim and OpenOffice open without problems.
Even if you need to save a bit of money to purchase a bigger screen it will be worth it. Heck, I am already saving to buy a bigger one!
Enough about me though. What does your desktop look like? Post it on your blog or send the picture to me via email (daniel AT dailyblogtips.com). If at least 10 people send the picture of their desktops I will publish a post with them next week.