What Does Your Desktop Look Like?
Usually I don't write about personal stuff in this blog, but Darren inspired me to share what my home office desktop looks like. Blogs are based on conversations and relationships, after all, so I figured it could be nice to see where all the DBT posts are coming from.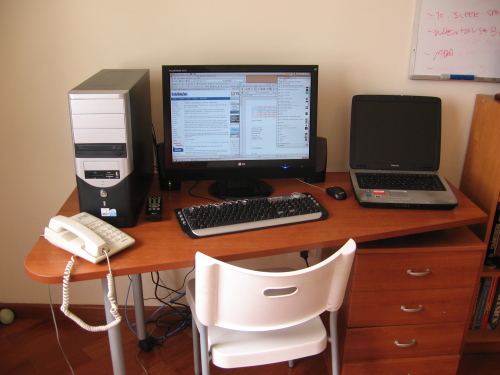 For the exigent readers out there, here is a tip you can take away from this post nonetheless. Invest in a big LCD monitor! I used to work on the Toshiba Satellite all the time, but recently I purchased a desktop computer with a 22-inches LG screen.
It is much easier on the eyes, and my productivity went through the roof. Before I needed to switch between different program windows all the time. Now I have enough room to leave Firefox, Gaim and OpenOffice open without problems.
Even if you need to save a bit of money to purchase a bigger screen it will be worth it. Heck, I am already saving to buy a bigger one!
Enough about me though. What does your desktop look like? Post it on your blog or send the picture to me via email (daniel AT dailyblogtips.com). If at least 10 people send the picture of their desktops I will publish a post with them next week.
Browse all articles on the General category
28 Responses to "What Does Your Desktop Look Like?"
medyum

Since I can't smoke a cigar in the house, my office is moved to the garage. It is the saddest thing you've ever seen. LOL

deepak

Yours looks really good, but I think you can more more space to put other stuff. I do it from my couch.

frantic

looks so neat

Carey

I switched to a Mac recently, but its only a 17″ screen. Before that I had 2 x 19″ monitors on my PC so I am definately saving for an upgrade!

That is one thing about macs, you can't just upgrade the screen 😛

Perry P. Perkins

Cigar Jack,

I feel your pain. My Montecristo's must be savored on the back porch as well, lol.

-Perk

acca

@Cigar Jack – They say Google started in garage, too. 😀 So, you can only smile now 😉

Perry P. Perkins
Daniel

Usually it is like that. You can even see a juggling ball on the bottom left corner of the picture :).

landhomefunding

I agree being able to see what you type is very helpful. I bought new glasses and saved the price of the monitor. I then took that money and bought a chair. When my back doesn't hurt, my eyes don't cross from the pain and my vision improves.

dcrmom

Very neat. But here's the real question. Is it ALWAYS that neat, or did you just clean it up for this? 😉

I posted mine!

Juho Mäkinen
vromo

Hola si desean ver el mio.Hope you dont takeme like spammer:

Seemy Mexicann desk jejeje:

Darren

very neat! thanks for sharing

TrishaLyn

I dig it… very simple, yet effective. My work desk is close but my home desk (i.e. the land of few deadlines with many projects) is atrocious!

Is there an Ikea near you? They have some good chairs that are nice and comfy.

And two monitors is what I rock at work… LOVE IT. 34″ (2 – 17″) of HEAVEN!

Rafael

Wow show de escriório meu!

Napster

Just trying to improve blogging capabilities by insuring health and mental capability. 🙂

Daniel

Napster, who said getting a new chair would improve your blogging capabilities?

It certainly should help you have good posture and stay comfortable through out the day if you work in front of the PC.

Napster

Improve blogging capabilities by buying a new chair. What's the wold comming to…

Daniel Bates

Thanks for sharing Daniel. We moved from a 3 bedroom to a 2 bedroom home and my office is now on the side of our livingroom. It's the first thing you see when you walk in the door, but it's my livelihood so it must stay.

custodio

I actually did a post about my workspace some time ago. But now I keep the pictures in my about me page.

Blogging can´t just be about what your readers see, it the style that counts style that counts

The Geek

I don't have a picture of my desk, but I have three 20″ monitors on an Ikea galant desk hooked up to three computers(mac,linux,vista) with a single keyboard/mouse shared with Synergy. It's the ultimate geek setup.

I highly suggest the dual monitor option… with a gigantic monitor you can't move things over to the side as easily.

Daniel

I think I could do well enough with a single 30-inches Apple screen.

But two 22-inches side by side could be a good and cheaper option.

Jeremy Latham

Now put your tower on the floor and go get yourself a second monitor. Having two monitors will make as big a difference in productivity as when you switched from the laptop to the desktop!

I wrote about the advantages of dual-monitors a couple of years back – there's a good link to what Bill Gates' setup is like.

Char Reed

Hi there! I saw this post and had to reply with a pic. I recently got a new, smaller desk last month and I was so pleased with it! I posted pictures of it in my personal blog and my friends didn't seem to be quite as enthralled with it as I am.

I'm mainly an illustrator and concept artist, so my desk is relatively clear of debris except my phone and my Wacom tablet. I have an under-desk keyboard tray and I really like my keyboard and mouse being tucked out of the way when I don't need them, but when I want to get my new upcoming blog ready, I can easily pull out the tray and get to writing. My iMac is "all-in-one", so there is no tower and it's quite a nice neat package. Behind the 24″ screen, I have a scanner, my digital cameras and wires tucked away. Out of sight and out of mind until I need them. It's a very pleasant working environment. 🙂

marco

Definetly get a new chair ! 😀

Cigar Jack

Since I can't smoke a cigar in the house, my office is moved to the garage. It is the saddest thing you've ever seen. LOL

Daniel

Bitten, trust me, it is worse than what it looks like :).

You are right, it is definitely time to invest in a good chair now.

Bitten

Your chair looks kind of uncomfortable and cheap. You should invest in a new chair if that one is as bad as it looks like 😀
Comments are closed.