Welcome Mumbai Mirror Readers
Yesterday one of our Indian readers emailed me to let me know that Daily Blog Tips had appeared on Tuesday's edition of the Mumbai Mirror. I was quite surprised, as this is probably the biggest mainstream coverage I have had. The blog had been mentioned on some small newspapers and magazines, but the Mumbai Mirror has a circulation of around 1.5 million people according to Wikipedia.
Here is a screenshot of the digital version: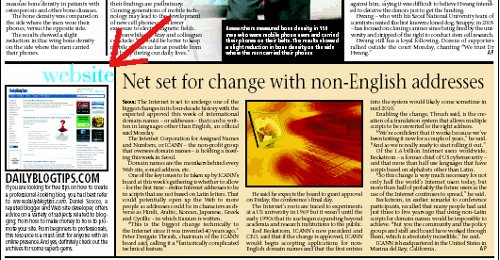 If you are visiting this blog for the first time after seeing it on the newspaper, welcome! The "Categories" on the left sidebar should give you a good idea of the topics I cover, and if you want to get a quick glimpse of all the stuff already published on the blog check the Archives.
Last time I checked India represented almost 4% of my traffic. I find it flattering, given that Indians are among the most tech-savvy people in the world.
Browse all articles on the General category
25 Responses to "Welcome Mumbai Mirror Readers"
Anil

Mumbai Mirror – 19 May 2010 Front Page – Cop creates panic in his own Thana –

Says the cop committed a blunder by putting a confidential information on notice board of the police station!!!

What we should term for putting the detailed information including the confidential one in first page of the news paper?
Media dont have the responsibility for the safety of the country??

The terrorists would not have got the tip from a police station's notice board.. Now??

Vishal Sanjay

Well i guess 4% of your traffic comes from india not due to its tech savvy people, but due to its high population. Most indians have no idea that they can make money online. Well yes india is getting a bit tech savvy but not a lot.

Eric C

Congrats Daniel!

One thing I would say is that "old media" is still a powerful source of publicity. I think we tend to forget that from time to time. It is especially useful for writers of non-tip based blogging.

Manny

Hi.
Noticed your site on Mumbai Mirror.
I am reading up every article on your blog, and i love the content.
I have a blog, and there is a lot i can learn here… 🙂
Keep up the good work!

Lia Qistina

Yeah, i agree with you.

My Indian friends here in Malaysia , most of them are tech-savvy guys.

Congrats!

Many of your posts are very helpful..thank you.

Mighty

Congratulations for this! 🙂 This shows that lots of people benefit from your posts.

Ajay

Congratulations. Did you notice a spike in traffic because of this?

Me for one, didn't notice any such thing when I had one article featured, of course it wasn't so mainstream. It was a movie review

Zaheen Bagasrawala

Hey Daniel,

It feels cool to know that I'm one of your Indian Fans that has been reading DBTs daily, long before it appeared in Mumbai Mirror. Yayy! I'm one of the seniors… 😀

SATISH

Happy to know that DBT was featured on "Mumbai Mirror". Congrats Daniel.

Himanshu

Hi Daiel, first of all thanks for the kind words for my country and the people here. Yes we are the most tech savvy and love to read Dailyblogtips daily :). Congratulations for all your achievements.

imagingdesk

Nice to see you got covered in Mumbai Mirror. Congrats. I read your blog & subscribed email regular.

Bob Bessette

Congratulations Daniel on the publish in the Mumbai Mirror. It just shows that hard work pays off!

Best,
Bob

Malini

Woohoo! Congratulations Daniel – This is awesome.
Doesn't it make you wanna go check out Mumbai? 🙂
You would totally enjoy it.

Tom – StandOutBlogger.com

Congratulations! It is great to hear about blogs getting mainstream media attention.

Daniel Scocco

Thanks guys.

Hesham

Congratulations, this is one good news for today! I am happy for you Danial!

Arun Basil Lal

This is so good to know, Tons of love 🙂

Dana @ Online Knowledge

Congrats friend. Newspaper coverage only mean that your blog is great.

Moreno

Daniel,

Congrats! This is like when my blog appeared on CNN and the front page of the L.A. Times. It is a great feeling.

Oh, wait. That was a dream I had….dang. Nevermind.

Anyway, you deserve this Daniel you work hard and provide lots of value to us readers. I know I have learned a lot from this blog personally.

Available Domains Blog

Congratulations on getting featured in the Mumbai Mirror.

Daniel Scocco

@Debojyoti, yes there was a bit of an increase on Tuesday on the number of visits.

Idrees

I saw the blog featured and therefore came here, a very new reader. Your blog looks very interesting. As I have only recently started my own blog, I hope to improve by the tips here. Thanks very much for them. And congratulations for being featured in the paper.

Indians the most tech-savvy people? Of course! We know every gadget by heart. Better stop bragging I suppose… 😀

Mr. I

Hmm…. I did not see DBT in the paper! But then, the paper does not circulate here(exactly 1414.44 km away from Mumbai! 😉 )

Congrats on appearing in such a big publication.

I am also an Indian and a regular reader of DBT for more than 1 year.

Indians are among the most tech-savvy people in the world.

Indeed! 😀

Debojyoti

Hey Daniel
Nice to see you got covered in Mumbai Mirror. Congrats. BTW I read your blog for about 2 months now. Keep it up. Did you get any increase in hits?

Debojyoti

Rahul Jadav

Hey Daniel i live in Mumbai and i love reading Mumbai Mirror. I was happy to see your blog featured there while reading the paper
Comments are closed.