Website Traffic Series Part 19: Using Cross Feed Promotion
Last week we talked about how you can exchange links with partner websites to create a small network and share traffic among its members. Apart from your website, however, you can also use your RSS feed for this purpose, and we will cover this tactic below.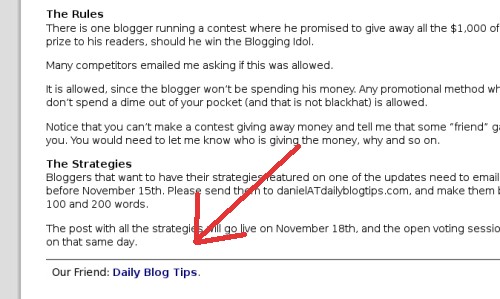 The concept: Just like you can exchange links on your website, you can do the same on your RSS feed. Suppose there are three bloggers (A, B and C) that want to use the cross feed promotion to gain some traffic.
Blogger A would place a message like "Visit our partner site Blog-B.com" on its RSS feed footer. Blogger B would do the same but with a link to Blog C on its footer, and Blogger C would finally complete the loop linking to Blog A.
The readers of each of those blogs would probably notice those footer links, and some would end up clicking to check what that "partner" blog is all about.
Notice that you could also use different link exchange structures, like all bloggers would place a footer link to all other bloggers on their RSS feeds.
Does it work?: Yes, although just link with website link exchanges, it depends on the size of the RSS readership of the involved blogs, and on the relevancy of the topics.
The higher the RSS reader base and the relevancy, the more clicks each of the partners will get out of the deal.
I used this strategy myself on different blogs and on different stages of their development, and it was beneficial most of the times. If the topics are related, there are good chances that the incoming traffic will stick around and perhaps even subscribe to your Feed.
How to get started: Identify some blogs that have a similar RSS readership and a related or complementary topic, and approach the blogger to see if he or she is interested on this kind of promotion strategy.
You could start with a period of one month to test drive, and after that you could decide if it is worth to leave the RSS feed links there or not.
On the technical side, I recommend this RSS Footer plugin for handling the links. It is very easy to install and to use.
Over to the readers: Have you ever engaged in a cross feed promotion deal? How did it work? Do you plan to try it in the future?
Website Traffic Series
Browse all articles on the Promotion category
12 Responses to "Website Traffic Series Part 19: Using Cross Feed Promotion"
medyum

thank you very much
nice article

Medyum oguz

Stephen

Hi,

Your post is awesome!I will try this and get back to you soon. Thanks for sharing such informative post.

julianwp

Wow really smart… I tried and succeed practicing your tips by RSS Footer plugins…:)

Gerry – http://www.increaseweb-sitetraffic.com

Great Post. Thanks for the information.

From my experience, getting free traffic can be tough. It takes a lot of work. You might spend 2 or 3 hours building traffic and only get a few hits.

Any other tips are highly appreciated.

kempton

thanks for the tip, I'm just starting out so I'll take anything I can.

Young

It is useful any way.

proson

thanks for your post Daniel, may be I can try that tonight.

: )

Roberto Montanez

I actually though of something like this for blog reviews or links as well. Thanks for the tips.

Sohail

Something new and something nice 🙂 will try it for sure thanks Daniel

Ben

I've used it to promote several of my own blogs. Personally, it looks alot better than the ads and though I don't have click thru stats for the promo links, I think they do better than ads.

Shoto Azikuri

Hmm, it is something new, i heard about it first 🙂

SATISH — Technotip.org

Thats a good idea..

Let me try it out..But need some honest guys with same (or even more 🙂 ) subscriber count as mine.
Comments are closed.