Web Developer Firefox extension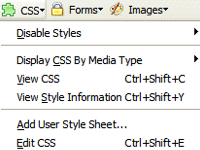 This is an essential Firefox extension for website and blog owners. The plugin will add a toolbar to your Firefox, containing an extensive list of trivial and advanced features. Among other things the Web Developer extension will allow you to:
disable cache, cookies, meta tags, redirectors, colors, etc.
display image attributes, link details, access keys, forms, etc
get information about the css, divs, anchors, block size, etc
validate css, html, feed and links
resize the window screen
outline tables, frames, block elements, etc
You can download it for free here.
Browse all articles on the Software category
8 Responses to "Web Developer Firefox extension"
Daily Good Tips

Wow web developer firefox extension is very useful for our…like the name it can develop our web be better.

nokia

Thanks! Very good extensions!! IE – suck!!!

Madhur Kapoor

I also love it ..

Webbie

Seconded.
Very very recommended.

Carey

Great shout, I love this extension and it makes it so much easier to troubleshoot websites.
Comments are closed.