Want to Improve Your Writing Skills In The Next 10 Minutes?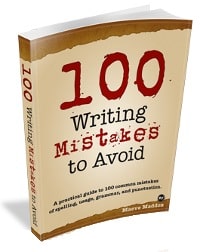 As most of you guys know, I own another blog called DailyWritingTips.com. A couple of months ago I was talking with my editor there (Maeve Maddox, the person with the deepest English knowledge I have ever met), and we started discussing how an average person can improve her writing skills without spending too much time at it.
We figured that the best way is probably to learn and avoid the most common English mistakes. Things like exchanging less with fewer, misspelling its as it's, or placing commas where they are not supposed to be.
Long story short, we decided to write a book with a compilation of the 100 most common writing mistakes of the English language (Maeve actually wrote it, and I helped with the formating and production). The title is: "100 Writing Mistakes to Avoid: A practical guide to 100 common mistakes of spelling, usage, grammar, and punctuation."
The book was launched a couple of weeks ago, in digital format (i.e., PDF), and the feedback has been great. We are offering a full money-back guarantee, and out of hundreds of copies sold only one person asked for the refund so far. On top of that a university in the United States contacted us, stating that they might be interested in adding the book as a recommendation for the English students.
How much does it cost? Right now we are offering a 50% discount to promote the launch, so you can get your copy for $9.99 instead of $19.99, which is the normal price. I believe any person would benefit from this book, and bloggers even more, so check out the sales page to get more details or order it.
As I said, only the digital version is available at this point, which means you'll be able to download the book in PDF format right after completing the order.
Browse all articles on the Writing Content category
21 Responses to "Want to Improve Your Writing Skills In The Next 10 Minutes?"
Faris Pallackal

I never knew that DailyWritingTips is ur blog. BTW that blog looks so neat because there is no Google Text Ads in beginning of all articles.

cmdweb

Looks like a great idea. I know I still make silly mistakes unconsciously and am sometimes taken aback by my own stupidity when I read my own work later. Basic revision never hurt anyone.

Voeding

Great Job Daniel, this blog also be one of my subscribe blog.

Derek Orton

I visited here to read about writing skills but, not only found that useful, I also got interested in CPV as well as the Daily Blog Tips.

Many thanks, well worth a visit.

Justin Germino

One of the biggest issues with some blogs is the number of typo's and grammatical errors. This really can hurt your credibility and reputation as a writer. I have also seen many more teenage bloggers in the online field and some write very well, but others "write like teenagers" and it shows in the quality of their articles.

John Sherry

The No.1 mistake for me is that writing is a skill. Just because we can all write that doesn't make us writers just as we aren't all athletes because we can run or great lovers because we can kiss. We need to keep learning and improving and books like this help do that. Spot on stuff.

Keith Davis

Hi Daniel
Sounds like a great idea.
My knowledge of English grammar is atrocious… probably because we no longer teach English grammar in schools.
I'll take a look at your sales page.

jaco

I want to thank you for helping me improve my writing skills. I receive a daily writings tips email ….invaluable. Looking forward to the new Ebook.
I still make mistakes in my writing, but it's improving. Thanks ….

Continued Success ….

Jaco

Simon Croft

Great idea, especially if you want to write articles for the more 'select' directories where grammar and spelling matters just that bit more.

Many thanks

Simon

Alan @ Work From Home

While you cannot change a person's writing style or technique in writing you can certainly do so with making him avoid silly mistakes to avoid. Most readers get turn off with such mistakes. Good book to have.

LNicole

Congrats on the new book! I didn't know about the other website, I will definitely have to check it out.

Blog Angel a.k.a. Joella

Continuing education is one of the key things for bloggers who want to improve their online performance. Writing is crucial to blogging and this book should be a big boon to anyone struggling to polish their writing skills.

Daniel Scocco

I would say writing is crucial for anyone there days.

Sheila Atwood

I didn't know you had Daily Writing Tips. I just went there and it is a great site! I love knowing and using the right meaning of words.

Dev | Technshare

Awesome work. You two are doing awesome Job.

Thanks for sharing.

~Dev

Gary David | Build Your List Fast

Thanks Daniel. This could really help a lot of bloggers, writers, article marketers out there. its ooopss, I mean, it's really good to improve our writing skills, even if you're already a good one, there are still some points that you need to work on.

Kind regards,

Gary

Daniel Scocco

Yeah that was our goal.

GoosPoos :: Web & Software Technology Blog

Daniel,
Congratulation for another feather in your venture.

Cheers,
Divyang

Jacob Share

Good work, you two. It's a good idea and the ebook looks great.

Nabeel | Create Your First Website

Yeah. There are many writing mistakes made by people. So this should help improve our writing.

Daniel Scocco

Thanks man.
Comments are closed.