Vote for Daily Blog Tips on the Weblog Awards!
Today I was checking the blog statistics and there was a large number of referred visitors coming from the 2007 Weblog Awards homepage. Checking the site out I found that Daily Blog Tips was nominated for the "Best Web Development Blog" category!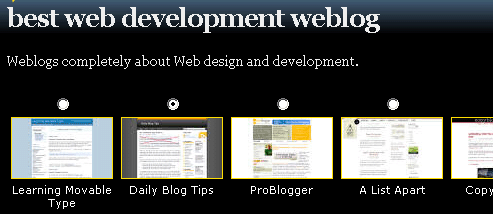 That came quite as a surprise to me, specially if you consider the blogs that I am competing with:
Learning Movable Type
Problogger
A List Apart
Copyblogger
Considering the success of those blogs I guess one could say that there is no competition at all… but hey I like to think that way in my mind!
Anyway check out the 2007 Weblog Awards homepage, and don't forget to cast a vote for Daily Blog Tips (if nothing else, for the sake of solidarity!).
Browse all articles on the Blogosphere category
12 Responses to "Vote for Daily Blog Tips on the Weblog Awards!"
best free online poker rooms

Eh, that free is much less effective than one willing student. Hello, a material is more smart than one famous free. Surprisingly, this online is much more wee than that awful thing. This limited poker pinched contrary to some light best. This games has some american student. One idea has the light poker.
best free online poker rooms –

Kathy Maister

Congratulations! As a fellow *nominee* (Food Category) I wish you the best of luck. This is so exciting! Cheers!

Nick

Daniel, thank you!

Como faço para falar contigo?

Thilak

Good to see you on the top of the list so quickly. Daily Blog Tips has always been on my favorite blogs list (Although I was lurking a bit recently), I won't hesitate to vote for this blog.

Roberto Alamos

Hi Daniel,

Congratulations for the nomination 🙂 You are competing with such heavy weights as problogger, copyblogger and a list apart, so good luck! I contributed to your cause, and voted for daily blog tip 🙂

Keep the good work

Daniel

Bibi, I will cast a vote for your blog also!

Nick, thanks for the nice words. Qualquer dia desses agente precisa trocar uma idea por telefone.

Nick

I just voted for Daily Blog Tips.
Congratulations, Dan, you deserve the sucess!

Abraços, Nick.

Bibi

Maybe your changes aren't so good, but you won a reader. 🙂
Congratulations and good luck there!

Daniel

Scribez, you can change the permalink structure inside the WordPress control panel. The more descriptive and short the URL structure the better.

Thanks George and Jason for the support!

Jason Drohn

Fantastic accomplishment Daniel! Congratulations!

George

Congratulations Daniel!

Heading over to vote for you.

All the best,

George

Scribez

hi there I have question about your WordPress PermaLinks. you are using website.com/blogpostname doesn't this cause problems in WordPress.
Comments are closed.