DBT is research-focused. When you buy through links on our site, we may earn an affiliate commission. Learn more
Jumping ship into a program that promises to get you to the goal you have been obsessing about can be nerve-racking, right?
This Vert Shock review provides a breakdown of the pros and cons to help you make that decision.
Created by professional athletes, Vert Shock is a program that guides you on training your muscles and maximizing your performance.
Not every individual has the ability to jump high. However, an investment in an efficient training program with muscle strengthening exercises can go a long way in adding several inches to your vertical leap.
Regardless of the sport that you play, whether it's volleyball, soccer, basketball, or football, you need to be healthy, fast and have a high vertical leap.
Your vertical jump is among those qualities that play a significant role in your life as an athlete.
In this Vert Shock review, we will debunk what this program is all about, from who founded it, what it involves, its pros and cons, and to who is most suitable for it.
What is the Vert Shock Program?
The Vert Shock program is an innovatively effective program for vertical jumping. It consists of a variety of strength training and plyometric exercises coupled with dunking technique training.
The program does not require any gym equipment and promises an increase in vertical jump height by approximately 1 to 15 inches within eight weeks.
By the end of your first week, you will have started to jump 3-5 inches higher; by the second phase, you will have added 9 to 15 inches to your vertical leap in the second phase.
The final step teaches you to solidify the skills so you can apply them anywhere.
Who is Adam Folker?
Adam Folker is the primary creator of the Vert Shock Program. He is an NCAA basketball player that plays for UC Irvine.
Adam's vertical jump was a mere 14 inches when he just began, and with the proper work ethic and the right strategy, he grew his vertical jump to 32 inches.
Together with Justin Darlington, the two came up with an 8-week program promising to turn any ordinary player into a cool dunking champion.
What You'll Learn From The Program?
Here's a look at what you'll learn from the program.
While compiling this Vert Shock review, we found the main advantage is that it is straightforward to follow, and the exercise set up works at home with minimal need for gym equipment.
How Much Does it Cost?
As of this Vert Shock review, the full Vert Shock Program goes for $134, but you can get it at a one-time price of just $67.
Adam Folker put his money where his mouth is by giving a 100% money-back guarantee. If you do not like the program's results, just email the provider asking for a refund.
You'll have 60 days from when you purchase the plan to check and do the program and then decide whether you got the promised results or want to get that money back.
FAQ's
There is a lot to learn about the Vert Shock program, more of which you'll understand once you get into the program.
Before that, here are some frequently asked questions that may have probably crossed your mind while going through this Vert Shock review.
Yes, the program's design teaches you how to use your muscle reflexes and explosive power to make high jumps and fast sprints.
Ideally, yes, with a 9-15 inch increment in your vertical jump, you definitely will.
Yes, extremely beneficial to beginners, since they have poorly trained skills they need to unlearn before learning the program.
You have 60 days from the time of purchase to test the program and reach out to the team for 100% money back if you don't achieve the guaranteed results.
Who Should Buy The Program?
You probably imagine that the program is only for basketball players, which is partly true because the program's making took place with them in mind.
However, athletes can benefit from discovering how to tap into all their explosive abilities through training their first twitch muscle fibers.
For instance, marathon runners could gain much from the Vert Shock Program, since it would enable them to capture their explosive energy when racing.
For example, you can use a good leap when trying to defeat an opponent immediately before the finish line.
If you are a jumper in your sport, this program will do a lot for you. These include:
While researching this content for this Vert Shock review, I noticed that the exercises done in Vert Shock are for any player regardless of the skill level.
There is no special equipment required, and they even have information on how you can approach the gym machine exercises at home.
Vert Shock is a lifesaver for amateurs and young athletes since it saves them from incorrect training years.
If your vertical jump is already pretty high, you most likely use a couple of the Vert Shock techniques even without knowing it.
Doing the program right away will help you maximize your potential and performance.
Final Verdict
If you are seeking a significant improvement and turnaround in your vertical jump while using minimal equipment, Vert Shock Program is an excellent choice for you.
Results will vary from individual to individual, but the 9-15 inch margin guarantee isn't sounding too bad, is it?
As discussed in this Vert Shock review, this is a very jump intensive program compared to other programs that focus on general strength building.
So, if you have any joint issues, this one might just not be the one for you.
Vert Shock promises to get you up to a 15-inch increment in your vertical leap in just weeks, as it trains you on how to fast-twitch muscle fibers inside your body when needed.
---
There are no reviews yet. Be the first one to write one.
Vert Shock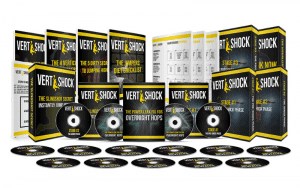 Vert Shock promises to get you up to a 15-inch increment in your vertical leap in just weeks, as it trains you on how to fast-twitch muscle fibers inside your body when needed.
Product In-Stock: InStock