Use Google Safe Browsing For A Quick Malware Check
If you want to perform a quick malware check on yours or any other website, you can use the Google Safe Browsing tool. You just need to visit the URL below and change the domain name in the end:
http://www.google.com/safebrowsing/diagnostic?site=dailyblogtips.com
The little tool will tell you if Google has detected malware on the website, how many pages were tested over the past 90 days, and how many networks (servers) are hosting the site.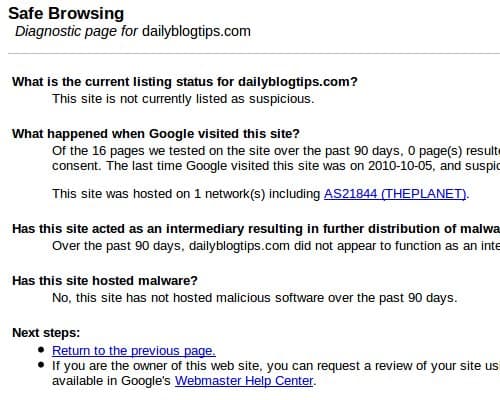 Notice that the Google Safe Browsing technology is embed in the Chrome and Firefox browsers too, so if you try to visit a website that is currently flagged for malware the browser will also let you know about it.
Browse all articles on the Web Tools category
18 Responses to "Use Google Safe Browsing For A Quick Malware Check"
BlogTipss

Google Safe Browsing tool is one of greatest tools ever. Now I ll use it regularly. Thanks for tip

Virtual Avatar

Thanks for the nice share Daniel. This will make browsing safe for us. I use chrome often, but I can also advice other to use it. 😉

Web Marketing Tips

Yes this one is really useful to get extra details about any website.

Link bookmarked.

Farouk

that's very useful
thank you Daniel 🙂

Junaid

this is a good tool… will use it regularly..
thanks for sharing

Craig

Well blow me out of the water. How amazing is that?

2 days ago I got the Google notification of Malware on my website and have that notice. I have spent about 4 hours now trying to get rid of it and finding the backdoor.

So..I am currently working on fixing it and I get this from Blogtips…are you stalking me?

Rahul @ MazaKaro

Hey thank you for this…A lot of malware in my day to day activities….This would help me

Joshu Thomas ( OC webmaster Blog)

nice information Dan..

thankyou
Josh

Sathish @ TechieMania

Hi Thanks for this info. I know this tool very well. But sometimes, this tool is blocking websites which contains no malware. So, I think they need to update their policies or something to flag only the malware sites.

Allan Ward

This is a great idea. I'd expect my antivirus software would tell me if I was visiting one of my sites and something was wrong, but probably only if I was on the affected page.

Just checking my sites out now.

Allan

jason

Very cool tip. I've often wondered on how to check for malware, as I hate when I get it on my own system, so this is extremely helpful. Thanks and good job!

Jamie Northrup

Thanks for the tip Daniel, of my 9 websites, 8 show as not being visited by Google but is fine in Webmaster Tools, so I'm guess it's specific to visits looking for malware.

On a lighter note, did anyone try using it to check google.com…

Malicious software includes 94 exploit(s), 11 trojan(s), 5 scripting exploit(s).

Not shocking news, but funny lol

Alex Dumitru

You can also check it out in Webmasters Tools 🙂

Stephanie – Home with the Kids

This tool just about gave me a heart attack. Not for malware, but because it claimed Google hadn't crawled one of my sites in the past 90 days. Checked with Google Webmaster Tools and it all looks fine, shows plenty of crawling, and I can see recent pages in the index, so I'm not sure what's up with that.

Sujith

Check for any spelling mistakes.

Stephanie – Home with the Kids

No misspellings – I copied and pasted the link I used for the malware check into the browser, and it took me to my site.

Keith Davis

Thanks for the quick tip.
Free malware check – can't be bad.

Kamal Hasa

Your search result for your website will tell you if your site is infected or not anyways 😉
Comments are closed.