Try the RankSense SEO Software for 30 Days Free
The guys from RankSense are having a promotional campaign where you can subscribe for an account with a 90-days money back guarantee (and it won't be charged for the first 30 days).
So what is RankSense? It is an all-in-one SEO software that brings 12 integrated tools to optimize most aspects on your blog or website. I exchanged some emails with Hamlet Batista, the creator of the software, and the guy knows his SEO. He has made millions of dollars in search marketing and affiliate marketing deals, in very competitive niches like the Viagra one, just to give you an idea.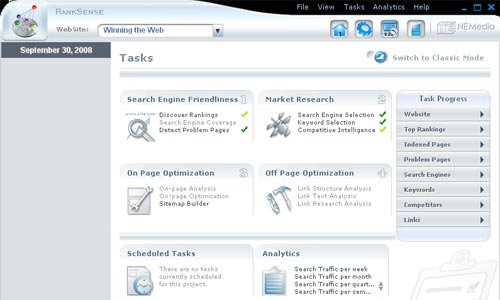 Here is what you will find inside the software:
an advanced keywords research tool (search for keywords related to your content, to your competitors, by topic and so on)
keyword analysis (estimated traffic, competition and so on)
competition analysis tool
website SEO check (the software will scan your websites to see if the essential SEO factors are there)
link structure analysis (where your links come from, what anchor text they have and so on)
link building tool (what are the best places to get links)
The interesting thing about the RankSense software is that their approach is towards simplicity and time saving. Some SEO tools there are really complex and have steep learning curves. RankSense, on the other hand, was developed to be as user friendly as possibly, so even beginners can work on their SEO efficiently.
You can try it for yourself though and see if you like. They require a credit card on the registration, but you won't be charged for 30 days. If you find that the software is not what you were looking for, you just need to cancel before the first 30 days and you are good to go. Their basic plan starts at $25 monthly as well, which is considerably cheaper than some competitors. Click here to check the sales page with the registration link.
Browse all articles on the SEO category
11 Responses to "Try the RankSense SEO Software for 30 Days Free"
Anam

Much appreciated – I wasn't aware that there were tools like this available. Thanks a bunch

ayman

good work

Rakesh Sharma Jack

Looks too good to be true…but as with other things that look too good to be true are often fake, I hope this one actually works??? Is there any one who has used it and satisfied???

Manfred

Wouldn't that just stick us all in the same sandbox?

christmas flowers

I have tried many tools of other websites. But the effective results are ot that much expected. Any way I will try with this also.

Daniel Scocco

@Metin, I talked with Hamlet, and it does support Typetap and 90% of the blog platforms on the market.

all top blogs

Dan,

Thanks for sharing. I will try it out.

metin

I understand that RankSense is not Typepad friendly. Are there any SEO tools you would recommend that are Typepad compatible?

Thanks.

Scott Fusco

Daniel,

Much appreciated – I wasn't aware that there were tools like this available. Thanks a bunch

Daniel Scocco

@Jackie, let me know how you find the software. If you need any help with SEO let me know as well.

jackie sheeler

thanks for the reco — i'm going to check this out. i'm sick and tired of not knowing what the hell i'm doing, lol.
Comments are closed.