Top 5 Keyword Research Techniques in 2016
If you're making money online then the list of all the keywords your site contain, a.k.a. semantic kernel, is the core of your business. Adding best keywords while cutting loose bad ones can be very tricky. Luckily, there are ways to do it smart. I will guide you through most advanced and innovative techniques to research your keywords using just one powerful tool!
This free tutorial is for you:
-If you want to learn how to make the best of keywords
-If you want to thrive from your competitors
-If you want to increase the income from your online business.
Let's get to our step by step tutorial. The service we'll be using is called Serpstat. It has UNIQUE top features to research both domains and keywords. (As a sample domain we're gonna be using Amazon and "buy sneakers" as a keyword)
1. Tree view
Type your domain in search tab. Chose the database (Google US, UK, etc.) and click "Search". In "SEO Research" section of the tool click on "Tree View". Now you have full list of URLs with all keywords they contain for which the given page is ranked in SEPR. Keywords are sorted by "Position", "Volume", "CPC", and "Competition".
"Tree view" feature is unique in it's kind. For the first time ever you have the ability to analyze each keyword-rich page separately, not the bulk domain.
Now is the time to for SEO hack No.1. Click on "Filters" to filter domain position by keywords ranked 11 to 20 and get the list of potentially successful keywords that can be easily pushed to the top 10 by managing site's internal linking.
2. Top pages by Topic
While still researching domain, in "SEO Research" section, click on "Top Pages" to get full list of site's most trafficy pages. You'll can inspect each URL of your competitors to find out what makes them popular. Metrics will show you keyword density distribution and number of shares on Facebook.
SEO hack No. 2. This unique feature lets you identify the most successful traffic-driving pages of any site. Potential traffic will show you how much traffic the page will receive if it will remain on top of organic search. Always inspect what works best and what's worse.
3. Identifying Missing Keywords in URL
Now is the time to research keywords like you never did before. Why am I so bold in saying this? Because up until now there simple wasn't such a tool like Serpstat. Enter your keyword in the tool, and go to "Top Pages" section. What you see is the list of all Top Pages in SERP that contain your keyword.
SEO hack No. 3. No, this feature is so cool, I should rather call it Super SEO Kung Fu.
Sort your list by volume (arrange in descending or ascending order by clicking on "Organic Keywords"). Now we have the possibility to analyze any URL for missing keywords. Click on "Domain Analysis" and choose "Missing Keywords" to get all keywords for which your competitors are ranked top-10 but are missing on your page. This revolutionary feature legally steals verified top keywords of your competitors.
4. Suggestions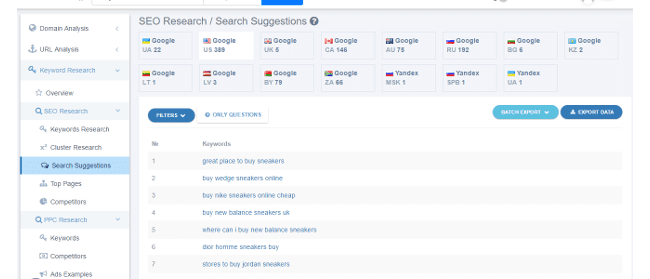 Enter keyword in the tool and in "SEO Research" section click on "Search Suggestions". This is where all related search queries for your keyword are displayed.
Seo hack No. 4. This feature is of particular value for content-marketers and bloggers because of it's unique filter "Only Questions" that lets you identify search trends, get relevant questions, and answer them to reach broader audience (while getting traffic boost).
5. Cluster Search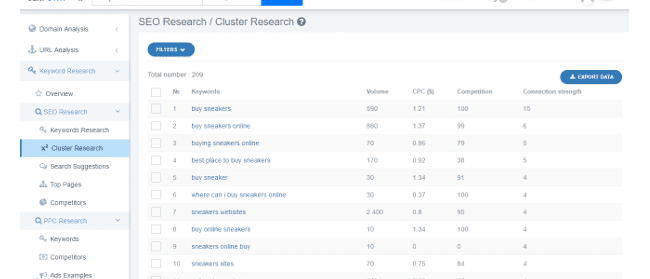 Enter your researched keyword and in "SEO Research" section click on "Cluster Research" to get all keywords that are semantically close to your keyword and are used by similar pages on search results.
SEO hack No. 5. You'll have the full list of keywords that are also used in search for given product/service. Note that this data is straight from Google's Cluster search, and it's uniqueness is in the fact that your competitors unlikely have those kws using just Google KW Planner. This will insure you'll always be ahead of your competitors. Notice "Connection Strength" rate. It measures how many sites in search results rank for this particular keyword.
Conclusion
40k+ users chose Serpstat for the quality of SEO services it provides. You can have all these revolutionary techniques for free. It's the one place not just to get the most relevant data but also to apply it the best way you can. Use Serpstat wisely. And let the force be with you.
Browse all articles on the SEO category or check the recommended articles for you below:
13 Responses to "Top 5 Keyword Research Techniques in 2016"
Dev

Amazing resource. Keyword research is the most important part. Without a good keyword strategy, we can't get desired results in SERPS. If we select good keyword we can rank our website easily.Thanks for these wonderful SEO friendly tips. Your research is appreciable.

bella jones

Fantastic article, Thanks for sharing your ideas with your readers,This is most probably the best step-by-step guide. Thanks for the mention, I appreciate it.

I'll be sharing with my friends

Masum Haider

Hi Zeni,
Keyword research the best way to get success quickly. Without proper keywords research, anyone can't get success on blogging. Thanks for share 2016 best keyword research technique.

Abdul alim

Top 5 Keyword Research Techniques of this blog, it is very important for each keyword researcher. I have this blog with Keyword Research can benefit from the Top 5 Techniques. I really enjoyed reading it, you're a great author. I will remember to bookmark your blog and I will come back again for visit your website.

Android Hoster

Very interesting and informative tips shared here regarding Keywords research. Great techniques are there to use. Thanks.

Jake Eggie

This is great alternative to Google Keyword Planner. With some extra features like Identifying missing keywords.

Than you very much for sharing this tool. I will definitely use this in my future projects.

a4nuser

SEM rush is really an excellent tool as it provides with the keyword of your competitor site.

NItay

Nice techniques. i think it will be most helpful for any keyword researcher. this tips are so easy and helpful.

Matija Zajsek

Hi Matija here – Slovenia. Read your post, looks really cool tool, just sad it doesn't work for such small country, as mine. Regards and thx for hacks.

Arun Dominic

Thanks Mark for giving information about keyword research and all the mentioned techiques are great

kundan

I use Topic, which gives me full and detailed list of keywords ranking for the particular title that I write.

Calvin

Indeed detailing you have shared. SEO task is becoming tougher than doing coding.

It seems we have to work hard to make daily strategies to know how search engine revert back. Ethical and smart works always being useful to SEOs.

I really enjoy your content. Its really worth it to be here.

Thank you for sharing

Cheers!

Abid khan

Hello Mark,
Keyword reaserch and using them in blog post is important to get rank high in search enngine. No keyword then no search visiblity & no organic traffic. Competetion is too high to drive traffic on a blog. So its very important to use keywords. Thanks for these nice keyword reaserch technicques. I really enjoyed to read this article.
Comments are closed.