Top 4 Mindmapping Software to Brainstorm your Ideas
This is a guest post by Harsh Agrawal. If you want to guest post on this blog, check out the guidelines here.
Mindmapping is the best way to brain storm lots of ideas at one go. When ever I start a new series of topic on my blog, I spend almost one day brainstorming the post ideas. I use keyword tools to find the best keywords related to topic, and using those keywords and mindmap tools I create a road map for my future posts. Now I'm using only one mind map tool regularly but here I'm sharing 4 mind mapping tools, which will help you to create lot of ideas, in short time.
1. Mindomo
Mindomo is one of the best tool for mind mapping. It has both web and desktop version. It comes into free and paid version. Free version is good enough to take care of your need. When you will work with its web based interface, you will feel as if you are working in a Microsoft Word document.
2. Free Mind Map
Free Mind map is my favorite mind map tool. It's a free desktop tool and its a light weight software. I like it, because its one of the simplest Mind map tool I ever used. Free mind map is licensed under GPL and its free to use for everyone. You can take help of keyboard shortcuts to create quick mindmaps. It uses extension .mm, which you can also share it with your group and any one can access it using the same software.
3. Bubblus

Bubblus is a web based mindmap tool. You will be creating mindmaps in the bubble format and here are some of the best features of Bubblus. You can create and embed mindmap into your blog or websites. You can also use it as a collaboration tool while brain-stroming.
4. Xmind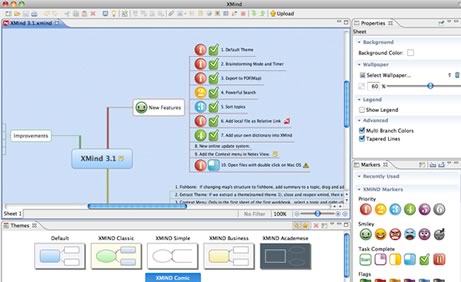 Xmind is another desktop based mind-mapping tile. It comes with timer mode, which will help you to keep track of your brainstorming mind. It's an open source software and it has also blog embedding feature but sadly that's come with it's pro feature. Else this is another free tool which you should get your hands on.
The number of such tools are endless and you can find n number of free mind map tools using Google. I tried all the above mentioned and find them worth sharing.
Do you take help of mind-mapping technique to brain storm your ideas? If yes, which software you use to brainstorm your ideas?
About the Author: Harsh Agrawal writes at Shoutmeloud, and recently he created a blogspot to WordPress migration service.
Browse all articles on the Web Tools category
29 Responses to "Top 4 Mindmapping Software to Brainstorm your Ideas"
HP van Duuren

I have a book about mindmapping and read about the basic principles, mindmaps can be very usefull to organise thoughts, I frequently use them only I prefer to just simply draw them on paper.

When you want to share mindmaps with others
those sites might come in handy.

All the Best,
To your Happy – Blogging – Inspiration,
HP

Pat

I use MindMeister. It's on the cloud and it sharing with others when collaborating on projects makes it really convenient.

Jessica

Cool idea. you really help me on my problems. Thank you for the big help 🙂

Ivan Staroversky

Another vote for MindNode for Mac, iPhone and iPad. I use it all the time for notes, book notes, brainstorming and creative problem solving. It is simple and elegant. Highly recommended.

Julius

I used to think mindmapping takes too much time. But I tried it once, and I found ideas I normally wouldn't get using outlines and other writing approaches.

That xmind software particularly interests me. Thanks for sharing.

Kloude

We've used Mindomo in the past for hashing out new user features, pretty sweet. Thanks for the list!

red comforter

I was taught mind mapping by Ed Dale in the Thirty Day Challenge. Ever since I was a beginner I have found that to be a great way to prepare myself for my target niche. I highly recommend Xmind as a great tool for this process.

Harsh Agrawal

Thanks for recommending this tool. I have been suing Free mind map, had used xmind but some how liked Free mind map tool more. Will again give a shot to xMind 🙂

mondex1

Thanks a lot. I wasn't aware that there is a software already to map our brainstorming sessions. Thanks a lot. I think I will be needing further research on each listed products to know which will suit our needs. Thanks again..

Nick

Great list. I've been using Xmind, but I never used the other mind mapping tools.

Joshua Black | The Underdog Millionaire

I started getting into mind-mapping a few years ago. I found ways to map out entire outlines of books on a single page, so that you can refer back to them.

This is a great way to brainstorm and although I still like the freedom that paper allows, I want to look into some of these, because mind-mapping is a powerful tool for any entrepreneur.

-Joshua Black
The Underdog Millionaire

George

Excellent list. I just recently decided that I needed to look for some mind mapping software because my mentors have been telling me to do so for years. I will check out these free options first.

Thanks!

Sally

I have been using mindmeister, just the free version and it's pretty good.

Helps me plan a lot of my online business tasks and is fab for production creation ideas too.

Sally 🙂

Peter Jay

I think the listed tools best work for other things such as study. Right Harsh?
Hmm.. I'll try it first and stick to one of them.

Harsh Agrawal

Peter it works for lots of things like Project planning, studying and anything you can think of.. 🙂
Do give your feedback and results after trying this..

Pascal

Hi Harsh,

Nice list. I am using Xmind. It does all what I need. Until I get used to mindmap thing, I was struggling to organize all things.

After used to it, everything seems simple and going fine.

Keri

Thanks! I've been using Bubblus, but I didn't know about the others. =)

khush-AdSense Information

I have used Novamind. It comes in Mac and PC version. It is also a good tool with lots of features. One of the features that I like is the presentation mode which is not available in many of the mind mapping software.

Glen

It's time to ditch the pen and paper. I will definitely try out Mindomo it looks very neat.

Thanks
Glen

lukas

I'm also using Xmind. I found it useful but in my opinion it is a little bit to heavy (it is based on Eclipse framework).

Nabeel | Create Your First Website

Hey these apps look like a good idea.

I have never used them. They can be useful for anything requiring thinking, not just blogging!

Great share. Thanks!

Dev | Technshare

Harsh,

Glad to see you here. Nice tools. I never tried use mind mapping tools.

Anyways, Thanks for this great Post.

~Dev

Harsh Agrawal

Dev do give it a shot and do let me know your thoughts…

Hesham

Nice post Harsh, these are great tools for those who can actually use them!

But I still an old fashion guy, my friends are pen and paper 😉

Harsh Agrawal

Hesham That's not a bad way. Though I wil suggest use sticky paper or cut down big paper into 8 small cheats and use it for ideas 🙂

Damar

hmm..i'll try it now

Harsh Agrawal

Damar Don't forget to give us your feedback and let us know which application you tried. 🙂

Jens P. Berget

I use MindNode Pro and I'm very satisfied with it. I don't use it for all my blog posts, but I use it when I'm writing articles or more than 1,000 words.

Mind mapping has helped me a lot when it comes to structure.

Harsh Agrawal

Nice idea Jens.. Though I use it when I start any new blog.. I write atleast 30 article titles and those who are related.. This way I maintain the interaction and relativity between articles…
Your idea I can use, while writing series posts…
Comments are closed.