The Trends of Online China
As I opened my email account this morning I came across a pitch from a guy that wanted me to take a look on some handboook his company had published. Rarely I cover the stuff people send to me over email (else that is all I would end up doing here, since I get some 3 or 4 every day…) but the title of this one got me curious: The Handbook of Online China.
I went to check it out and it revealed itself to be a slide presentation with many useful and fact-dense images and tables. If you don't know, China is already the country with the largest number of Internet users, and by far the country with the highest number of mobile phone users. This means one thing: we should all pay attention to what is happening over there.
For instance, did you know that Chinese people are much more likely to write a blog than Americans? Or that in Japan people use RSS feeds far more than in Western countries?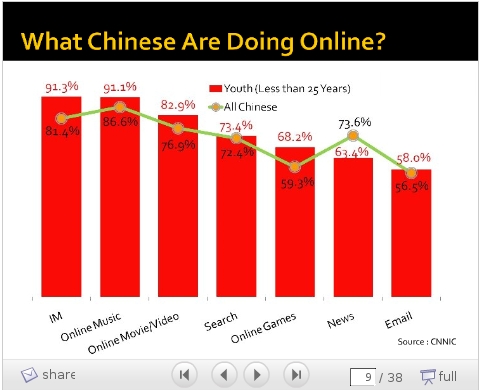 This presentation is sure to give you some basic facts about the online trends in China. Take five minutes to check it out, and perhaps bookmark for future use.
Browse all articles on the Blogosphere category
8 Responses to "The Trends of Online China"
Moise levi

My blog cannot be seen in China.
Most blogs have been blocked.

SEO Genius

Thanks so much Daniel this is something that i am very interested in thus why the course i am doing at University is "China International Business" as people can no longer ignore that China is a growing economy which will soon take over every other country worldwide.

This looks like a very interesting read, so i shall look at it later.

Daniel Scocco

@stetoscope, I learned quite a lot. Some of those trends I was not aware. For the example the two I mentioned on the post itself.

Secondly, I am sure that data will prove useful in the future when I need to work on any Chinese related project.

Ultimate Blogging Experiment

is pretty interesting that so many of these people are in the instant messaging. I know I can see a lot of them on Plurk all the time and that is a web site that is sort of like instant messaging.

Winning Startups

Went to China a few years ago and see they are up and coming, obviously. However, the opening ceremonies creeped me out a bit. Too much military.

Mayooresan

Pretty interesting….
I have some Chinese friends.. very active and effective! 😛

Olympics is an example of their talents and commitment for excellence…!

stetoscope

All presentations like that look what they sudy their own way. Here China is seen as a market. Espacially, a market where americans web company seems to meet difficulties…
This is an interesting look, but what did I really learn from this presentation?

Mr Sun

Hmm, very interesting. Maybe it's time to brush up on my chinese?
Comments are closed.