The "Post Revisions" Feature on WordPress
This is a guest post by Satish G.. If you want to guest post on this blog, check out the guidelines here.
When we get into trouble we usually start looking for a solution outside, and more often than not it is under our finger tip!
I want to share my own experience with you today, and perhaps let you know about a very useful WordPress feature that you hadn't used before.
Some days ago I published an article titled 60+ Ways To Increase Your Twitter Followers, and later on I found that it had a spelling mistake. So I edited the article to fix the spelling and hit the "Update post" button. To my despair, on that day my Internet connection was acting wildly, and hence my browser got frozen….
I had alread tweeted about the article, and suddenly people started reporting to me that the URL of the post was blank. Basically when I tried to update the article with the spelling mistake fixed the whole thing got erased!
I got frustrated, as I had invested a lot of time to write that article. With frustration, I started looking all over to get some solution to restore the article.
The content of the article was even missing in my Feedburner feed, and the Feedburner email had not been delivered yet, so those were of no help.
The Solution
After some time, and with some luck, I found that WordPress itself had a feature to solve my problem. It is called "Post Revisions," and it is basically keeps track of all the revisions that are made to your posts, allowing you to restore a particular one if necessary.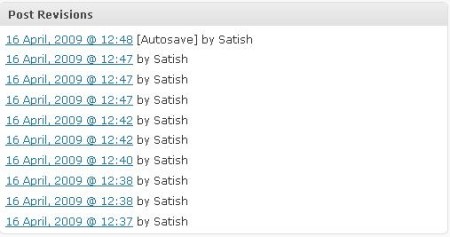 If you somehow lose one of your articles, just click on the latest Post Revision (with the help of date and time the article have been saved). Click on it to see the details like article title, content, and everything that has been saved previously. If it's not the record that you were looking for, then you can select another Post Revision.
When you finally get the required post, just click on the restore button and the article will be restored and everything will work normally. And there is a tool to compare revisions too, which can be of some help if you have many of them.

Caution: this tip does not work when the whole article along with the URL is deleted. In such case you can contact your hosting company support team to get the recent backup file. If you are lucky enough, you will get the article back.
You can read more from Satish on TechnoTip.org, where he blogs about technology and the Internet.
Browse all articles on the WordPress category
28 Responses to "The "Post Revisions" Feature on WordPress"
George Thistle

There are definately flaws in the way wordpress is built and run, but this is still an extremely useful feature. WordPress is still the best blogging software out there in my opinion

Aminul Islam Sajib

I'm not a better blogger but still I gotta say I submitted a much more better guest post which Daniel rejected politely. My opinion is this article or guest post harms the standard of this blog. Too ordinary topic.

reza

yes,,,this feature is really usefull
but problem occur when we have too much revision

our db will be crowded and could slow down wordpress

you can use delete-revision plug in clean up those revisions

Vlatko

Well… there is also a negative side effect of using that post revision feature. It builds up your DB with entering records for every post revision. So if you have 700 posts than you will have approximately 2100 revisions and even more.

So what is the problem about it. It simply slows down the loading time of the blog. When a visitor hits the url of particular post than that post has to be found in the DB through all those 2100 records instead through 700.

The solution: Add define('WP_POST_REVISIONS', false);M to your wp-config.php

The autosave feature will still be there and wordpress will notify you if you have autosave version of the post instead of all those post revisions.

Cheers

mark harrison

What a strange post and definately not up to the usual standard. It sounds like you are running out of things to blog about and if I was you Daniel, I would double check the quality of your guest bloggers content.

Boerne Search

I think this was a good guest post. It takes a little putting yourself out there to get better. I know that it has always worked for me. Good job mate.

Kane

Vijay Kumar Raisinghani

The "Post Revision" feature is truly an excellent feature and a much awaited one. Thanks for covering it in your post. Keep up the great work!

Seth W

WordPress has many features that have saved my butt from being fried! Thanks,

Daniel Scocco

@Satish, no worries about that. I believe many new WordPress users found your post useful.

@DotComNote, thanks for commenting. I always appreciate when people take the time to read and comment on my blog (regardless of the tone…).

Mathew Day

Hey Satish I'm not new to internet marketing but I'm fairly new to blogging so I can use all the help I can I get especially for WP, my favorite platform.

Thanks for your post since I was having computer problems not to long ago right when I was about to push publish after I spent hrs on a post.

cheers!

SATISH

@Dotcomnote Sorry, its me the guest blogger and not Daniel who wrote the article(as everyone else pointed out, in above comments!). I am a new blogger, nowhere near to Daniel's experience. I am learning from everyone here, so I appreciate everyone's feedback. So can just say, I will surly comeup with a better, useful guest post here.

Thanks for all your feedback. It makes me a better blogger.

Kurt Avish

@Dotcomnote: You do not need to show such arrogance in your comment dude. Even I didn't notice it was a guest post and after reading the whole article and wondering if Daniel Scocco has gone nut that I saw the guest post link.

But yet even if the guest poster is a newbie or whatever, no one is know it all in blogging. You might also not be knowing things that I know or HE knows or anyone of us know. Chill.

About yr sentence: "You better quit blogging and post in Twitter only."

It seems you are the newbie now as you are indirectly targeting even the most popular micro-blogging bloggers as nuts? Twitter is not just about posting farts like "Hello, good morning or RT of MMO dirts".

Twitter if used as needed can make a lame blogger a pro microblogger 😉 Anyway chill dude.

Kurt Avish

Nothing new in this. And it also have some drawbacks as i experienced it on many occasions that the autosave didn't actually save due to some connection problem while it was saving.

BloggerDaily

Yeah. This feature helped me a lot of times! Sometimes we wrongly modified the posts and it's time to look into revisions!

p.s: WordPress becomes more user-friendly nowadays. Thanks God =)

Harsh Agrawal

This feature is good but also has a drawback…I use a plugin call post revision plugin and limit down the post revision to 2 …

Chester

I did't know about this. Thanks for sharing them. One thing tough: you might want to save your post or write them on your local file. It doesn't hurt to have some back-ups.

Robomaster

@DotComNote: For Goodness' sakes, do you actually read the comments already there before you post? Look what I said…this post was by a GUEST blogger who probably has no experience compared to Daniel.

Anyway, it proves something that you noticed that like I did, but you lost it all when you didn't notice who wrote it. Chillax, dude.

Steve

Oh…is that what that's for? Learned something new. 🙂

teratips

yes this is have, but no feature

Brian D. Hawkins

I had the exact same thing happen to me once. I've seen that "Post Revisions" feature and never gave it much thought, including the day I needed it 🙁 I actually started over and re-wrote the entire post. I wish I had given it more thought like you did. Great tip.

Carl Ocab

This is actually one of the features I haven't used ever before on WordPress, I rarely see it – but thanks for reminding 🙂

Daniel Scocco

@Unoblogger, thanks for the heads up.

Alex Lim

I also did acknowledge how useful this "post revision" box is. One time, I did some changes in my blog and added spaces between the paragraphs. However, the paragraphs became to far from each other I had to get it back to its original format. Unfortunately, for some reason I can't reduce the spaces and I wasn't able to bring it back to its format before. That's where I appreciated this "post revision" feature of wordpress which saved me from annoyance. ss

Unoblogger

I am sure the title of the article is about post revision feature ….. why not change it?

DotComNote

This is one of those lame tips that you you read to waste your time. And who are you? A blogger who is using WordPress for how long? You don't know the autosave feature of WordPress. You don't know post revisions? You better quit blogging and post in Twitter only.

Aidil Sharizaq

I didnt know bout this.but sure this can come handy one day.Thanks for sharing.

*I was wondering all this while whats the post revision section is for*

Robomaster

Oh forget it. That was a guest speaker.

Robomaster

I find it slightly amusing that a master blogger like you didn't discover this common feature on WordPress until now…How exactly does that work? 😉

Keep up the great posts, Daniel, I love 'em!
Comments are closed.