The Official WordPress Themes Directory is Back
Hip hip hurray!
Almost one year passed since themes.wordpress.net stopped accepting new themes, and I was critic about that in the past if you remember. But I sure know how to recognize both sides of the coin, and I think that the WordPress team did an excellent work with the new directory, located at http://wordpress.org/extend/themes/.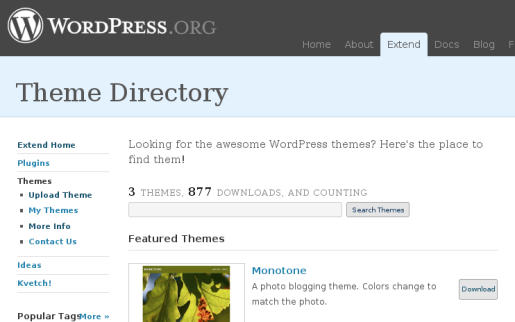 As you can see the themes directory is now integrated under the main WordPress.org website, under the "Extend" section. It looks more organized than the previous one, and the process for uploading themes is easier and much more effective.
For one thing, right when you try to upload your theme the website will let you know about any missing attributes, tags or files that you theme has. All the themes will also be approved before going into the directory, so the quality should be higher now (themes with sponsored links are now allowed by the way).
I already submitted one of my themes there, and it is waiting a review. I will keep you guys updated on how it goes.
Browse all articles on the WordPress category
16 Responses to "The Official WordPress Themes Directory is Back"
Rajaie AlKorani

This would be a really good time for people to add their themes since there are still only a few and that can increase the chances of your theme being downloaded!

By the way, thank you for the update Daniel, I have constantly been checking the old URL to see when the site would be in service again.

XIII

I hope they'll add some sort of navigation to browse through the latest additions instead of only linking to the newest few.

team ray

alot of those themes look bad

i see a few that looks nice

Scent of Health

Very nice. Congratulations to all :)!

Jackie Jackson

THIS IS A HISTORIC MOMENT FOR ALL BLOGGERS!

John Young | We Have Contact

I'm looking forward to see what themes come out of this project. Hopefully, people will take advantage of it and it will turn into the repository they want it to be.

David Hobson

This is good news for all the free theme developers out there

G

Finally. There some pretty neat themes in there, and the site just go boom on me.

SEO Genius

Thats awesome, cant wait til they have more to choose from 😉

SATISH

I was really waiting for this from many days…and had already forgot that, there is such a place where we can get all free themes and can submit our free themes.
Anyway Daniel, hope to see all your themes there.

Daniel Scocco

@LiviuX, it went live this night 🙂 .

LiviuX

It's great, but with only 3 themes it's not too good.
Comments are closed.