The Design Evolution of 11 Popular Blogs
How did the design of blogs like TechCrunch or Gizmodo changed over the time? The guys from Pingdom were curious about that, and decided to profile 11 popular blogs, with pictures of their design back in the day and today.
Here is the comparison from Gizmodo: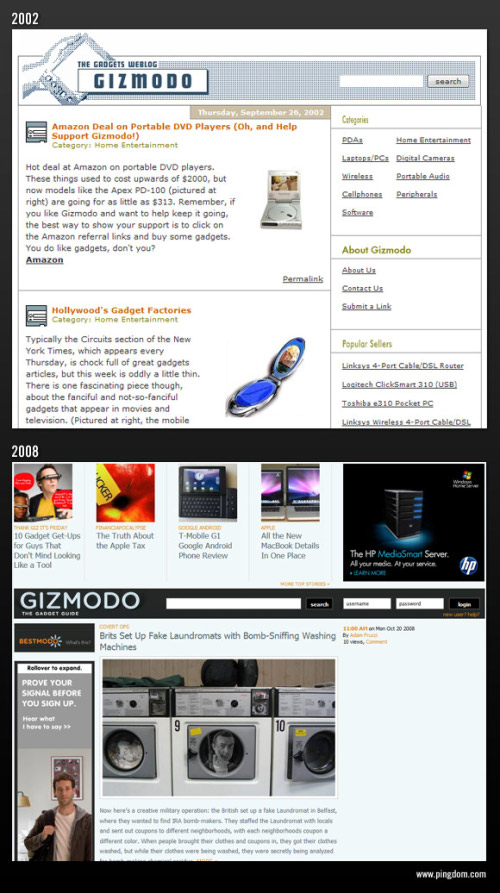 A couple of interesting things that I noticed:
Most popular blogs started with a traditional blog-like design (e.g., with categories, a tagline below the logo and so on) and migrated to a magazine-like style.
Most blogs started with no ads or monetization schemes at all, meaning that the goal of the authors was probably not to make money initially
Most of them kept their brand while changing designs (i.e. preserving colors and logos)
You can check all the 11 images on the original post.
Browse all articles on the Blog Design category
20 Responses to "The Design Evolution of 11 Popular Blogs"
medyum

As my own blog has matured, I have had to weigh the value of a really great monetization setup with the fact that my core readership wants more links to past content rather than ads plastered all over the place.

ayman

good work

Rebecca

The first blog is plain and the 2008 blog has a lot going on in it. Personally, I prefer a blog/website that is three columns and that is clean, no clutter. A blog/website will perform better if it's user friendly. Who wants to search for stuff? If it takes too long, I'll click off and find something else.

myvitamin

yes…absolute agree, I see the same condition on many popular blog

MWERANGI, Iddy

To me making money from ads, really make sense, it will help blogger every time to ensure he has traffic flow, yes this is the heart of monetization, in that case you achieve dual goal, making money & ur idea published.

Am still such a young blogger, & I spent very little time, but I see my interest is growing, really I would like to improve my blogs to an impressive look, it shows the confidence the blogger has, & how committed he is.

We should not let innovation come by chance! I like new blogs, sooo attracting.

MWERANGI, Iddy

Bollywood Actress

Yep, The first one looks clean, the second one kind of looks too colorful.

BMB

Hey Daniel,

Everyone can just check out the Way Back Machine and look at old sites to new sites…here's Daniel's Daily Blog Tips – back in the day:

Pink Ink

The first one looks okay. The second one is busy but has a lot of energy. Photo-heavy…I wonder is it really true that the more photos on a website, the better received it is?

I think as blogs progress, the blogger's confidence grows and the layout reflects it.

Mike Panic

I left my comments yesterday on the original post, but I went from a die-hard Gawker Media reader on several blogs they publish but now barely read them because of how much of a PITA their newest site designs are to read. It's a shame too because I really do enjoy most of the content.

Hussein

Seems that the old design is much better. It's clean and user-friendly.

Feedback Secrets

Thanks for the study. I like to moral of this story which is to set out to build a great blog and worry about the rest latter.

In a money defines success world, it is easy to get discouraged while building up a blog. I think this retrospective look into the not-so-distant history of some successful blogs is inspiring.

Joel Drapper

What happened to the sidebar on 2008?!!

Franklin Bishop

I think it's interesting to read other peoples comments about redesigns. Considering I just did a redesign on my blog I think actually helped make my blog at least seem better. So it really depends on what your design evolves into. Today was a bad economy it would make sense that people monetize their blogs the best they really can. I will not give them crap about that because they do need to make money. Especially if they became a full-time blogger. I do think that all blogs do need to keep up with the times. New blogs are really getting a lot of visitors and readers because of their blog design. Or it could be that Internet users are just looking for something new.

Rajaie AlKorani

I will enjoy reading this, thanks for sharing, Daniel!

Carl Thomas – Affiliate Preacher

About the monetization, the lead story in the above screenshot is about supporting the site through using their amazon link.

Modern internet advertising has helped get the monetization out of the articles and in the ad space.

Just my $.02.

Daniel Scocco

@Gary, that is another interesting point that emerges indeed.

@Ruchir, that is a good question. Does popular blogs have a good design because they are popular, or are they popular because they have a good design? 🙂

Chris Foley

One of the main criticisms of the recent redesigns of top blogs is that they have sacrificed ease of use for monetization. As my own blog has matured, I have had to weigh the value of a really great monetization setup with the fact that my core readership wants more links to past content rather than ads plastered all over the place.

Ruchir Chawdhry

That list gives more weight to the fact that blog designs aren't as important in the initial months of your blog as most people think they are. I mean seriously, look at Mashable's design in 2005, as plain and ugly you can get, and look at how famous it's now. And even for the rest of the blogs on the list, their early designs are very plain and yet they're famous now.

Gary

The one thing which is often overlooked when people try to develop traffic for their site is time. All of these sites have been around for at least 3 years or much longer. You can't become a huge deal overnight.

Danny Cooper

I liked Gizmodo before, the nav was much clearer.
Comments are closed.