The Challenges of Multi-Author Blogs
There are a growing number of multi-author blogs being launched, and many blogs that once featured only a single author are changing to include more writers. Many of you probably read a number of multi-author blogs, including Daily Blog Tips, Freelance Switch, Performancing, and others. Some of you probably own or write for a multi-author blog as well.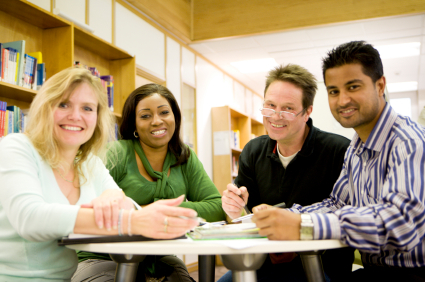 If you are considering starting your own, or changing a single-author blog to include other writers, there are some challenges that you should be aware of. While I do not own any multi-author blogs, I do write for a few on a regular basis, and I've written for even more on a one-time basis. Here are some of the challenges that are evident from my experience.
1. Quality – The quality of a multi-author blog can be more difficult to maintain due to the different skill levels of writers, as well as varying levels of experience and reputation. When you are maintaining a blog for yourself in which you are the only writer, you are in complete control of the quality. When other writers are added to the mix the quality can either increase or decrease. While quality can be a challenge, it also presents a great opportunity for blogs that can meet the challenge head on. Adding top-notch writers is a surefire way to improve the quality of any blog.
2. Identity and Branding – Blog readers choose to subscribe or come back to the favorite blogs on a regular basis in large part because of the identity that a particular blog has established. In many cases this involves the personality and approach to blogging of an individual. This can be more difficult with multiple writers. Readers will not get the same consistent approach that they would get from a single blogger, and it can make it more difficult for readers to connect with the writers.
3. Possible Duplication of Topics – When you are writing for your own blog it's much easier to remember what you have written about in past blog posts and what topics are yet to be adequately covered. Of course blog readers do not want to see the same information presented over and over again, and this can be a challenge when several writers are contributing. The more writers there are, the harder it is to keep track of what has already been published. This can be helped if there is an editor or one person in charge of what gets published and what doesn't, but this isn't always possible or optimal.
4. Coordination of Schedules – Multi-author blogs rely on receiving contributions from a number of different people who all have different schedules and different times that work best for them to write. It can sometimes be a challenge to coordinate this so that there are not 10 posts on one day and none the next. Some blogs choose to set up a consistent schedule that assigns each writer a specific day (or days) to publish. One of the blogs that I regularly write for uses this type of arrangement and it really works well.
5. Lack of Ownership – When you are running your own blog it is much easier, in my opinion, to stay motivated. No one else is ultimately responsible for your success and no one else will reap the rewards like you will. When there are multiple writers involved there is sometimes a lack of ownership in the responsibility to grow the blog and achieve goals. By this I mean that many writers may not give 100% effort like they would if they owned the blog themselves.
From my experience the best way to overcome this challenge is to pay writers. Each time I write an article that I'm being paid for I have a certain quality standard for my work. In addition, I'm more motivated to promote the article, if possible, so that the blog owner who is paying me will be satisfied with the results and keep me on staff. When you are not being paid you should still be motivated to give your best, but there is a certain level of ownership and accountability that comes along with being paid.
6. Maintaining Focus – With several different writers publishing articles on a different basis, it's easy for each writer to head in a different direction. In order to keep the blog tightly focused, there will probably need to be some effort to point writers in a particular direction. While it is good to be able to present different opinions and different points of view, each writer needs to be aware of what direction the blog is heading and how it is going to get there.
7. Finding Good Writers – Another challenge to consider is finding the writers in the first place. This is especially a big hurdle if you do not plan to pay writers, or if the pay is very low. Those opportunities that pay well are obviously much easier to fill. In order to find writers you may need to publish the opportunity on the blog, reach out to your existing contacts, approach potential writers directly, or post opportunities in forums and job boards.
8. Internal Linking – This is one that many people don't think about, but from my experience it is one of the hardest parts about writing for a multi-author blog. When you are writing for your own blog it is pretty easy to make an effort to link to older posts throughout your new articles. However, this becomes very difficult when you are not as familiar with the existing content of the blog you are writing for. Internal links are important for making the posts more user-friendly as well as for SEO purposes, so it is a good idea to include internal links whenever possible.
9. Handling Payments – If you are the blog owner and you are paying writers you will need a good method of keeping track of who is owed and what has been paid. Different bloggers handle this differently, but regardless of how you accomplish the task you will need good organization.
10. Not Overpaying – Of course you do not want to pay writers more than they are worth. If you are paying out more than the blog is bringing in you will need to look at the situation and determine what needs to be changed. Some bloggers are willing to do this in the short-term in order to build a more valuable asset and increase long-term profits. Others aim to always cover their costs and hopefully still be able to turn a profit.
Why Use Multiple Authors?
If you are considering owning or writing for a multi-author blog you should be aware of the potential challenges and have a plan to overcome them. Despite the challenges that we have looked at here, multi-author blogs still bring great opportunities. In fact, many of the challenges above can be turned into strengths if they are properly handled. Having a variety of different writers can help to give the blog a more balanced presentation. Additionally, each writer will have their own strengths and weaknesses. If the team is able to come together to emphasize the strengths of each, the result will be much better than any one person could accomplish individually. And there is always the obvious benefit that multiple authors produce much more content than one person is capable of.
What is Your Experience?
Have you ever owned or written for a multi-author blog? If so, what were you experiences? If not, would you consider doing so, why or why not?
Browse all articles on the Strategy category
19 Responses to "The Challenges of Multi-Author Blogs"
Eryaman hali yikama

Good info thanks for sharing with us.Nice information, valuable and excellent, as share good stuff with good ideas and concepts, lots of great information and inspiration, both of which we all need, thanks for all the enthusiasm to offer such helpful information here…

medyum

Our blog, blogaboutyourblog.com, has been multi author since the beginning.We have found a way to keep the quality up by screening our authors etc. I've also sunk into an editor role, where I will change the post up a bit to make it flow.

Indonesia Business Directory

Dear Sir,

Sir, I have download your free templates. Thanks you.

I interest to make new blog with multi authors, can the theme "decker" is used for blog with multi author? and in administratur area, where must I settting?

Thanks

Simon

dcrmom

I am totally intrigued with this post and the comments because I am, as I type, forming a multi-author blog. How to set it up is really baffling to me. I think it needs to be my blog, and the other writers need to be my employees, even though there will be no income generated at first. I'm the one bringing the bigger readership from my regular blog, and I'm the one footing the cost of the design and all right from the start. I love the idea of assigning days to each contributing writer. Is it better to start small? I have only approached one writer, and she has agreed to join me. Should I just keep it at that for a while until I get the hang of this? I would love to see more posts on this topic!

Jan Polzer

Hi, do you have any tips for online app for maintaining list of topics? So how to prevent multiple author writing the same in the same time. Thanks for tips.

Jan

Daniel

Good stuff Inge, thanks for sharing.

Inge

I'm the owner and editor in chief of a +10 multi-author blog, so there was a lot of recognition while reading through the post. Let me share some advices, based on what I've learned so far (and I'm not even doing this for a year):

1: be very open about what you do as an editor in chief. Discuss your plans for development with your team. Make them a part of the progress, and by doing so make the relation stronger between them and the weblog.

2: give useful feedback on their stories. Help them to improve, and emphasize by doing so that their contributions are valuable.

3: create room to experiment and improve. Help writers to do things they normally wouldn't do, such as writing about new topics or experimenting with new media for communication. Writers will learn from them, get new inspiration, and do things you never thought of.

4: use an holistic approach. Don't exclusively trust your own judgments, involve the knowledge and gut feeling of your writers. They have other views, other thoughts, other prior knowledge, and so on. Making a judgment on the total spectrum of input will make your choice better for a broader group.

5: be bloody enthusiastic. It pays off and is viral.

All in all, going to a multi-author blog was and is a bliss. There's so much (catalyst) energy, fun (drinks with the authors, going out with them, making new friends, learning new sides of people you already knew) and progress involved that it's an opportunity you should definitely go for if it's suitable for your situation.

Pitfalls:
1: it consumes a lot of time. Managing a multi-author blog is a daily thing to do. Make sure to distribute power, otherwise you'll be working 24/7 on this.
2: prepare to accept painful hits. Initially, you'll be amazed by how often your writers will disagree with you. It has taught me to become more open to different views, and to suppress my ever-available feeling that I know everything better. If there's one thing I've learned, then it's that I don't know everything better.

2xKnight

I just added another author to my blog. I don't need to worry too much about writing skills because she's already a published author. Fiction , non-fiction, music and poetry. She's even written for mainstream publications similar in content to my site.

As for pay…

She just wanted to write a blog about a TV show she likes, she didn't mind the pay. I've been trying to figure out how to pay her anyway. She deserves it.

I offered to add her affiliate links to the pages she's written. I figure I just check for the author and tell my ad rotator what to post based on that. Kinda seems to be an incentive to do well too.

I'm really looking forward to her first post. I need to find out if she needs any help with WordPress. *L*

Mike

About 6 months ago, I transitioned my long-established solo blog, 10,000 Birds to a team blog by inviting 2 established bloggers in my niche to join the brand, so to speak. Let me tell you, blogging has never been better! Not only did traffic more than double, but the quality and quantity of our content went through the roof. Furthermore, by committing multiple bloggers to maintaining one prominent site, we all have more time to devote to other projects that directly or indirectly promote the blog.

Team blogging is not without its pitfalls. Working out responsibility, ownership, and vision can be quite challenging, especially in the beginning. But once a blog achieves a certain size or status, maintaining and extending the brand becomes more of an effort than one person can usually handle.

What makes my arrangement different than many other team blogs is that my colleagues are also my friends. I would suggest that if you're not willing to truly share your blog, not just extend a byline to a temp, you're bound to experience most of the challenges listed above. On the other hand, if you find like-minded individuals whose strengths complement your own, you may be able to take your blog to an entirely new level. I get a thrill every time I read an outstanding post on my blog that I didn't write… and that happens nearly every day!

Selene
Steven

Glen,
You're right. From my experience I have contact with the blog owner, but not the other writers. I think that leaves more responsibility on the owner/editor to keep things on target and header in a specific direction. In the case of Collective Thoughts, is there one person that owns the blog or takes the lead?

Adam,
I'm not surprised you got that kind of response from an ad on Craigslist. I have a friend who got a similar response for an ad on ProBlogger's job board.

Lynn

At Wise Bread, our biggest problem is coordination of the editorial schedule. We don't want to implement strict rules like only allowing bloggers to post on their specified dates, but they get really miffed when someone posts right on top of them. Since our revenue model is based on page views, the perception that being on the top of the page should net more reads. We are looking into a tech fix that will coordinate the posts for us (mandating a certain time cushion between posts) in drupal. Any suggestions?

Matthew

Our blog, blogaboutyourblog.com, has been multi author since the beginning.

We have found a way to keep the quality up by screening our authors etc. I've also sunk into an editor role, where I will change the post up a bit to make it flow.

theWild1

I have 2 writers at my sports blog, sportsayers.com, and it has worked out pretty well so far. The hardest part is probably getting the timing pf post down.

Comis

I agree. I suppose it's more challenge to cooperate/communicate with each other. Although, more beneficial inputs can be produced from different point of views.

Adam Maywald
Tejvan

I have written for other blogs, some paid, some for links. That works well because ownership is clear and you know what you are getting. However, for guest posting and paid article to work you need a successful blog in the first place.

Maria Reyes-McDavis

Agreed, Glenn. I contribute on several multi-author blogs and its very difficult to coordinate, which helps to increase the problems of cohesive content.

But, must say, working with a multi-author blog has been a blast!

Thanks for the great post 🙂
M.

Daniel

Glen, that is a good point. Rarely the different authors of a single blog will get together to discuss the same topic, and it could be beneficial for the readers.
Comments are closed.