The Art of the Follow-Through: Every Great Headline Needs an Even Better Opening Paragraph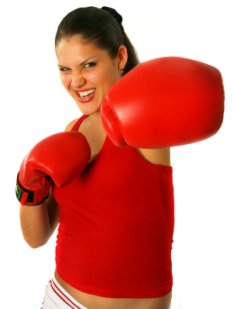 This is a guest post by Mike Smith.
You can have a one punch knockout when you create that awesome headline, but odds are it won't be enough to finish the job. If you've ever watched a boxing match or mixed martial arts fight on television or in person, you'll understand why the follow through is so important.
You should be using your headline as an attention grabber and something that's going to sting when hit with it, or in the blogger's case, it should grasp the reader's attention. Your introduction paragraph should be a combination of punches that really rock the reader and stop them from moving forward to the next website. It's a simple process, yet so many bloggers fail to follow-through and lose a lot of potential subscribers and lifetime readers.
Headlines should only be used as the setup
When you're watching a fight and you see a fighter get hit really hard in the face, you'll notice that if the fight doesn't stop, he/she gets their composure back and can move on from it. You'll also notice that 99% of the time, a fighters trainer and coach will never tell them to swing for the fences and hope for the knockout of the night. Fight smart. Blog smart. Your blog post titles should only be used as the initial attention grabber and not the sole means of interest in the article. Yes, you'll get clicks to your site with a funny title, but its what happens when the reader is there that really shows if your post has any weight to it or not.
The one-two combination: your opening paragraph
When you are skimming through blogs that you find online, what the one thing that you notice the most? You're only skimming through them. Readers have a time schedule and cannot read through 2-3 of your posts to really get an understanding if they love your blog enough to subscribe or not. You've got to use the initial power your headline gives and then hit the reader with the one-two punch combination to really rock them. After all, your headline can only be so long, but your opening paragraph can hold so much more weight to it, especially if the reader's already interested in your topic.
You've got to think about your topic for a minute before you begin writing and decide which of the following (or something not listed) would be the best way to begin your post:
Comedic introduction
Article overview
Questions for the reader
Continuation from previous article
Serious, detailed information on the subject
Comedic Introductions are great for certain blogs like celebrity news and should be the main focus on blogs like this. For blogs about freelancing, money making and blogging, you've really got to pick and choose when you are going to be funny. Sometimes a comedic introduction just wouldn't fit, like in the 10+1 Tips for Choosing a WordPress Theme, I doubt that a comedic introduction would fit properly.
Article Overviews are great ways to let the reader know exactly what they'll be reading, and at the same time, will have the readers wanting to go on in the article to find out the full context of each section. This could be a bulleted introduction to the article or could just be a paragraph where you write a small sentence about each topic. With this method, make sure you treat your bullets as mini-headlines to grab the attention of the reader much in the same way the original headline did.
Questions for the reader in your opening paragraph will definitely make the reader think for a second longer then usual, and if your question is written in a way where you KNOW the answer will make the reader want to move forward, you've got yourself a killer introduction paragraph.
Continuations from your previous article will let the reader know that there is more information on the subject you're currently writing about on your website, as well as let them know that you've got a lot of knowledge on the subject. Perceiving someone to be a knowledge source for a certain topic will make the reader want to continue because they see you as an authority on the topic. Starting your paragraph with "This is my first time blogging about making money online" will generate far different results then if you used "I've made 10,000 dollars per month by blogging, and here's how". Another good reason for continuations, not really specific to your readers, is the cross-linking through your site will help with the search engines.

Serious, detailed information is always a great way to start out. A beginning paragraph with the cold hard facts in it will let the reader instantly know what they're getting themselves into. If you write on the subject in this manner, make sure you sound like a legitimate source of information on the subject. If you are writing with LOL'z and n00b'z on a subject about finances, odds are the reader will leave quickly.
The knockout blow: The final paragraph
By now, if your visitors are still reading, they are interested enough in what you have to say to sign up for your RSS reader or at least stumble/digg your article. The ends of your articles can do a couple different things:
Promote Related Articles
Let the readers know about your RSS feed and EMAIL subscriptions
Kindly request a Digg/Stumble and have the icons there for them to do it
Wrap up the entire article again to cement the information into the readers heads
Regardless of how you end the article, I would treat it in the same manner as the opening paragraph. If you've been punching your opponent and see their knees about to buckle, you don't end the round by circling around them; you knock them out! Why let your ending paragraph have the reader leaving with a sense of not getting the most out of their time reading?
So, to overview the article really quick:
Your opening headline is your attention grabber, like a quick jab to the face
Your opening paragraph is the 1-2 punch to rock your readers and make sure they can't walk away
Your concluding paragraph should be the knockout blow that solidifies your website is a blog that the reader NEEDS and WANTS to read

Mike Smith is the owner of Bootstrapping Blog where he gives tips on how to build your business with minimal funding. He also loves to design blogs and runs the Blog Theme Machine website.

Browse all articles on the Writing Content category
11 Responses to "The Art of the Follow-Through: Every Great Headline Needs an Even Better Opening Paragraph"
Aimee

Hey great comments. I do a monthly email newsletter. the same applies. My first ones I had very serious slugs. My last one I wrote "How's your attitude?" Boy I got great feedback from that newsletter!!! – I might add – I've read several blogs that I thought…"this person shouldn't be writing at all". A word of advice, if you struggle writing your blog…you probably shouldn't be writing it.

Mike Smith

Hi Jenni. I'm glad you liked the article. 🙂

Skellie, you're awesome and thank you so much for patching this through for me. 🙂

Skellie

Great work Mike — nice to see your name (well-deservedly) up in lights :-).

Spencer Kam

I completely agree. Good titles allow you to, in a way, "bait" users to coming to your site, but the first paragraph is what is going to keep users on your site. I'm fairly new at this, but I've seen a difference from my first posts to where I am now.

Fashion By Jenni

So many articles focus on the headline when the introduction paragraph is more important. I also like the examples and will probably end up using some of them.

Mike Smith

Thanks Daniel 🙂 I'm glad you liked it. I hope your readers find it interesting as well.

If anyone has questions for me, drop a comment here and I'll reply to you.

Daniel

Hey Mike, sorry for the typo on the first line.

I fixed it. Thanks for sending it over, very interesting points you highlighted.

Mike Smith

MIKE smith 🙂 not mark. LOL. Thanks for featuring this article though.

marco

110% correct. I used to fail badly naming my posts and slugs in a way to get readers attention. I changed the naming style quite a while ago resulting in 30% more hits.
Comments are closed.