The Anti-Procrastination Wallpaper
Some months ago I wrote a post asking for readers to submit a screenshot of their own computer desktop, so that I could group them together and create a collection of blogger desktops.
By the time I was still using the default Ubuntu wallpaper and people said that it was too boring. I agree with them, and recently I decided to change it into a more functional thing, as you can see below (click to enlarge).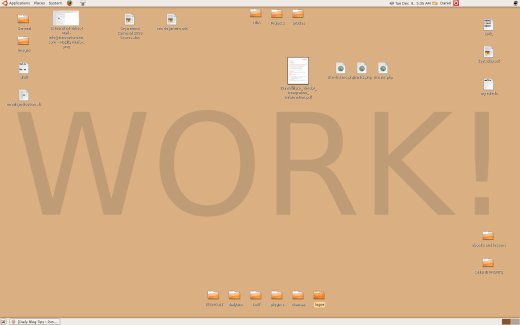 So yeah, this is the anti-procrastination wallpaper. Simple but effective. You could even consider using some variations like "Damn Lazy Ass, WORK!". Give it a try and see if it will motivate you to work more and waste less time.
Browse all articles on the General category
21 Responses to "The Anti-Procrastination Wallpaper"
Guru

It is absolutely true that this wallpaper is anti-procrastinating. It continuously keeps on bombarding oneself that s/he needs to focus on work and not elsewhere. Be it attractive opposite sex around or be it just plain timepass – it keeps telling us that we should not lose focus, but concentrate on work! Good one…

naveen kulkarni

i agree with daniel about wallpaper inspiration ! We get inspired by many factors sometime very big and sometimes small ! i am surely opening my photoshop and try creating a new 1080 x 768 pixel wallpaper but it will have more stuff like my last months google analytics report ! so whenever i see it i get pumped up to work more 🙂 what you say daniel !

Tom Bradshaw

lol, I like… this would come in handy!

Patrick

I like this one here

Shirley

I am pretty content with the sleek XPS wallpaper that came as the default desktop with my computer. That alone makes me run to my computer in the morning. 🙂

Jordan Pearce

You mean like real work as opposed to tinkering with wallpapers. Wow I'll try it. 😉 I wasn't working today anyway. My wall paper is going to say "Dream".

Ben Moreno

Bloody brilliant mate!

DutchSchoolKid

Hmm..
I only see my desktop when I start up my computer or when I turn it off o_O

Devin Johnston
Little Tiny Fish

I don't think I could tolerate staring at Arial that huge and in my face. I don't know if it'd help me to be more productive, but it would at least help me to keep a window open at all times.

That R…*shudders*

Jean Gogolin

I'd rather have wallpaper that said "Think!"

Insion

Wow,Ubuntu….i like kubuntu..

Pink Ink

Ha Ha, good idea.

How come I'm checking out your email feed then??

Back to work…

Hariesh
Taylor Blue

That is a good idea…but since I always have the internet on I can't see my wallpaper saying work.. LOL 🙂

Vygantas

Try to use picture of the thing you want. Like $, house, car, new device or whatever.

And for those who are complaining for lack of prodctivity, JUST START WORKING. It's easy to continue, really.

Rarst

@Daniel

Don't take me too seriously. 🙂 It's just that external factors have very little effect on me so unless I make myself work, nothing else helps.

Daniel Scocco

@Rarst, I disagree. Setting up that wallpaper took me 1 minute. Literally. I just opened GIMP and wrote the text and saved it as my wallpaper.

It gives me a clear message day after day though, and I am sure it helps me to stay focused.

Also, you don't need to keep staring at it. That is the point of making your wallpaper, you will inevitably glance over it whenever you turn the PC on or minimize Firefox.

Rarst

@Daniel

Searching for wallpapers to help with procrastination problem is itself procrastination. 🙂 People could like work instead of staring at wallpaper and hoping it will make them work.

Daniel Scocco

@Rarst, you described a person that does not has a problem with procrastination.

Also, the only person I believe does not have a procrastination problem is Leo Babauta. The guy writes like 3 1000+ words articles per DAY.

Unless you are as productive as him, there is still room for improvement 🙂 .

Rarst

Makes no sense to me. 🙂 I am lazy to translate one short story into English.. But in short it had a dialog between master and apprentice.

– Master, do you want new pack of clever wallpapers to boost your productivity?
– I don't see my wallpaper, I am working.
Comments are closed.