The Affiliate Marketing Report Card
Browsing through the web today I came across report compiled by AceAffiliates, called Affiliate Marketing Report Card. It basically summarizes a bunch of data from different affiliate programs to help you choose the best one.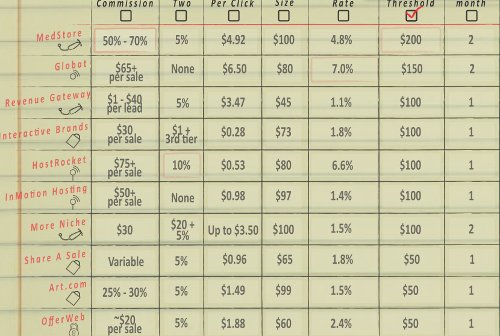 Here are some of the fields included:
commissions
earnings per click
order size
conversion rate
payment threshold
payment methods
They also classified the affiliate programs by niche, including dating, web hosting, software, medical, insurance and so on. Overall it is a nice resource if you are trying to find some affiliate offers to promote.
Browse all articles on the Monetize category
9 Responses to "The Affiliate Marketing Report Card"
Rodderz

Its a good idea to sign up with networks that have multiple profitable quality products to promote in your niches, and this is a handy resource for getting a broad overview of whats out there.

Thanks for sharing

muhyar

I m still hard to earn money at clickbank, but you made great report that I have to learn about.

Yahia El-Maghraby

I don't really know. The affiliate programs in the screen shot like sahre a sale and art.com have more than one product each. It is not gonna help to judge the whole network.

I'd rather do that on individual offers/products basis. This way I'll know which campaign to push and which one to kill.

Web Marketing Tips

Looking like as this report card will help you to keep your all affiliates earning and will certainly help to take the decision as well.

Melvin

Pretty good resource site. I think Im going to check it out.

jenny bender

Hey, that's a nice resource. Thanks for pointing it out. Agree w. the above comment–refreshing that it doesn't seem slanted to generate aff. sales!

scheng1

I stick to Clickbank, since it's a site for newbies.

Chester

Medstore got the biggest threshold. I wouldn't be surprised.

Chris Guthrie

It's interesting that they haven't bothered to use the affiliate program column on the left to link to the web pages of those companies (using an affiliate link). So I guess it's just nice to see someone making a legitimately good resource to help people out.

Chris Guthrie
Comments are closed.