Test Your Website on a Mobile Phone
Lately there is a lot of buzz about .mobi domains and making websites compatible with people browsing from mobile phones. Personally, I believe that this issue is important for mainstream websites like Google or The New York Times, while small publishers (read you and me) still have at least one year before they need to pay attention to the problem.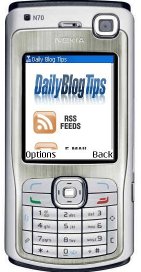 Regardless of that, however, it might be interesting to check how your website would look on a mobile phone. The dotMobi company has an useful online emulator that does just that. You need to type the URL and you will see a mobile phone on the screen displaying your site. You can even screen down using the keyboard of the virtual phone.
Daily Blog Tips was displayed correctly (i.e., it was readable), but I think it might be related to the clean design that I am using. I wonder if more elaborated themes would encounter problems.
Via: Self Made Minds
Browse all articles on the Web Tools category
17 Responses to "Test Your Website on a Mobile Phone"
medyum

I hear there is also a good article online at alistapart.com on how to make a mobile.css stylesheet to make your blog more compatible.

Thomas Madia

@Warrior,

In Africa surfing internet with mobile surpass computers by a wide margin.

Mobile internet is growing at a faster pace around the world, just ask Facebook, they will tell you that most people use mobile than computers to update their statuses, since Facebook is usually blocked by corporates.

Arun Basil Lal

Hey,
That was of great help.
Thanks for sharing.

Arun

Adam

In Japan laptops sales drops due to mobile phone usage instead of PCs. This is reality in Japan.

steve

I hear there is also a good article online at alistapart.com on how to make a mobile.css stylesheet to make your blog more compatible.

blogstheme.com

The mobile internet surfing is still small, and there arent many people that take them seriously. But this is one industry that is growing rapidly. I know that less than 1% of the people that visit my websites are using mobile browsers, right now is so small but there is a large potential to grow.

Jermayn Parker

@WarriorBlog – I was like you until I started doing it myself, yes its slow and not as affective as on a PC but it sure helps me keep updated on my trips to and fro from work and home which saves me time to do other stuff.

Ashfame

@Daniel
Thanks for sharing. And I too think I have enough time to look forward in this case.
@ warriorBlog
I surf internet from my cell only during my lectures and the most read blog is DailyBlogTips.

WarriorBlog

I laugh every time I hear of this – Seriously how many people will want to surf the internet on their phone?

Bob

It really depends on the browser use by the mobile phone. Nokia uses access. Opera mini works well so does apples sarfari. The incompatable once are Pocket IE which is unfortunately in most PDAs.

Daniel

Yeah as I said I don't think this is a big deal right now :).

Jeremy Steele

"Sorry, page could not be displayed"

Heh. I think that says a lot about how much I care about creating a CSS file for cell phones 😉
Comments are closed.