Test Your Typography on FontTester.com
Optimizing the typography on your site is very important, because it affects how easily visitors will be able to read your content. I just came across a neat little tool you can use to do just that. It is called FontTester.com.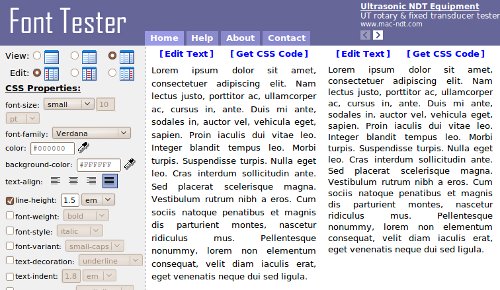 The site basically let's you tweak and compare blocks text. You can use a single, double or triple column layout, and tweak each one independently. Among other things you'll be able to change the:
font
font size
font color
line height
letter spacing
word spacing
If you haven't touched your typography in a while, or if you believe you could improve things a bit, while not use this Friday to do that? Once you find a combination that suits your website well you can copy and paste the CSS code.
Browse all articles on the Blog Design category
16 Responses to "Test Your Typography on FontTester.com"
John Paul

Nice tool this can really make your job more aesier than before .Thanks for sharing Daniel !

Voeding

Hmm, i need to learn this tools more since I'm not good at all on css.

Pinoy @ How to blog

Wow Daniel! Thanks for sharing this kind of tool. It will be helpful for me to improve the typography of my site.

Julius

I think that this can be an excellent tool for making sure your readers not only can read but would also understand your content. And with that I believe it may increase our site's accessibility

Ann Krebber

My admiration to you, you can always find useful tools like this. I was lucky by visiting here every day I can realize the existence of tools like this.

Dev @ Blogging Tips

Hey Daniel,

Grreat. very useful tool. Thanks for sharing this !

Namitha

very useful tool . i did not see as before. thankx

Daniel Scocco

Sorry for the broken link. It is working now.

Ishan

This one is a good tool. I remember pulling my hair out when setting up typography to find perfect combination. Hopefully, this tool will make life easier!

Roshan Ahmed

Hi Daniel,
few weeks I added some text in my blog in some font (I don't remember which font). But when I viewed it in Windows 7 chrome browser it was smoother and more steady and looks like another font family. Does this happen? Or will be some mistake I've made?

-Roshan Ahmed 🙂

pascal

Hi daniel, that link is not worked, correct that site link, In that link remove "s"

Luci

Nice find – had a bit of a play with it, but I think I still prefer Firebug. FontTest also puts the font-size in 'x-small' which is less than ideal – rather than em's or pixels. FontTest gives it all to you upfront, but with a bit of knowledge Firebugs easy 🙂
Also, the link is broken in the post

Amit

The Link appears wrong – Here is the correct one

Rachel

Hey Daniel, great idea – thanks for sharing!

(btw, you might want to adjust your hyperlink – it goes to fonttesters.com instead of fonttester.com 🙂

Me

Your link in the first paragraph is broken. (The anchor text is "FontTester.com", but the actual URL you're linking to is "

Josh Garcia

Hey Daniel,

Nifty little tool you found! Will have to play with this tool.

Have a great weekend…
Comments are closed.