Technorati Has a New Look
If you visit Technorati's front page you will see a whole new design. Now they have a section featuring blog posts that are gaining attention around the blogosphore. The interesting thing is that this section is divided in two parts, the left one being dedicated to blog posts and the right to mainstream media articles. I wonder where a post on a New York Times blog would be featured….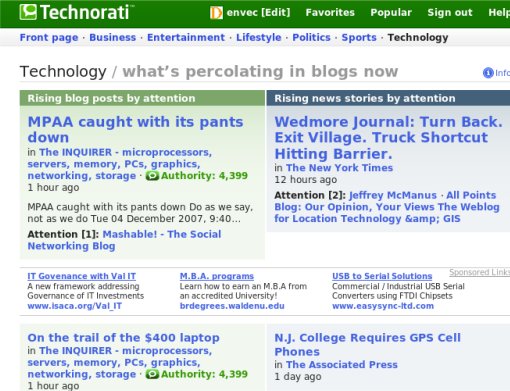 Once you click on a particular item you get transfered to another page that contains the actual link to the story, a description and all the related blog reactions (very similar to how Techmeme works).
I agree with Michael Arrington that this is a move in the right direction. In his own words:
The new products are encouraging signs from Technorati, which has had to reinvent itself a number of times over its existence. Their core blog search business has been under fire from Google and others for some time. But the site is still synonymous with blogging for most of us, and has a store of goodwill that has yet to run dry.

Will the new product drive core usage and page views? I think it has a real shot. It's much better than the existing home page (and the one before that, which really pulled away from bloggers). I already visit Technorati multiple times per day. I can see increasing that usage with the new stuff.
Technorati had already tried to spark new interest among its users by launching a social bookmarking tool called "Where's The Fire." It failed miserably. One thing that I could never understand is how Technorati, with an Alexa rank of 345 and supposedly millions of page views daily, could send so little traffic through its links. Time will tell if these changes will help.
Browse all articles on the Blogosphere category
6 Responses to "Technorati Has a New Look"
Nirmal

I cant even remember the number of times they have changed the look of the site, with not much of features added.

Daniel

Elena, that is indeed true. Sometime ago I had a problem with the indexation of some of my blogs and their staff would reply with the same canned message over and over again. I even wonder if it was not a computer replying…

Elena

I've got no love for Technorati. They are totally unresponsive to customer service emails even when you explain in the email that the issue you have isn't addressed in their FAQs or in their user forums.

Marko Novak

I really don't see Technorati as news resource. I think you can find best resources by yourself.

Daniel

Gisele, people usually care about their Technorati Authority, which counts the number of blogs that link to your blog.

In the past Technorati used to be the most important blog search engine as well, so they would send you traffic, but lately they are losing ground to other tools like Google Blog Search.

Gisele B. from myBeautyMatch.com

This is good information, but I've still yet to understand how Technorati plays a role in my business.

Could you help me understand that?

Gisele
Comments are closed.