DBT is research-focused. When you buy through links on our site, we may earn an affiliate commission. Learn more
Oily skin has plenty of causes, but it can be challenging to find a facial cleanser that's able to clear up your skin.
If you are looking for a powerful, yet gentle formula that you can use daily, then one product that has been gaining a healthy amount of attention is the Tatcha The Deep Cleanse cleanser.
This powerful yet luxurious cleanser boasts the ability to exfoliate your skin, minimize your pores, and leave you feeling refreshed with softer skin—but does this popular product live up to the hype?
We'll give you everything you need to know with our thorough Tatcha The Deep Cleanse review below:
What is Tatcha The Deep Cleanse?
Like the culture, this Japanese skin care brand is well known for its minimalistic yet powerful formula that delivers a luxurious and gentle clean.
Tatcha The Deep Cleanse is a gel foaming cleanser that works to minimize pore sizes, remove dead skin, and gently exfoliate.
Unlike other gel cleansers, this formula is lightweight and gentle.
As you massage the lather into your skin, you will immediately notice the refreshing aroma and creamy foam that are consistent with quality, high-end products.
Key Ingredients
The beauty of this product lies in its natural key ingredients that deliver a refreshing experience.
These three natural key ingredients work together to supply a deep clean that is not harsh, leaving you with skin that is visibly softer and smoother skin.
As stated on Tatcha's website, each of these key ingredients works in different ways:
You will notice luffa fruit fibers when you squeeze out a bit of the formula into your fingers.
These luffa fruit fibers work to gently exfoliate your skin and lift away dead skin and dirt.
In addition to the natural ingredients, Tatcha The Deep Cleanse is free of any mineral oil, sulfate detergents, parabens, phthalates, or synthetic fragrances.
How Much Does it Cost?
This gel cleanser retails at $38 for a 5-oz bottle.
While it's certainly on the higher end of the pricing spectrum as far as cleansers go, the refreshing aroma and luxurious lather make you feel like you are getting a spa-quality facial at home.
You can find Tatcha The Deep Cleanse at Sephora retailers. You can also find it online at QVC or from the brand's website directly.
The price is consistent across the board, but if you purchase online, the price point will go up a bit when you include shipping and handling.
Tatcha does offer a travel-sized 1.7 fl oz bottle for $16.
If you are not ready to splurge on the full-sized bottle, trying out the travel-sized bottle is an excellent way to try out the formula before you commit.
How to Use Tatcha The Deep Cleanse?
Applying Tasha The Deep Cleanse formula is simple and straightforward.
For best results, you always want to make sure that you have removed as much of your makeup as you can beforehand.
Start by washing your hands thoroughly so that your hands are nice and clean. Then, wet your face with warm water to help open your pores so that you get a more effective cleanse.

Apply an almond size amount of Tatcha The Deep Cleanse formula into your hands. Rub the formula between your palms so that you create a nice creamy foam.

Apply the creamy foam to your face and gently massage it into your skin using small circles. Be sure to pay close attention to your T-Zone area where dead skin and oil build-up will typically accumulate.
FAQ's
Yes, the product promises a refreshing clean that will lift away dirt, dead skin, and oil. With consistent and proper use, you can expect just that.
Though the formula was designed to minimize the appearance of pores, some users report that it's not always the case.
Across the board, however, the product does result in softer, smoother, brighter skin.
The leading cause of acne is sebum, or an excess of oil, being trapped in your pores.
Along with dead skin and bacteria, these clogged pores can lead to inflammation and even infection.
Antibiotics, benzoyl peroxide, and retinoids are the three most effective drugs in treating acne.
Because Tatcha The Deep Cleanse lacks in those ingredients, this isn't the best cleanser if your main concern is acne.
Instead, this cleanser is best for those looking for an effective daily formula that will help to get rid of dirt and oil that could exacerbate acne.
Because the formula is gentle with a neutral PH balance, it is effective and safe for daily use.
The brand recommends using it twice a day, in the morning and at night.
Depending on whether you use the cleanser once a day or twice a day, it should last you anywhere from 1.5 to 3 months.
The bottle is smaller than your average cleanser but does not require much formula with each use.
Final Thoughts
Overall, the Tatcha The Deep Cleanse is a quality cleanser, and with continued use, you can expect your skin to feel smoother and softer.
With its mild formula and natural ingredients, there are no harsh chemicals that will disrupt your skin's natural microbiome.
Have you tried Tatcha The Deep Cleanse formula? Let us know what you think of it below and how it has left your skin feeling!
A daily gel cleanser with natural fruit exfoliant that deeply but gently lifts impurities and unclogs pores.
---
Tatcha The Deep Cleanse vs. Alternatives
First Aid Beauty Cleanser
---
Tatcha The Deep Cleanse Reviews
There are no reviews yet. Be the first one to write one.
Tatcha The Deep Cleanse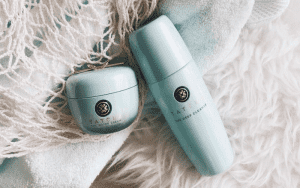 Looking for a quality cleanser that is gentle enough to use daily? Tatcha The Deep Cleanse might be the best cleanser for you if you battle oily, rough skin.
Product Brand: Tatcha
Product In-Stock: InStock