Time to Stop Using Whois Privacy?
If you are not familiar with the term, whois privacy is a service offered by most domain name registrars that protects your information as a domain registrant from people performing a "whois" on your domains.
Here is a screenshot of a domain using that service (it is actually one of my domains, and I am about to remove the privacy from it):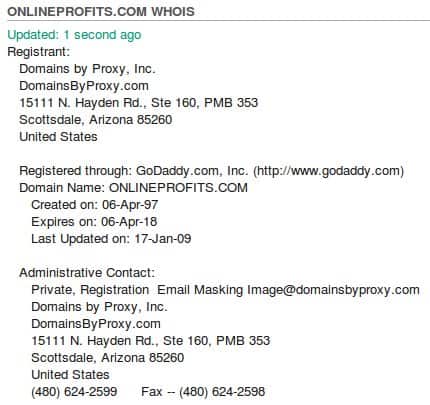 And here is one of a domain without the whois privacy: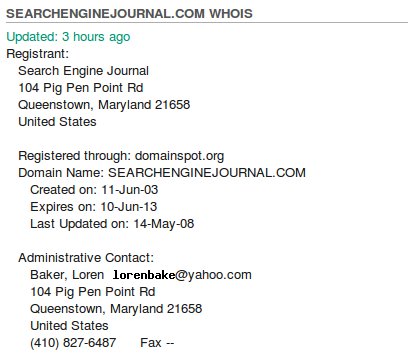 As you can see the one with whois privacy does not reveal the information about the registrant. Instead it displays the name and contact information of DomainsByProxy, which is one of the companies offering these privacy services (you also have WhoisGuard, WhoisProtect and so on).
Until some years ago many people would recommend you to use a whois privacy service. It would protect your contact information, after all, and given the privacy issues on the web this could only be a good thing.
Well, I believe this advice is no longer valid. If you are planning to make money with your blogs or websites, or if you want to build an online business, you should not use a whois privacy service on your domains. Why? Because these days using such a service will actually reduce your credibility.
Spammers and scammers use whois privacy on all their domains, but they have a reason to do so. If you are building a legitimate website or business, why would you want or need to hide your contact information?
And I have heard many stories from experts on different segments that back up this theory. For instance, last week I heard an email marketer saying that whois privacy on the domain that is sending newsletter emails is a bad sign, and it is one of the factors that spam control organizations take into consideration.
Another day I read an article about safe online shopping, and one of the points used to verify the credibility of an online store was to check the whois information for the domain. If it was protected, the article stated, you should get suspicious. So on and so forth.
If you are creating a website as a hobby and prefer to keep your contact information private, then using a whois privacy service is fine. If you are building an online business, however, I would not recommend trying to hide your contact information.
Finally, if your reasoning for using the privacy protection is the fear of getting spam on that email address, well, the solution is as simple as creating a unique address to be used just for domain registrations (and if you are worried about your security register a business name and make it the owner of your domains).
Browse all articles on the Domain Names category
37 Responses to "Time to Stop Using Whois Privacy?"
Jerrick

i think even for business purpose also need whois protect service
because customer will look for your detail in your website such as your.tel or contact us. And not use whois. Only spammer and those competitor will use whois to look for you.

Howard

For a thorough, if somewhat biased, discussion of this topic, complete with references, go to Dynadot.com and click on "privacy". With their privacy service they show your name, but not your contact info for $2.00 a year. They call it a mail forwarding system. I have my website hosted with them. It is a simple site, but I don't come anywhere near to using the disk and bandwidth provided for a ridiculously low price—I think it is 11.99 per year! Good CA based phone support also. I don't get much spam, but I don't know what I would get without their "privacy" service either. My website is Woodstairways.com. I am a Seattle area finish carpentry contractor.

Sam

Seriously? Since when did normal average consumers started checking the who is of a site to check its credibility?

Even I only check it if I want to buy a domain or want to see when it was registered…

Caroline Goddard

Nope. No way. I agree with the above-responder who said it is a personal safety issue.

Your advice may hold true for a business with an actual office, or even a business located in a home where customers/clients visit. But I am a freelance writer and photographer who works on location only, and there is absolutely no reason why I should put my personal home address out there for random people to see. My clients know it, because it is on my invoice. Otherwise there is absolutely no reason for it to be out there. There are plenty of other ways for legitimate customers-to-be to verify that I am who I say I am.

Pallab

The email address is shown in a manner that is fairly easy to decipher for most bots with OCR. Once thats done a spam bot can harvest millions of addresses in a day from whois.
That's why I use the privacy guard feature offered by my domain name reseller.

If anyone wishes to contact me he or she can do so using my blog's contact form, linkedin, twitter, facebook, SU etc.
So, I dont really buy your argument.

Stephanie

I've found that I prefer privacy. With 3 young children at home, I don't need to have my address or phone number out there. The address issue is easily enough taken care of with a P.O. Box, and phone could be handled with a VOIP number I suppose, but I haven't taken that step yet. Domain privacy is simpler.

Web Marketing Tips

Certainly if you want to establish yourself a brand than you should put yourself in front not hiding behind those proxy kind of names.

But yes if you have a website which does not have anything to deal with common people and no need to show your details than keeping yourself behind those proxy name is a good idea.

Its totally depends on the nature of business …
Comments are closed.