State of the Blogosphere
Technorati released the "State of the Blogosphere". They are calling it "State of the Live Web" now because they want to expand from a blog search engine into a more complete media company. An interesting outcome of this change is the more detailed analysis of the competition between blogs and mainstream media. Below you will find some key takeaways from the report:
70 million blogs being tracked by Technorati
120,000 new blogs created every day
5,000 new spam blogs created every day
22 blogs among the top 100 most popular sites on the web
Japanese is the most used language with 37% of the posts
English follows with 33%
Overall the blogosphere seems to be growing strong, and it is also affirming itself as permanent player on the Internet (the number of blogs among the top 100 most popular sites on the web almost doubled in comparison with the last quarter).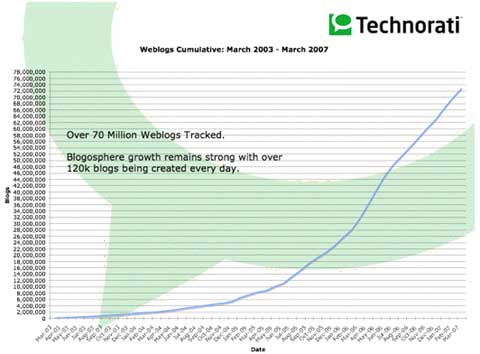 The only point that I find contradictory is the usage of tags. According to Technorati the practice of tagging posts is experiencing an "explosive growth". Is there real evidence for that? We all know that Technorati has a lot to gain from those tags, specially if users make the tags point to Technorati's website.
Tags are extremely useful when applied to the right context (i.e. Flickr or Del.icio.us) but when we consider blog posts the search engines should be able to interpret the data without explicit tags. Technorati already recognizes WordPress categories as tags, they should keep following that path (you can read more about this on the article "Are Technorati Tags Useless?")
Browse all articles on the Blogosphere category
12 Responses to "State of the Blogosphere"
SEO Genius

Wow Japanese, wonder why considering their population is not so large and they are a declining population.

I do know for sure that Chinese will be the most talked and posted language on the Internet. So come on start learning 😀

Markk

Correction: "We can't default them on that" instead of "We default them on that."

Markk

Armen, we just can't jump to a myopic conclusion that "dead blogs" are just like spam blogs. Daniel is right there when he says there are "dead blogs" with quality content. Only problem is, for some reasons, the owner decided to stop blogging. We default them on that. There's a ton of crappy blogs populating the "Live Web" right now, go at them!

Daniel

Brian, I am glad it was useful.

That aluminum foil deflector beanie does look interesting! check this:

"Since you should trust no one, always construct your AFDB yourself to avoid the risk of subversion and mental enslavement. Sometimes, AFDBs will be sold on places like eBay. Do not purchase these pre-made AFDBs, even if the seller seems trustworthy. They may contain backdoors, pinholes, integrated psychotronic circuitry or other methods that actually promote mind control."

Brian Humphrey

Daniel,

Daily Blog Tips never ceases to amaze. I was just replying to an e-mail from a friend who had inquired about the status of blogging and look what showed up in your RSS Feed.

Talk about reading my mind… it almost makes me want to run off and buy one of these!

Thanks for all you offer, which continues on a daily basis to shape the LAFD News and Information blog.

Respectfully Yours in Safety and Service,

Brian Humphrey
Firefighter/Specialist
Public Service Officer (and blogminder)
Los Angeles Fire Department

Mike Panic

Blogging is for the internet what the reality show was for the major television networks. Full of cheap (or free) people who will create content and complain a lot. Reality shows, in my honest opinion are on their death bed, they've over-used them and they are no longer "real". Blogging is still growing very strong, however over the next 24-36 months, only the strong ones will survive. People are going to grow tired of searching through mounds of crappy writing, horrible layout and over-powering ads and only stick with those sites that are user friendly and good reading.

Daniel

Roberto, yeah I was surprised with Japanese as well. No wonder the big blogs are creating a Japanese version before the other versions (i.e. TechCrunch).

Armen, dead blogs are not necessarily equal spam blogs. For instance if someone stoped writing on his blog after posting quality content for 1 year that blog would still have value, don't you agree?

Armen

There is nothing as frustrating as 'dead' blogs, and I think they should be counted as spam too.

Interesting post though.

Roberto Alamos

It surprised me that japanese was the prevalent language on the blogosphere. I expected english will remain leader for a long time, or that chinese will surpass japanese, but I didn't expected this.

Maybe we are just wasting our time and need to learn japanese… or chinese 😛

Grokodile

It may only be my own personal opinion, but it seems that there are much more spam blogs than that created every day… :p
Comments are closed.