Special Deal On the Problogger Workbook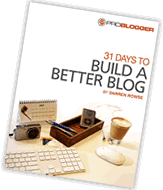 If you are looking to kick start your blog in 2010, check the special deal that Darren is offering on his 31 Days to Build a Better Blog workbook. For the next 7 days he is offering three special bonuses for anyone who buys the workbook. They are:
Free Report: 9 Things to Do to Get Your Blog On Track in The New Year
Podcast with Leo Babauta from Zen Habits (talking about post ideas, launching ebooks, etc).
Podcast with Neil Patel from QuickSprout (talking about SEO, blog promotion, etc.)
On top of that you'll also get access to the 188 pages of the workbook, covering all the angles to improve your blog and get it back on track (traffic and money-wise). For $19.95, it is a pretty good deal right?
Browse all articles on the General category
8 Responses to "Special Deal On the Problogger Workbook"
Web Marketing Tips

Yes he is offering this only for seven days and if you want to get this good deal than you will have to act immediately or you will miss the train.

Daniel Scocco

@Agent, I believe so. After all Darren has been doing this longer than anyone, so any advice from him is certainly going to be useful.

Agent Deepak

Its a great deal. I am considering opting for it. I hope I will learn something new from it.

Will this e-book work (providee new information) for those who already have long time experience with blogging?

Yolanda

Just a little feedback on this book, i once was a beginner and found this to text bookish for me,. But once I got in there the book was very helpful!

Daniel Scocco

@H2P, yeah I believe even beginners would benefit from this workbook, as it gives you a lot of tasks and strategies to improve your blog.

H2P

Is it useful for beginners? what's advantage given than reading seo blog?

Chris Peterson

For me it is a great deal. Yesterday me friend has taken this offer.

Tom | Build That List

It's definitely a great deal! I can see a lot of people taking up this offer.
Comments are closed.