Speaking At WordCamp Brasil and Meeting Matt Mullenweg

Yesterday I spoke at the first WordCamp Brasil. It was a great experience, and I will briefly share with you guys how it worked out. The event was organized by the Brazilian WordPress community, and they did a great job, especially because the event was free.
I arrived there at 9am more or less, and while walking on the corridor I crossed with Matt Mullenweg, co-founder of WordPress. As I saw him I went like "Hey Matt". He stopped and we chatted for a while. He is a really down to earth guy. I asked if he had ever visited DailyBlogTips.com, and he said "Yeah." Maybe he said it to be kind, maybe not. Regardless, it is official now, Matt Mullenweg is a DBT reader.
At 10am Matt started his presentation. It was about how WordPress was born, and how it evolved over the years to arrive at version 2.8. The presentation was engaging and funny at the same time.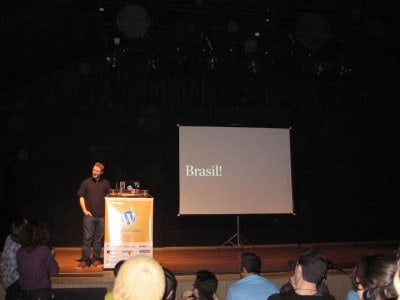 After that there were two presentations to take place simultaneously. One about BuddyPress, and my presentation about "Blog Promotion." I basically covered all the promotional activities and strategies that you can use as a blogger, from simple ones like blog comments and link exchanges to more advanced stuff like linkbaits and ebook distribution.

I needed to shorten the presentation to 40 minutes or so, but I was pretty happy with it. In fact while searching on Twitter for WordCamp related tweets I found a couple of guys who had liked it and thought that it was complete.

Overall it was a great experience. I got to meet some great people, and I am definitely looking forward to my next WordCamp.
Browse all articles on the WordPress category
17 Responses to "Speaking At WordCamp Brasil and Meeting Matt Mullenweg"
Daniel Scocco

@excITingIP.com, yeah it is about democratizing the access to web publishing. There are many people around the world who are landing jobs, publishing books and making money thanks to blogging and the advanced of technology in that front.

excITingIP.com

Congrats Daniel. Matt was in India too, but he went to New Delhi, which is pretty far off from Bangalore. So, wasn't able to make it there! Lucky you.

I think wordpress is a great software that enables people to explore unexplored domains (even for non-coding people like me!). And some how WP makes you feel that you need to give some thing back to them if you succeed in your efforts! They already got something in common with Wikipedia!

excITingIP.com

Daniel Scocco

@Leo, nice to know the knew the blog hehe.

And thanks for the update. Once I see the video on WordPress.tv I will put a link to it on the post.

Leo Germani

I was speaking with Matt and Zé Fontainhas and they were both surprised "I didnt know the author of daily blog tips was brazilian!". They knew you before!

About the video, we only recorded Matt's speak and it will probably go to wordpress.tv… as soon as we have time to capture everything…

cheers

Leo,,

Daniel Scocco

@blin, I am not sure if they recorded my presentation, but they probably recorded Matt's one, so I will try to find a link for it.

bilin

when can you share the video?

kate James

Yeah Chester your are rite …it was really a great experience

Chester

Great experience in there buddy. So youre making it biggie huh. 🙂 Keep it up!

Daily Good Tips

The best moment for bloggers. I hope wordpress interest to visit in Indonesia.

Daniel Scocco

@Adam, yeah it is definitely inspirational to meet with people who are influencing how the web is evolving. Maybe with a lot of work we will be there one day.

Adam Pieniazek

Very cool meeting Matt, Daniel. Love that you had a little geek celebrity giddyness to it. LOL.

I'd probably be the same way, Matt did pretty much revolutionize web publishing with WordPress. Much respect to him (the header graphic on his blog might be the best/most detailed I've ever seen). Nice to meet our "heros", eh?

Daniel Scocco

@Nicholas, nah just a lot of respect for the man, if it was not for him we probably would not be here today (blogging, that is. Or maybe we would, but with some crap blogging software).

Nicholas Z. Cardot

It sounds to me like you have a man crush on this guy. You're not stalking him, right? Just kidding. It's pretty neat that you got to meet this guy and that his presentation was such a success. Thanks for sharing with us how it went and thanks for all the blog tips you always provide for the greater blogging community. Keep on blogging!

Daniel Scocco

@Bibi, I was not sure if any DBT readers would be there. Nice to to know there were 🙂 .

The next event that you are attending in Sao Paulo let me know and we will definitely touch bases!

Bibi

Hi Daniel, I'm sorry I missed your talk yesterday. You can blame the schedule for that – I watched the presentation about BuddyPress-, but I bet it was really nice. And too bad I couldn't stop by to say hi. I tried to recognise some people there, but it's not always easy. Maybe on the next time, next blog /blooging tools event. See you around and keep up the great work.

Daniel Scocco

@Stefan, you mean for WordCamp Brasil? Well I definitely think that the 2010 edition will be even bigger yeah.

Stefan | StudySuccessful.com

Nice that you had a good time. This might be the beginning of something biggers?

(I laughed when I read 'AfterMatt' lol)
Comments are closed.