DBT is research-focused. When you buy through links on our site, we may earn an affiliate commission. Learn more
There are plenty of pros that make Spanish Pod 101 an excellent resource for learning how to listen to and comprehend Spanish.
However, it might not be the best resource for learning how to speak the language.
If you're on the hunt for a training resource to learn how to speak Spanish, you may have come across Spanish Pod 101.
Today, we're going to do a Spanish Pod 101 review, so you can decide if it's the right learning tool for your needs.
There are many different options out there, and you wouldn't want to spend money on one that doesn't provide what you need.
In this Spanish Pod 101 review, we're going to explain all about Spanish Pod 101, including features, plans, and who would get the most use.
Spanish Pod 101 is just one of many resource tools you can find to learn how to speak fluent Spanish.
Whether you're a beginner just learning to speak the language or you've got the basics down and need more intermediary lessons, Spanish Pod 101 can help you.
What is Spanish Pod 101?
Spanish Pod 101 is a site specifically designed to help you learn to speak Spanish using podcasts based on real-life experiences.
You can use Spanish Pod 101 to improve your Spanish listening and comprehension skills anywhere you go.
There are compatible apps to allow you to learn using your Android, iPhone, or iPad, and you can also access the site through your computer.
In addition to easy to follow podcasts, Spanish Pod also offers a variety of other learning tools, including flashcards, slowed audio, line-by-line breakdowns, and word lists, among other things.
What Spanish Pod 101 Includes
The resources you get access to with Spanish Pod 101 will differ based on what package you choose. As expected, the more you pay, the more you will get.
No matter which package you choose, you get access to audio lessons in the form of podcasts that range in time from three minutes to fifteen minutes.
These lessons are split into 'seasons,' and most of them have up to 25 different podcasts.
That means you have access to hundreds of different lessons, from beginners up to advanced lessons.
However, many advanced users don't find much use out of the site. Most experts recommend using multiple tools to improve your learning of the Spanish language.
Each lesson comes with the recorded audio, a review track, and dialogue only track. The lesson follows the format of:
The review and dialogue-only portions are great for practicing your listening comprehension.
But many people do not like that there is no way to practice your speaking, other than repeating back what you hear.
Each lesson is interactive. You can click each line in the transcription to slow it down, and you can easily switch from Spanish to English if you're having trouble understanding what a word means.
At the end of each lesson, you can review the vocabulary and listen to the word repeated.
If there are words you're struggling with, you can add them to the built-in flashcard system, so you only learn the words you need.
Be aware that the flashcard option isn't available with the free or basic plans.
Advanced plans also include pronunciation, grammar, and Spanish verb conjugation.
How Much Does it Cost?
When you sign up for Spanish Pod 101, you automatically get a free seven day trial period.
During this time, you have access to plenty of features to help you decide if this is the right Spanish learning resource.
There is a free version, which gives you access to some of the beginner audio lessons. But you don't get access to the entire lesson or advanced courses.
The basic subscription, which costs between $4 a month for a 24-month subscription or $8 every month, gives you access to all the podcast lessons on the site, from beginner lessons to advanced.
In addition to the podcasts, the basic plan gives you access to lesson notes and checklists so you can have a good understanding of what you're learning with each session.
With the premium plan, you'll pay a month by month fee of $25 or $10 a month for a 24-month subscription.
In addition to hundreds of podcasts, you also get access to a ton of other learning resources.
This plan allows you to use custom flashcards, a Spanish dictionary, verb conjugation sheets, line-by-line transcription, pronunciation, and lesson quizzes.
Overall, you'll have everything you need to learn how to become a fluent Spanish communicator.
The Premium Plus plan is the most expensive option, costing you $47 month by month, or the lower price of $22.88 a month for 24 months.
Most people won't find the extra features useful enough to pay the higher cost.
With this plan, you get the same features as the premium plan. But you also get an assessment of your current Spanish proficiency so you know exactly where you should start your lessons.
You also get private sessions with a teacher through instant messaging. Your coach will even provide you a personalized lesson plan.
FAQ's
Below you will find answers to some of the most frequently asked questions concerning Spanish Pod 101.
The basic plan is undoubtedly worth your money if you want to get better at being able to hold a real conversation.
And if you need the extra learning with flashcards, you will find genuine value with the premium plan.
However, we don't feel that you gain anything extra from the premium plus that would account for the additional costs.
Other programs allow you to work with a teacher that would be of better use.
Spanish Pod 101 teaches you how to speak Spanish by presenting new vocabulary to you through podcasts and real conversations.
Some people may struggle with learning simple essential Spanish words and phrases using Spanish Pod 101.
If you're just starting with learning Spanish, you may find Spanish Pod useful for learning how to comprehend Spanish. But you may struggle with learning the most basic words.
However, they do teach proper enunciation and grammar, which may help those new to the language.
Who Should Use Spanish Pod 101?
Spanish Pod 101 is most useful for beginners who are looking to improve their listening and comprehension skills.
However, many people feel that the system lacks actual teaching, as there are no speaking options.
You can choose your lessons based on different situations, such as how to speak fluently in a restaurant or how to introduce yourself.
But the lessons have a lot of description in them and tiny long strings of words. For advanced users, they may not appreciate the constant interruptions.
Final Verdict
Spanish Pod 101 is a great tool to add to your arsenal if you're trying to learn Spanish.
However, we don't recommend it to be your all in one source.
Use Spanish Pod 101 to learn how to be fluent in comprehending and communicating in Spanish, as well as to learn basic grammar, enunciation, and vocabulary.
We hope you enjoyed this Spanish Pod 101 review. Happy learning!
---
Spanish Pod 101 vs. Alternatives
---
There are no reviews yet. Be the first one to write one.
Spanish Pod 101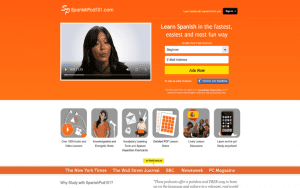 Spanish Pod 101 is a site that helps you learn to speak Spanish through the use of podcasts based on real life situations so you can learn to speak and comprehend Spanish conversations.
Product In-Stock: InStock