Shylock Adsense WordPress Plugin
Ever wanted to be able to insert Adsense units in your posts without having to modify the page template? What about inserting Adsense units only in posts that are older than a certain number of days or weeks?
The logic behind this second point is the following: using Adsense only on older posts will both keep your loyal visitors happy (because they will not get disturbed while reading recent articles) and maximize your revenue potential since older posts are more likely to attract organic traffic (which is more likely to click on ads).
The Shylock Adsense plugin can help you with that. I tested it and it just works!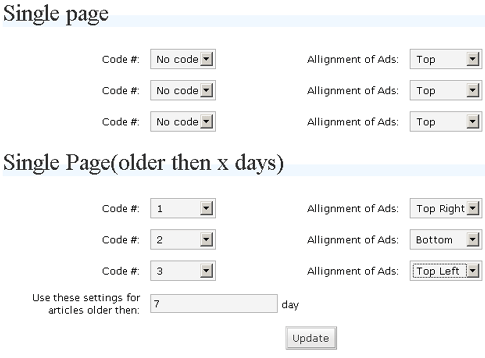 The interface is very user friendly. You can set up to 10 different Adsense codes and customize where and when they will be displayed. You could, for instance, designate a 336×280 large rectangle unit to appear at the bottom of all new posts, and once the posts turn 10 days old the unit will be displayed on the top right corner, instead.
Browse all articles on the WordPress category
43 Responses to "Shylock Adsense WordPress Plugin"
vineeth

Thank you for your tip.I will be thank ful to you for it every time since it increased my earnings.
Thanking you agian.

DAntel

Wow .. It is great adsense plugin. Thanks for share.

labalaba

this is a great plugin to optimize my adsense. i already use it and i like it.

ÅŸiirler

Thank You Great plugin! i use it

Tom

Cool plugin! AdSense is great, but lately I've been making more with Chitika. In fact, over the last year I compiled some statistics of my earnings and I actually earned twice as much with Chitika compared to AdSense. For those of you curious about Chitika, check out this Chitika review for more info and some screenshots.

Dantelsepeti

Thank You Great plugin! I'm going to use this as soon as

mee

I love this plugin, but I do have my problems.
It seams when you logged in, you dont see the adds anymore …
How is that possible?

Мониторинг Интернета

Thank you for idea !

Ozh

For complete and easy ad management (time based, view count based, for search engine visitors, etc), give Who Sees Ads a try. You'll love it 🙂
Comments are closed.