Shylock Adsense WordPress Plugin
Ever wanted to be able to insert Adsense units in your posts without having to modify the page template? What about inserting Adsense units only in posts that are older than a certain number of days or weeks?
The logic behind this second point is the following: using Adsense only on older posts will both keep your loyal visitors happy (because they will not get disturbed while reading recent articles) and maximize your revenue potential since older posts are more likely to attract organic traffic (which is more likely to click on ads).
The Shylock Adsense plugin can help you with that. I tested it and it just works!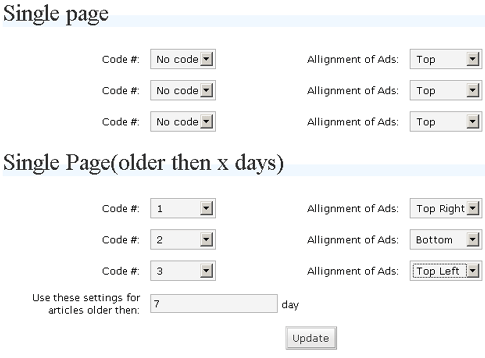 The interface is very user friendly. You can set up to 10 different Adsense codes and customize where and when they will be displayed. You could, for instance, designate a 336×280 large rectangle unit to appear at the bottom of all new posts, and once the posts turn 10 days old the unit will be displayed on the top right corner, instead.
Browse all articles on the WordPress category
43 Responses to "Shylock Adsense WordPress Plugin"
Yourhighness

Thanks for that. I only have adsense on my main site for now and hardly any visitors (my old domain is more known and linked to than my new domain 😐 ) and was considering adding adds to my blog like this. I will look into it right away. Good that I have subscribed to the feed. Nice stuff 🙂

Copes Flaivo

Great plugin! i'm going to use this as soon as i will insert Adsense in my blog! Thanks

Daniel

Eli, there are many researches confirming that organic traffic is much more likely to click on ads than repeat visitors.

The logic is simple, if they came through Google they were looking for something, and they were not sure they would find it on your blog (but they gave it a shot).

Should they fail to see what they were looking for they will just click away, possibly using one of your ads that has an interesting keyword.

Eli

I'm already using a plugin called 'AdSense Deluxe'

I want to know what your proof behind 'organic traffic is more likely to click ads' is though, really, I need to know if this is true. I'm getting a lot of traffic from Google at the moment, and I may need to take advantage.

The Buxr Widget

Great idea.. I will definitely be incorporating this on some my bigger sites.

Alex Shylock

Calvin, the plugin was tested on your version of WordPress, so I'm not sure what could be the problem. It might conflict with another plugin. Could you try deactivating other plugins and see when this one starts working? So we can fix this for the next version.

Transcriptionist, sorry about that. Had to reinstall WordPress yesterday and it broke that link. It's fixed now. About working at the same time with Adsense Deluxe, I don't really know. Never used that plugin. As long as the ads inserted by Adsense Deluxe aren't in the same place with ads from Shylock Adsense, it should work if it has enough text to wrap text around the ad. Try on a test blog to be safe.

Mani

Thanks for the plugin Daniel..

Cheers!
Mani

Index.com.my

Great!!1.. i'll test it ….

Transcriptionist

Mr. Alex Shylock on his blog says "Any comments you might have, please write them in the post announcing the plugin. Thanks!" but that page returns a 404. Great!

What I want to know is, will this plugin go along with Adsense Deluxe?

Will the ads get wrapped with post contents?

Calvin

I have problem with the plugin. When I activate the plugin – the entire page didn't show up.

Don't know what's wrong?

Average Joe Blogger

Great find! I'll be trying this one out sometime soon.

Alex Shylock

Edward, no, it doesn't randomize. Maybe in the next version, though I think it could be a bit of a headache to use. It could annoy regular readers, while for visitors coming from search engines wouldn't mean anything because they're not used to your ad positioning yet.

Edward Dowd

I may have to consider this plug-in over adsense deluxe. It looks like this is what I might be looking for. Does it randomize between which 3 of the codes it chooses?

HolisticGal

Love this plugin! Thank you. This solved my dilemma of adding adssense before I've got a large readership – now I've testing some adsense on older posts.
thanks

Desibabesworld

Cool Plugin. Thanks

Daniel

vijay, I might add Adsense in the near future go DBT and DWT as well. Just a matter of timing and overall strategy.

GnomeyNewt

Thank you so much for this! I have looking for a plugin like this but wasn't able to find one. I was dreading coding anything at all just to delay ads. Will try this out. Daily Blog Tips Rocks!

Robert Irizarry

Fantastic plugin! I'll have to rethink my Adsense approach now that I have this kind of flexibility available.

vijay

Daniel, a quick question
Why don't you use Adsense on this blog?
Any specific reason? Or getting sufficient to run the blog from the sidebar sponsors?

Daniel

Not sure what might be causing it. Drop me an email with your IM and we will try to solve it.

Al

yea daniel, that's what i did unless my wp plugin is full?
Why isn't it there?weird

Daniel

You need to upload the -php file into a folder located in /wp-content/plugins/, you did that?

Al

hi daniel,

I installed the adsense.php into my hosting CP,,but when i get back to my WordPress account plugin,there's no file there!
Did I miss any steps?

Glen Allsopp

Something I might look into using on some other sites

Thanks for the heads up

Cheers,
Glen

Daniel

Mike, I am a user of adsense deluxe as well, but the ability to add units only to posts older than a certain number of days is a killer feature in my opinion.

Mike Panic

I've been using adsense-deluxe and while it doesn't offer the "insert in older then.." option, it does its job very well.

Better Blogging with Michael Martine

Daniel, great tip. That is one of those "just what we needed" plugins.

Ramkarthik

This is a good idea. You can use the Shylock plugin in this blog too. I wonder why they named it Shylock. Is it related to Shakespeare's play?

Daniel

Yeah I don't run Adsense here. But I do have other sites, and I tested it there.

In fact now I am wondering what monetization strategy I will use for older posts.

Ramkarthik

Cool plugin. It might be very useful for me since I have got my domain and am moving to WordPress soon. You tried it? I bet you didn't try it in this blog because you most probably won't display AdSense in this blog 🙂 Anyway, thanks for the plugin.
Comments are closed.