SEO Quake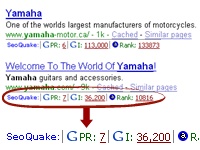 SEO Quake is very useful Firefox extension that allows you to view a large number of parameters of the site that you are visiting. Parameters include the number of links for that site on Google, Yahoo and MSN, the Alexa rank, the number of times the page has been bookmarked on Delicious, the Pagerank and so on.
The extension will also display such parameters on the results of a search query, meaning that you will be able to get a clue of the authority of the site even before visiting it. You can get more information or download the SEO Quake extension here.
Browse all articles on the Software category
9 Responses to "SEO Quake"
Joshu Thomas ( OC webmaster Blog)

its really a nice tool…

cheers
Joshu Thomas
OrangeCopper Blog

Qigong

Generally what's the distance between the fractured plate repsonsible and the quake spot? places.Normaly if the quake is 5 to 6 it will damage.

Daily Good Tips

Good tool. The tool is benefit to understand google pagerank, alexa, and yahoo more quickly. Good information

MiamiBeachInteractive

Personally, I find SEO Quake obtrusive on Google Searches. I feel that the information is valuable, but cluttered under each listing.

I find it annoying more so than not.

Josh

I first used other tools but they took to long. To cool thing with SEO Quake is that you can ask for the info you need when you need it.

hendis

seo quake great search tool, we can look information about PR from the blog, I allways use the seo quake

SEO Genius

I love SEO quake its a great peice of software.

Daniel

Just installed it, pretty useful as well, thanks for sharing.

Thilak

Yeah, Its quite a handy tool for SEO junkies… (I'm not one 😀 ). I use another extension called SearchStatus, Check it out.. its pretty cool
Comments are closed.