Search Status for Firefox
Search status is a very useful extension for bloggers, web developers and Internet marketers. Once installed Search Status will add a tollbar to Firefox, displaying various information about the page that you are visiting. The information includes Google PageRank, Alexa Rank, backlinks, meta tags, whois, nofollow links and so on.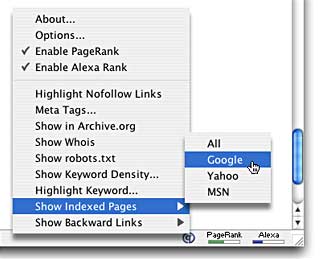 Another benefit of the Search Status extension is that it reports back to Alexa the pages that you visit. Until some time ago Alexa rankings were calculated uniquely from people that had the Internet Explorer toolbar installed. Search Status integrates that functionality into Firefox as well. I am pretty sure that you will notice an improvement on your Alexa rank if you install this extension and manage to get a couple of readers to do it as well.
Browse all articles on the Software category
12 Responses to "Search Status for Firefox"
Breckenridge
Bang Kritikus

how for opera

[ Nugraha ]

Thanks, daniel for sharing this…
But I prefer user SEOQuake 😀 with the same function

Garry

What an excellent extension, I'll be using this a lot for the numerous web sites I am involved in. Great link!!

Manta SEO Solutions

I've been using SearchStatus for a while now, it's much better than most plugins i've seen

Daniel

Yes, I made the switch a coupld of weeks ago also. The other one is SEOQuake.

menghua

nice one my friend~ This plugin is much better than the other one which pops out on the upper screen… forgot the name of that plugin though.. 🙂
Comments are closed.