I am glad to finally release the Search Ads WordPress plugin, which allows you to display content blended ads only to search engine traffic, in a quick and simple way. There are a couple of advantages connected with this strategy. First of all you will be able to add another revenue stream to your site, as organic traffic tends to yield a very high CTR. Secondly, you won't annoy your regular visitors, because they won't see the ads unless they come to your site via a search engine.
Here is how it works. Once you upload and activate the plugin, you will be able to find its configuration page under the "Settings" menu of WordPress. It looks like this: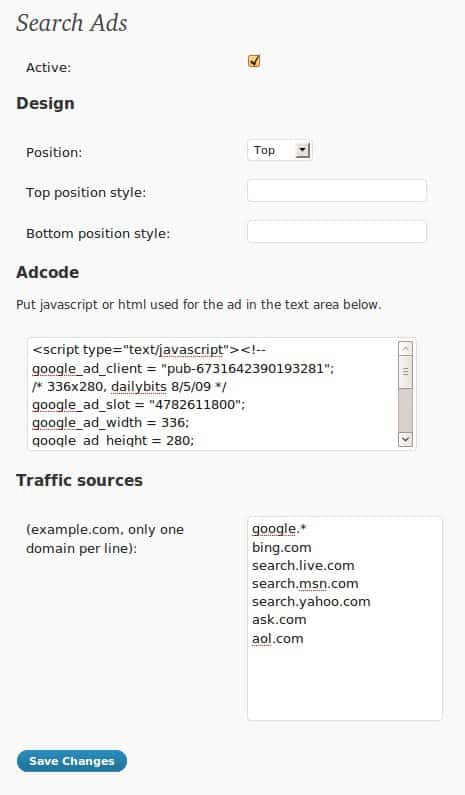 The first thing that you need to configure is where the ad should appear. You can place it on top of your posts, at the bottom, or both. By default the ad will be left aligned, with no content around it. You can change the style however, adding margins, changing the alignment, wrapping the content around it and so on.
The second step is to paste your ad code. It can be the Javascript code of your AdSense unit or even an HTML code if you want to run a static banner ad. For optimal performance I recommend that you use the 336×280 AdSense unit.
Finally, you can choose what search engines should trigger the ads. You can also include other sites in that list, including social networking sites like Twitter or Facebook.
That is it. Save the configuration and your ads should be live.
The plugin was developed with Andreas Nurbo. If you need custom plugins developed or help to fix anything inside WordPress, he is available for hiring.
We tested it on WordPress 2.5 up to 2.8.3. This is the first release, though, so if you find any bugs just let me know with a comment below and we'll try to fix it as soon as possible.
Update: The Search Ads plugin is now available only to Online Profits members.