How to Schedule Posts (and Backdate Posts) in WordPress
Did you know that with WordPress, you can schedule posts in advance … and you can backdate them too?
When I first started blogging, I always logged in and put my post up right when I wanted to publish it – I didn't trust WordPress to do it for me!
But I finally took the plunge when I went on holiday for a week … and everything was fine.
To schedule a post in advance:
1. Create your post (or edit your draft).
2. On the right hand side, find the "Publish" box.
3. In that box, look for the "Publish immediately" line and click the "Edit" link next to it.
An extra line will appear, like this: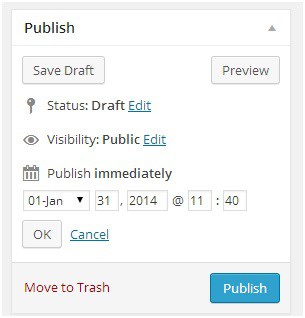 Simply put in the time and date that you want, and click OK.
The blue Publish button will become a blue Schedule button – click on this to schedule your post.
It's as easy as that! You can modify your post as many times as you want before it's published.
To backdate a post, you simply set a past date.
You might want to do this:
When you launch a new blog, so you don't have all your initial posts published on the same day.
If you miss your normal posting day and want to keep all your posts on (e.g.) Mondays and Thursdays.
Be aware, though, that when you backdate a post and hit "Publish" it will go out in your RSS feed.
Have you ever used the scheduling/backdating feature, or is it new to you? Let us know in the comments.
Browse all articles on the WordPress category
8 Responses to "How to Schedule Posts (and Backdate Posts) in WordPress"
Ali Luke

@Alis – Great question! The link should be shown under the title of your post — look for the word "permalink" — but it will only work when you're logged into your blog (until the post is published).

@Deceth – I don't know a way around that — I guess you'd have to simply update the post timestamp on the day you wanted to republish it. I had a look for plugins that might help and couldn't find any.

Denise Hisey

This is a great feature I've used when I've been on vacation before, too.

I have grand ideas of pre-posting a few in advance for when I'm behind with "life" but haven't gotten that far yet.

The backdating idea seemed very odd to me until I read some of the other comments and now I can see the benefit as well.

Deceth

Hey, do any of you know if there is a way to schedule a post that has already been published without taking that post offline?

For example, I have some content I wrote 1 or 2 years ago when nobody read my blog. Now that I have some readers, I want to schedule some of these posts on future dates.

The problem is, as soon as I schedule any of these articles, they will no longer be visible. Scheduling a posts takes it offline and it only becomes visible again on the new published date.

I don't want that. There are links to these olders posts and some search engine ranking. I don't want the pages to be NOT FOUND until the new scheduled date.

I want the article to remain published and visible, but on the scheduled date, I want it to jump to the top of my RSS feed and to the front-page of my website.

Is there a way to do this?

Treathyl Fox

I use the re-date feature because I often update.

Scott Bradshaw

Yep, I've used the back-dating function in WordPress. I once ran a blog that I stopped managing for over a year. I had all these posts, and little of a following, but my life circumstances changed, and I just couldn't stay with it.

So, a year plus passed, and I when I got back to it, I had this huge gap between posts. It looked pretty bad, so as I created the 'missing' posts, I back-dated them to at least give the appearance that the posts were made consistently over the past year.

Nimra Alam

I usually post every news as fast as i can but it's good to keep some things for dry days when there is not much news so you can always make some articles for such or when you don't have time the schedule option really comes in handy

Colin

Have found the Editorial Calendar WordPress plugin is really useful also for scheduling posts.

Alis

I use that a lot. I have a QUESTION Though. I am using hootsuite to market my blogposts. Is it true that as long as the blogpost is only scheduled then there is no link available? If not, where will you find the post link? BR/Alis
Comments are closed.