Did you know that with WordPress, you can schedule posts in advance … and you can backdate them too?
When I first started blogging, I always logged in and put my post up right when I wanted to publish it – I didn't trust WordPress to do it for me!
But I finally took the plunge when I went on holiday for a week … and everything was fine.
To schedule a post in advance:
1. Create your post (or edit your draft).
2. On the right hand side, find the "Publish" box.
3. In that box, look for the "Publish immediately" line and click the "Edit" link next to it.
An extra line will appear, like this: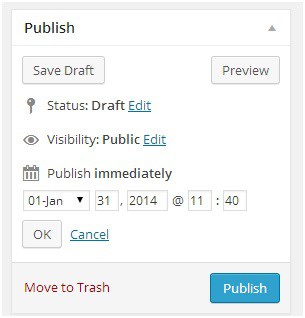 Simply put in the time and date that you want, and click OK.
The blue Publish button will become a blue Schedule button – click on this to schedule your post.
It's as easy as that! You can modify your post as many times as you want before it's published.
To backdate a post, you simply set a past date.
You might want to do this:
When you launch a new blog, so you don't have all your initial posts published on the same day.
If you miss your normal posting day and want to keep all your posts on (e.g.) Mondays and Thursdays.
Be aware, though, that when you backdate a post and hit "Publish" it will go out in your RSS feed.
Have you ever used the scheduling/backdating feature, or is it new to you? Let us know in the comments.