Are You Making a HUGE Mistake With Your RSS Icon? (Hint: Think Email Instead)
If you've been around the blogosphere for a few years, you probably know how important it is to get people to subscribe to your blog, so they don't miss out.
Chances are, right at the top of your sidebar, you have a big, probably orange, button that looks something like this:
Maybe you've even experimented with a really huge icon…
Back when I started blogging in 2008, RSS was crucial and bloggers often linked to their RSS feed in the bio of their guest posts.
Today, though, things are very different. Many blog readers get updates by email, not by RSS. And if you're not making your get-posts-by-email option really clear, you're missing out on subscribers.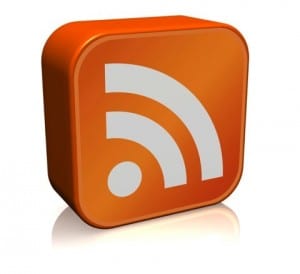 Image from Flickr by TEIA MG.
Most People Don't Use RSS
This Business Insider title says it all, really: The Truth About RSS: It's Not "Dying" – Normal People Never Used It In The First Place (And that's from 2011! With Google Reader being discontinued in 2013, it's clear that RSS isn't exactly growing in popularity.)
I use RSS … but I'm willing to admit I'm a bit of a geek! Unless you're blogging in a very techy niche, it's likely that most of your readers will follow your posts by email, not by RSS. And in case you're not sure, think about this:
The Big Blogs Are Promoting Email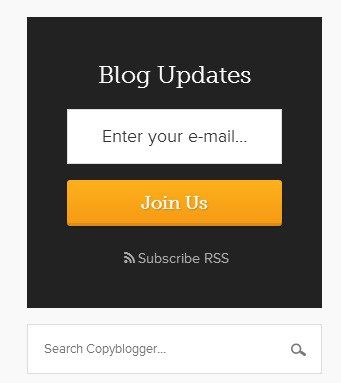 This screenshot shows the top of Copyblogger's sidebar. Note how large and prominent the email sign up is (compare it to the search box below) – and how small the "Subscribe RSS" link is.
More and more blogs doing something similar, making it as easy and quick as possible for readers to sign up for posts by email. If you're worrying that this will put off people who subscribe by RSS, you can relax. Here's why:
Those Who DO Use RSS Can Easily Get Your Feed
If you're an RSS fan, how do you add blogs to your feed reader? Personally, I just put in the URL. Feedly finds the feed, and I subscribe. It's years since I've clicked on an RSS button or link on a blog – there's just no need to do it nowadays.
If you have readers using RSS, they know what they're doing. They won't have any problems finding your feed.
What You Need to Do
1. Make sure you have email subscriptions enabled. This is absolutely crucial … but some bloggers are struggling on with RSS alone, wondering why they're hardly getting any new subscribers. (If you're using Feedburner, there are instructions for enabling email here.)
2. Make your email subscription option prominent. That almost certainly means giving it pride of place at the top of your right-hand sidebar – this is where blog-savvy readers will look first. You might also put an email subscription box at the end of (some or all) of your posts.
3. Check how your emails look. Subscribe to your own blog by email, if you've not done so already. Are any elements of your posts not displaying? Of course, you won't have full control over how things look … but you can at least prompt readers to "click here to watch the video if you can't view it in your inbox" or similar.
Are you still using RSS? What about your readers – how many are subscribed by email versus RSS? Let us know in the comments! 
Browse all articles on the Strategy category
11 Responses to "Are You Making a HUGE Mistake With Your RSS Icon? (Hint: Think Email Instead)"
George

Are people still using rss feeds?

Lance

I was under the impression that rss was a thing of the past. I think it had something to do with the big G, but it seems like it is still alive and thriving.

Thanks for the tips, it's time to get started on something I should've been doing months ago.

Karens

Great advice! I've had the subscribe via RSS feed at the top right hand of my blog for months and it has resulted in very few subscribers. After reading this article I replaced the RSS feed with a subscribe by e-mail box. The results are amazing! Thanks for the great advice!! I love Daily Blog Tips!!

Ali Luke

Thanks all!

I have to say, I'm with Wira, Andrew and Trevor in terms of my own blog reading — I'd much rather have posts to my RSS reader than to my inbox. But Caren, I think, expresses the view of the majority of people!

@Andrew — I agree that it depends on the audience. With a tech-savvy audience (and DBT's readers are definitely that!) then RSS is obviously still a popular and viable technology.

@Metz — You're right, we all make mistakes, and this is one that's thankfully easy to fix. 🙂

Javier

Joseph! i do not totally agree with you there RSS keeps a lot of followers for me which in the end I can manage to get into my e-mail list. But you are right that E-Mail shoulds be their first priority!

Joseph Lalonde

Man, you must have been reading my mind. I see people promoting their RSS feeds more than their email subscriptions and I think they're crazy. RSS provides you with nothing. Email subs get a person to take action and to welcome you into their inbox. There's not much that's more personal than that.

Metz

In my view, we are not a perfect person so we keep making mistakes everyday. But that is not an excused, we must not tolerate it. Hence, we must learn from it. Just like this article that talks about "Are You Making a HUGE Mistake With Your RSS Icon? (Hint: Think Email Instead)" and providing the "What You Need to Do" list are helpful. To wrap this up, the article is not egotistic because it has a solution to the problem that no doubt could help us. Thanks a lot!

I found this post shared on Kingged.com, the IM social networking site, and I "kingged" it and left this comment.

Trevor

RSS all the way, baby!

Andrew Gitt

I agree but it really depends on the target audience. Blogs targeting normal audience would most likely have more e-mail subscribers and blogs targeting people like us who subscribe to a lot of blogs would probably use RSS. Well, normal people won't bother using RSS if they can just put their e-mail and receive updates. Thank you for sharing Ali!

Wira

I still using RSS speacially when blogwalking in Feedly. But for my blog I also enable subcribe by email option.

Caren Gittleman

THANK YOU THANK YOU!! A person after my own heart! I HATE RSS and I only want to follow blogs via email! It's sooooooo much easier!
Comments are closed.