Top Resource: WordPress Glossary, by WPBeginner
When I started blogging, I quickly found there were loads of strange words that I didn't really understand. Words like Widgets, CMS, Themes, .htaccess files…
If you've ever been confused by some of the jargon surrounding WordPress and blogging, WPBeginner have a very handy glossary of terms.
(Each word/phrase links to a short post explaining it.)
This should definitely be the first place you turn if you come across a WordPress-related word or idea you're not familiar with.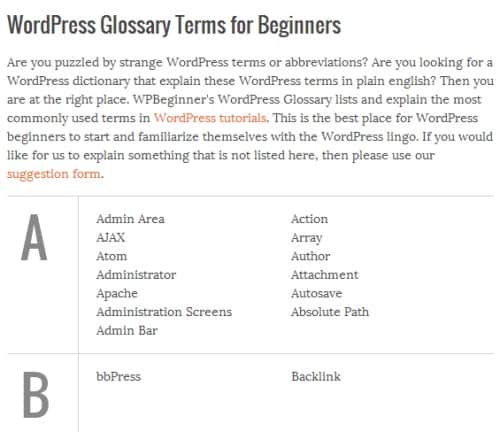 It doesn't just cover words and phrases that are unique to WordPress, but others that you'll likely come across (e.g. cPanel, which is to do with your hosting account). It also includes deceptively normal words like "Author" that have a specific meaning within WordPress.
If the word or phrase that you want to know about isn't covered, there's also a link to a suggestion form so you can ask the WPBeginner team to write a post explaining that word/phrase too.
The one small improvement I'd like to see is to have a short (one sentence) description of each word within the main glossary page, so you don't have to click through to get to the definition, if you just want a very quick explanation.
Check it out today … and drop a comment below to let us know what new term you learned about.
Browse all articles on the WordPress category
8 Responses to "Top Resource: WordPress Glossary, by WPBeginner"
Luc Kuzniecki

"The one small improvement I'd like to see is to have a short (one sentence) description of each word (…)" – exactly! As a newbie I need some help with basic terms, but I found wp glossary not-so-useful because of clicking and clicking… After reading first sentences I realise that I know the thing, so it was useless to click 😉

maxwell ivey

Hello; You are so right, the blogging community is full of wonderful friendly helpful people. This is mainly because most are either in the same boat you are or they can remember when they were. I am not as technically skilled as I would like, so often I help by encouraging the new or newer bloggers. And don't hesitate to leave a longer comment. Many of the bloggers who have noticed me did so because my comments aren't just the thanks for the post here is what I got out of it. You may want to mention a little of your story in your answer. Many of my comments mention that I am blind or that I help people sell amusement equipment. Another thing you can do is offer to share their blog or youtube channel with your friends. thanks for these suggestions. I look forward to those from other readers. Take care, Max

Raspal Seni

I was just searching for some detail of a blog-related word on Google and the page that came at the top was a glossary page from DBT!

There's a blogger's glossary at DBT too! And, it's bigger than the one at WPBeginner. 🙂

Harga HP

WordPress in one of my fovourite site. It is very easy to used. One of fitur very helpful the wordpress user is plug in. I'm very like it.

For beginer like me, there is some term new. So i think this glosary is very helpful idea.

Thanx

Simon

I notice they mention cPanel but I see no mention of Plesk Panel

DK

WP Beginner has been one of my go to sites whenever I wanted some information about WordPress. They have a nice collection of tutorials as well. Most common errors that you encounter in wordpress, which a lot of times you struggle to find out a solution for.. can also be found at WP beginner.
Good information you have posted. We have a glossary as well now.

Widdershins

One of my favourite WP sites.

Daniel Lim

WordPress is unique
Comments are closed.