Seven Reasons to Keep Blogging (Even When You Feel Like Quitting)
Do you ever feel like giving up blogging?
Maybe you've had a bad week … or a bad month. You worked for hours on a post, only to get precisely zero comments.
Maybe you're just really busy, and it's tough to find time for your blog, even though you have great ambitions for it.
Maybe your friends and family just don't understand blogging, and you're starting to wonder what the point is too.
Here are seven reasons to keep blogging, even when you're thinking about quitting.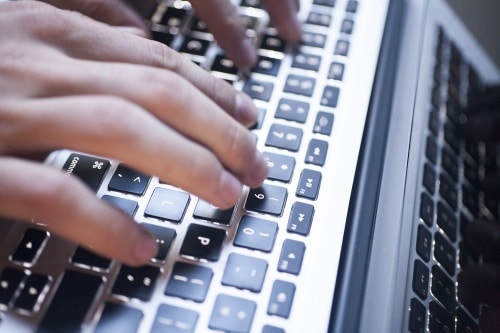 Reason #1: You're Building Something Unique
So much of what we do in life seems to make no real impact on the world around us. Doing chores, going to work, answering emails.
When you write a blog post, you're creating something absolutely unique. It's a piece of content that no-one else could have written – because every word comes from you. By sitting down and tapping keys on your keyboard for an hour or two, you've brought something totally new into the world.
And – regardless of how many readers you have – that's an amazing and wonderful thing.
Reason #2: You're Enjoying Yourself
Blogging is great fun. You get to write about topics that you're really interested in. You get to sort through your thoughts and set them down on paper in a coherent way. And you get to hear from readers who've loved your posts (if that hasn't happened to you yet, it will soon!)
Plenty of people blog just for the fun of it. They're not worried about making money or even building a big audience. They just want to get their words out there.
If blogging's no longer enjoyable for you, look for ways to get the fun back. That might mean shifting your blog's topic slightly, or coming up with a creative spin on your usual posts.
Reason #3: You're Learning New Skills
There's a huge amount to learn as a blogger … in fact, the learning never really stops.
To begin with, you learn how to set up your blog on your chosen platform (probably WordPress or Blogger). You learn how to change your blog's theme, how to add widgets, and how to get it looking at least roughly the way you want it.
As time goes by, you learn lots more. You learn how to write well for the web. You learn how to use calls to action. You learn how to build relationships.
All of these skills are hugely valuable, and you can add them to your resume.
Reason #4: You're Making New Friends
Blogs are a type of social media – and social media is (as the name suggests!) all about being social. Through blogging, you'll meet all sorts of people who you'd never have come across otherwise.
You might have readers all around the world, and you might meet up with bloggers in your hometown. You'll get to know fellow bloggers online, perhaps through Twitter, or by leaving comments on one another's blogs.
These connections and friendships can be really rewarding: it's great to be surrounded by people who "get" blogging!
Reason #5: You're Helping People
Perhaps your blog has ten readers, and you want ten thousand. Even so, you've made a difference in the lives of each of those ten people. (And if you think about it, that's quite impressive.)
Maybe your inspiring post gave a reader a new sense of resolve at a difficult time.
Maybe your funny post made them smile during a difficult day.
Maybe your how-to post helped them solve a problem in ten minutes, instead of spending hours struggling.
Don't underestimate how much difference you're making. Lots of readers won't ever comment or email you – but they may still be very grateful for you and your blog.
Reason #6: You're (Close to) Making Money
Money definitely isn't everything … but you may well have got into blogging with the aim of making money from it.
Even if you're only making a couple of dollars a month, it's something. And if you're making nothing at all, it's just a matter of time.
Every single dollar you make through your blog was won entirely by your own efforts. You didn't have to wait around for someone to employ you: instead, you went out there and made money by yourself.
That's a brilliant position to be in. Even if your blog just provides a small side income, it gives you greater freedom – you're not so reliant on the whims of bosses.
Reason #7: You're on an Exciting Journey
Finally, you'll never know what blogging will lead to.
It's almost six years now since I started my first "pro" blog, with the aim of making some money at it.
Since then, I've been able to:
Quit my day job and make a living doing what I've always dreamed of – writing.
Speak at conferences and events in the US and UK.
Write a book in a well-known series (Publishing E-Books For Dummies, with Wiley).
Become co-editor of DailyBlogTips, one of the blogs that inspired me six years ago.
If you give up on your blog now, you'll never know where that journey would have taken you.
Over to you! Which of the above reasons inspires you most? And what other reasons would you add to this list? Let us know in the comments.
Browse all articles on the General category
21 Responses to "Seven Reasons to Keep Blogging (Even When You Feel Like Quitting)"
Silvia Altamirano

I guess all of them inspire me: I thought of quitting blogging many times, but I just couldn't. Great post, thanks!

Xavier Dimorra

I am not new or an expert to blogging, I am more in between. Yes, I must agree at first it can be discouraging when you do not see results. But to anybody reading this, trust me that I also agree that you will eventually start seeing positive results. The best advice I can give is do your research & homework, such as reading blogs like this for example (I am truly impressed & support this site). Thank you, Xavier

Ali Luke

Wow, what a lot of comments! I'm so glad this post was encouraging and inspiring. 🙂

@Ryan — way to go, and what an inspiring story! 10,000 hits in a day is fantastic, and being able to travel and do what you love is just wonderful.

@Tricia — knowing that you're making a difference can be such a powerful motivator. Keep blogging. 🙂

@grahame — congratulations! Making money from a blog is a wonderful feeling, and good on you for persevering. So many bloggers give up after a year or two, when success often takes just a little longer.

@Jouie — you're not the first person to ask me that … 😉 I'm always delighted when one of my posts reaches someone at just the right time for them! Keep up the blogging — as you say, someone out there may well be waiting eagerly for your posts each day.

@Debbie — I think a lot of people find blogging a great creative outlet; I know I do. Taking your own photos is a brilliant idea. As you say, blogging can open up so many opportunies!

@David — what a great way to look at blogging. It's definitely a good medium for experimenting, and I've read some great books (like Michael Hyatt's "Platform") that began life as a collection of blog posts.

David Hooper

Great stuff!

I think the best part about blogging is that it allows you to test new material without much risk, similar to the way a comic tests material in a small comedy club. You're then able to create better books and presentations.

Megan

Thank you for this! Especially being new to blogging, it's hard to find the motivation when the readers just aren't there (or at least aren't making themselves known). It's great to know I'm not the only person struggling. This was very encouraging!

Debbie Polden

Hi Ali,
Thanks for the great post. It got me thinking why I keep blogging.

I keep blogging for a couple of reasons. I love it when I get emails or comments from readers that say they enjoy reading the blog and that it helped them in some way. Also, I find that designing (through Blogger), writing, and maintaining the blog has provided the creative outlet that I need. I enjoy taking pictures for each of the posts and have started to take an active interest in learning how to take better ones.

We've made a little money through our blog and writing our blog has also opened up other writing opportunities – who knows what the future will bring? I can't wait to find out….

Alexander

Hi Ali, those 7 points up there are what motivated me into Blogging. The truth is that most time writing can be boring. it look as if no new things to write about. But I have made up my mind to keep helping new bloggers coming on-board and old bloggers that may not have time for their blogs. Lets keeping the blog-sphere rolling

Irish Carter

Great post. I certainly have also had those days where I feel just tired, drained and question myself. Thats when I walk away and take a minute to myself. I'm not kidding that EVERY TIME I have questioned myself and walked away, I have come back to some AMAZING OPPORTUNITY. That is inspiring to keep growing. Now that I have been doing this a while and grown, I like to look back at how far I have come and I can vision where I am going. How motivating!

Irish at Dedicated 2 Life

Jouie

Did you write this for me or you're just a mind reader? My blog site has been on and off. In three years I only have less than 30 posts in it. I just recently bought a domain for it thinking that it would inspire me this time (previously it was on a BlogSpot address). This article gave me some pointers I need to continue blogging and who cares if I have a hundred readers a day? I get a comment or two a week but it's fine as you said. Maybe there's someone out there who reads my posts regularly. Maybe someone is waiting for my latest post everyday. Who knows, besides, it is fun to write and share your ideas to the world.

Brian Meagher

Thank you for the post, Ali. Nicely written and thought out.
And a bit inspiring.

Blogging is hard – especially as a hobby. I review hot sauces and other fiery foods. Sometimes I wonder if anyone is reading – and other times I get lots of feedback.

But the bottom line is I enjoy writing about a passion I have. Again, thanks for the inspiration!

Galina Vitkova

Thank you for supporting. Sometimes I am so tired that thoughts about stopping blogging appear in my mind. But interest to new events, new things and feeling to be on an exciting journey keeps me to continie with blogging.
All the best everybody who makes (or DO?) blogging.

Michelle

This is a very encouraging read. I don't blog as regularly as I should and this post is pushing me to keep at it. Thanks for sharing!

I recently wrote a post on WorkingKind.com that gives tips on how make money on your blog without using ads. Here's the link:

Shawn Gossman

One reason why I continue to blog is by putting something in my mind… I have come this far with my blog and I need to continue it for the long haul. What if I continue it and it becomes one of the top blogs in its niche?! If I quit, I could miss out on that grand milestone! That thought process keeps me going. Great post, Ali!

Maxwell Ivey

Hello; This is one of those posts that will always be timely. No matter how well a person may be doing, they can never get enough encouragement to continue working at their blog. In my case I started the blog because people said I needed to have one to promote my business. Since starting it I have realized that I enjoy writing enough to keep the blog going even though I don't have a huge following and am definitely not getting rich from it. However, I have met a lot of great people who are also following their dreams with their own blogs. Many have helped me by encouraging me and by offering technical advice when I have had problems. As a blind computer user I often have trouble with finding the proper plug ins to use and installing or configuring them. But I think the most important reason people should blog is the social nature of it. By building relationships through reading each other's blogs and commenting on them we all improve the online value of our blogs. Through recent blog commenting and being featured on a friend's blog my site has climbed from 2.5 million to 1.2 million on alexa in a very short time. I couldn't have done that without help from my friends and fellow bloggers. Thanks again and take care, Max

Esther Joy

Thanks for the encouragement! I haven't tried to make any money at it, but maybe I need to look into that!

grahame

Hi Daniel

What a great post and what an inspiration, not only for me as a writer/blogger, but to millions of other wannabees bloggers out there. It's not always easy making money from your blog but when the day comes and you start getting some rewards, it's a great feeling. I've been working on my website/blog for five years now and only got my first bit of cash after two years. Today I opened my mail and found $150 in my account. It may not be a fortune but it made my day.

Tricia from Return to Disney

I wandered away from my blog for about two years. Recently I started writing again because I missed it. It was fun. Then I got a comment on a post from a reader who thanked me for the information, because my post had helped her plan her anniversary trip. That comment really hit me hard – the information I was putting out was helping people. Even if I thought I had nothing new to say, there were people out there who hadn't heard it all before.

Now I've recommitted to regular posting and promotion to grow my blog again, all because one reader reminded me that what I do was making a difference.

Jitendra Vaswani

Blogging is not a easy journey , we had to face botherings in our way, so just keep motivating and enjoy blogging. Try to learn from blogging.

Aina Ayodeji Ezekiel

My field of interest has been in the area of technology and engineering but could not come up with cache niche and no deep knowledge about coding website though I'm just learning HTML and CSS but that to me now may take longer time I need your help to explore in this my area of interest. Thanks a lot

faisal

It's tough but not impossible to keep going, the problem happens due to our obsession with analytics.

Ryan Biddulph

Hi Ali,

Great reminders!

I had a down day or 2 over the years. But this ex-fired security guard turned into a globetrotting fools by sticking with it. Dead one, we are on to something exciting, and if you will persist you will be stunned at the doors which open for you.

4 years ago I knew how to check email and espn.com and just 2 days ago I got almost 10,000 views on my blog….in a day! Are you serious?

I had no clue in heck how to do anything online but I did have a vision, and I gutted it out, and followed awesome blogs like these, and hey, here I am. 30 months traveling around he world and I am not stoppin anytime soon.

Thanks for inspiring us Ali!

Ryan
Comments are closed.