In the past I already mentioned that it is important to check your list of email subscribers once in a while to see how many of them are unverified. Those are basically people that forgot to click on the confirmation link that was sent to them. In those cases it is a good idea to send an email reminding them that they still need to click on that confirmation link to activate their subscription.
Apart from unverified subscribers, however, you will also have inactive ones. When Feedburner fails to deliver your posts to a specific email address for three times in a row, it will basically disable the delivery to that subscriber.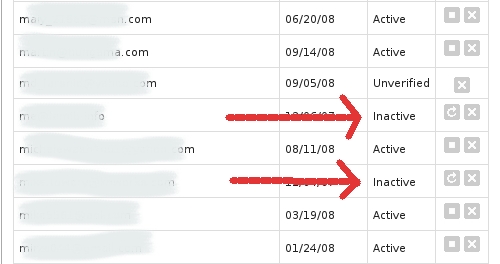 Most of the times this will happen when a subscribers has a small glitch on his email server or spam filtering service. In fact I often receive emails from subscribers asking me why their subscription was halted, and they did nothing at all to cancel it.
Solving this problem is really easy, and it can be beneficial both for your subscribers and for you. You just need to login into your Feedburner admin panel, go on the list of subscribers, and re-activate all the inactive subscriptions. If the address is no longer valid, it will become inactive again after three failed deliveries. If, on the other hand, the address is still valid, you just recovered a subscriber.
If your blog is small you won't find many inactive email subscriptions there. But as you star growing this simple task could prove fruitful. Last week I spent 20 minutes re-activating subscriptions on Daily Writing Tips and recovered around 150 subscribers!