Re-Activate Inactive Email Subscriptions
In the past I already mentioned that it is important to check your list of email subscribers once in a while to see how many of them are unverified. Those are basically people that forgot to click on the confirmation link that was sent to them. In those cases it is a good idea to send an email reminding them that they still need to click on that confirmation link to activate their subscription.
Apart from unverified subscribers, however, you will also have inactive ones. When Feedburner fails to deliver your posts to a specific email address for three times in a row, it will basically disable the delivery to that subscriber.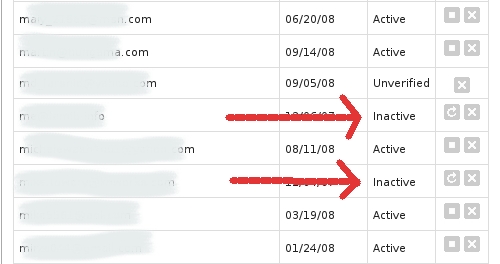 Most of the times this will happen when a subscribers has a small glitch on his email server or spam filtering service. In fact I often receive emails from subscribers asking me why their subscription was halted, and they did nothing at all to cancel it.
Solving this problem is really easy, and it can be beneficial both for your subscribers and for you. You just need to login into your Feedburner admin panel, go on the list of subscribers, and re-activate all the inactive subscriptions. If the address is no longer valid, it will become inactive again after three failed deliveries. If, on the other hand, the address is still valid, you just recovered a subscriber.
If your blog is small you won't find many inactive email subscriptions there. But as you star growing this simple task could prove fruitful. Last week I spent 20 minutes re-activating subscriptions on Daily Writing Tips and recovered around 150 subscribers!
Browse all articles on the Web Tools category
30 Responses to "Re-Activate Inactive Email Subscriptions"
Shahab khan

Fortunately i don't have any inactive email subscriber 😛

ravi

@TheAnand, sorry to hear that. I guess you need to use the Google Groups for that.

Cassandra

Some of my feedburner subscribers aren't getting their confirmation emails. They have checked their junk mail boxes, and they just didn't show up. Any ideas on how to fix this problem?

medyum

I realize its the unverified, not the inactive. I was just curious if there was a way to email them right from feedburner or if you just put the addresses into your personal email account and email from there.

Dan @ PowerDosh.com

I've now written a tool to extract the email addresses of unverified subscribers.

Seth

Thanks for the helpful tips on using feedburner and email subscriptions. I am still working on getting more subscribers, but then I will be able to use your tips. Thanks!

Joel Drapper

Stupid me. This is feed burner 😛

Joel Drapper

Can you do this in feedburner?

Tamar Weinberg

Is it just me or do you guys think that this should be the responsibility of the subscriber to do — rather than the blog owner? Most other subscription services are opt-in only, and users can log into their accounts (and click on links) to make these changes. It shouldn't be my responsibility, especially on accounts where I'm maintaining hundreds of thousands of subscribers (and yes, my biggest gripe is related toa blog of that size and the amount of time it takes Feedburner to load the email addresses). I think Feedburner needs a lot of work to that effect.

Mat Packer

Thanks for the tip, I'm going to check my subscribers now.

Daniel Scocco

@Amy Warden, go on "optimize," then "email subscription", then "manage subscribers."

@Vijay, no automatic method. Just that plugin you mentioned.

Vijay

Daniel,
Is there any automatic method to resend the mail to unverified subscribers?

I had tried the wordpress plugin to send the mail to feedburner unverified subscribers but that doesn't work for me. Seems some bug in it. It gets crashed while sending mails to unverified email list.

Any other way? From feedburner or any new plugin?

Actually there are around 3000 unverified subscribers and I think this is a huge number compared to active 6400 subscribers.

Amy Warden

Ok, call me stupid. I had no idea I had access to the list of subscribers!! I don't have a long list, but there were two unverified. The rest were active. Thanks for the tip!

Dennis Edell

Anand – thanks for the tip!

TheAnand

There is a way to mail unverified subscribers, you can however send a mail to them from your personal mail id and ask them if they got the verification mail and some posts they might be missing and stuff. I did that and got a nice jump from 120s to 170s….some even thanked me for doing that…while those not interested just ignored the mail.

If your list is small, you might want to try that out Dennis Edell

Daniel Scocco

@Dannie, there isn't.

Dennis Edell

Luckily (or unluckily) my list isn't so big to export.

I realize its the unverified, not the inactive. I was just curious if there was a way to email them right from feedburner or if you just put the addresses into your personal email account and email from there.

Daniel Scocco

@Dennis, you don't need to email the inactive one, only the unverified ones.

I would export the whole thing into excel and then sort the unverified ones out.

Dennis Edell

How do you email them, just copy/paste into your personal email?

Angel Cuala

No worries, Daniel. I respect your personal point of view as it does not make you half a man or even less a blogger.

But thanks for the immediate response which means you care for your commentators.

Cheers!

Dennis Edell

Excellent tip. I was just looking at this the other day 🙂

Daniel Scocco

@Angel, Personally I don't see a problem with using the word "forgot." It is not like people will get offended and think "Wow, this guy is trying to put the blame on me, so I will not subscribe to his feed anymore!" 🙂 .

But yeah someone commented that a while ago.

Angel Cuala

Another simple but very useful reminder, Daniel. However, I read one of the comments on your previous post that we must not use the term "forgot" as it implies that it is the reader's fault.

In addition, I think we should also monitor the ones who decided to unsubscribe to at least think on how to win them back.

Thanks for sharing anyway.

Nancy Nally

Do you have any suggestions of what to do about unverified subscriptions? I have so many unverified subscriptions that it makes up over 10% of my subscriber number!

Rhea

I am glad you addressed this. I have so many inactive or unconfirmed subscribers. I did do that email reminder a while ago and got a few, but nearly enough. I've got to try it again.

TheAnand

I did actually mail the support, but unlike yahoo, google does not care about its customers unless they are big fishes 🙂

Daniel Scocco

@TheAnand, sorry to hear that. I guess you need to use the Google Groups for that.

Ryan McLean

Wow,
This is a really good technique and something that I really need to know as I build my list of subscribers. I now know how I can combat this and keep readers active and make more and more money

TheAnand

The problem is I cannot see the subscribers on my feedburner account since i migrated to google feedburner. I completely frustrates me since I currently have more than a 1000 unverified subscribers!!!! I think something is wrong with the verification after I got migrated to google subdomain feedburner.

Do you know if there is anything tht can be done to solve this?
Comments are closed.