Rating Burner: Ranking Blogs According to RSS Subscribers
Several blogs have created top lists in the past with the most popular blogs on the Internet according to the number of RSS subscribers. It was a interesting idea, but I knew that sooner or later someone would create a special website to automate the process and present the rankings in a more clear fashion.
Well, it just happened. Rating Burner ranks the top 400 blogs on the web according to their number of RSS subscribers (as reported by Feedburner). It also tracks Google Pagerank, variations on the RSS count, the latest post of the blog and whether it has ads and sponsors or not. Pretty cool eh? (Well, except for the little faces that they used to report the Pagerank…)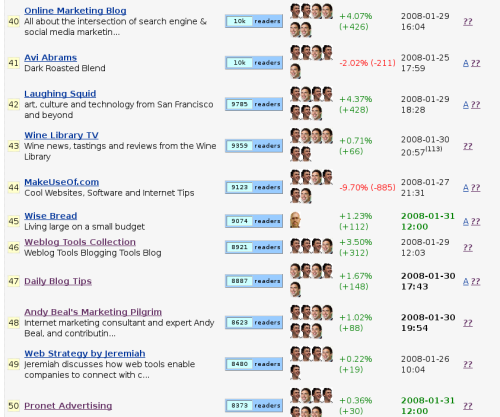 The list is not as complete as it could be right now, but I am sure that the owners will update it regularly. Daily Blog Tips appears on the 47th position.
Via: Mashable
Browse all articles on the Blogosphere category
19 Responses to "Rating Burner: Ranking Blogs According to RSS Subscribers"
Joshua Dorkin

Very cool site . . . thanks for the tip! I just submitted our site to the directory, and look forward to seeing where we fall (somewhere in the top 250). Much thanks again.

David Bradley

Very odd, that site tells me my feed is listed but I'm not ranking even though FB is reporting almost 3000 subscribers…

db

Mohsin

They are missing a lot of blogs that should be there.

Also, how many blogs do you think have 200-300 subscribers? I think they are in thousands. Which makes me think they have been hand-picking blogs for their list, and there is no real algorithm behind it.

Mary

What is RSS? I've been reading your daily blog tips for over a month and have been going to the links and reading those blogs. I see this term everywhere. What is it? Thanks from a Blogging Newbie.

Ashland MA Real Estate

It must be working out for you because I found you through the rating burner site. I just found out about them through an SEO blog at the Active Rain Real Estate network. Great job!

TheBloggerTips

Daniel,

Congratulation on top 50, I think dailyblogtips will soon listed in top 40 in coming next 4-6 months.

Chetan

Wow it would be easy to find the blogs whose content is loved by people 🙂
good to see daily blog tips in the top 50.

Anthony Lawrence

Absolutely – but look at the really big guys – how many actual readers must they have? Mind boggling..

Daniel

I am not sure Anthony. This effect should be negligible on the list though, cause out of 400 blogs probably 10 or 20 focus on blogging there, the others cover all range of topics.

Anthony Lawrence

I tried adding my blog to that; no matter what I put in it says it is wrong..

oh well.. 🙂

Anyway, the real point of interest is how few people actually use RSS. I have a little more than 500 subs broken up between two feeds (full text and excerpt text) but many times that in actual visitors. I suspect that's true for most blogs (except maybe the "about blogging" and SEO sites where it's other website folk visiting).

So, two things: unless you have a "blogger's blog" your RSS feed probably only represents a fraction of your audience and if you DO run a blog about blogging, your RSS stats are higher than other blogs partially just because of your audience.

Daniel

Mike, it is automated for the blogs already present on the index, that doesn't mean that are covering the whole blogosphere already.

Mike

I'm not sure how automated it is. While I'm proud of my site, I'm not sure I believe them when according to their rating, it is capable of being in the top 400 for all blogs everywhere.

Jim

An interesting idea. But like all ranking systems, it don't capture the full picture. Oh well, it's another way to look at things. And those faces for pagerank?…..Creepy.

Daniel

Contact them and they should add you.

The How-To Geek

Hmmm… I should be #13 then, if I was only on the list =)

Daniel

Man, second typo today, guess it is a busy day!

Thanks for spotting.

redwall_hp

"Rating Burber"? You may want to fix your post title… 😀
Comments are closed.