RankSense SEO Software Review
When I first wrote about RankSense a couple of months ago, some of you emailed me asking for more details. I decided therefore to write a more extensive review about it.
RankSense is basically an all-in-one SEO software solution. It has 12 integrated tools that you can use to optimize most aspects of your website, and its objective is to make the whole process as user friendly as possible.
Upon signing up for the service, you will be able to download the installation file. One drawback is that the software only works in Windows. I am an Ubuntu user, so I was forced to install it on my laptop. I guess this will not be a problem for the majority of the people out there though.
The installation should be pretty quick, and after that you are welcomed with this screen: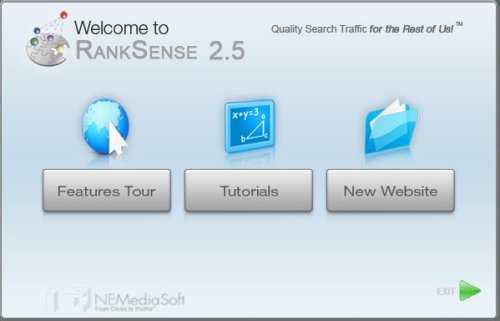 As you can see, the software comes with a tour of the features and with a collection of tutorials. I explored the tutorials briefly, and they cover some of the SEO basics. The material is not exhaustive, but it can help out the newbies to get started.

Once you click on "New Website," you will be asked to add the details about your website, including its URL, name and target geographical market, landing pages that you want to optimize and so on. You will also need to give a source for the traffic details. If you don't want to put your FTP login details, you can simply download your raw log files to your computer and use those local files with RankSense.

After that you will be directed to the dashboard, which looks like this: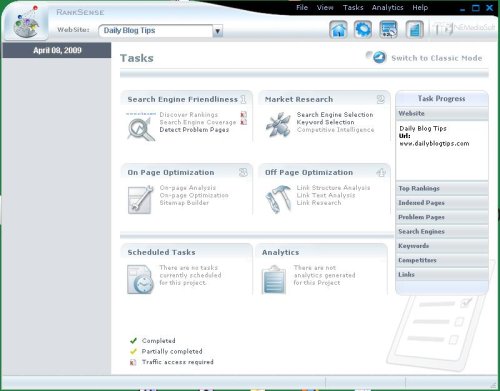 The four main modules are:
Search Engine Friendliness: Where you can find your actual search rankings, search engine coverage and diagnosis problems in your pages.
Market Research: Where you can perform keyword research and competition analysis.
On-Page Optimization: Where you can analyze the internal SEO factors.
Off-Page Optimization: Where you can analyze the link portfolio and anchor texts.
Then you also have two secondary sections: "Scheduled Tasks" and "Analytics."
Module One
Let's start with the first module. The first task here is the "Discover Rankings" one. The task will analyze your log file (my example used a daily log), and it will create a list with all the keywords that are sending you traffic from search engines, including the landing page of that traffic, the position in the SERP, and the number of visits over a certain period of time.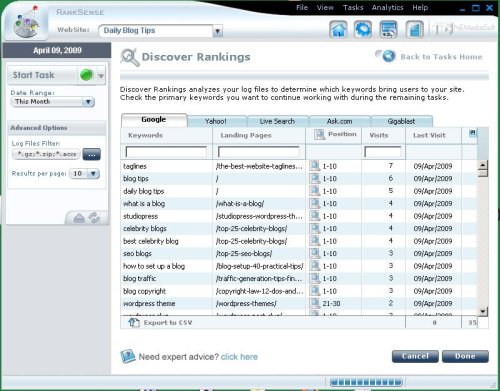 After that you will proceed to the "Search Engine Coverage." That task basically analyzes the log files to determine which pages from your site have been crawled and indexed. The output will be a list of pages that have been visited, not visited, indexed and not indexed.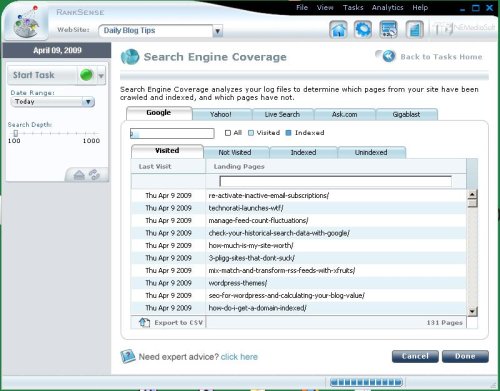 Then you have the last task in this section, the "Detect Problems Page". Here you are able to specify how many clicks the crawler should follow, and the maximum number of pages that should be visited. The task takes a while to get concluded, but after that it will report redirects, client and server errors that the SEO software found while crawling your site.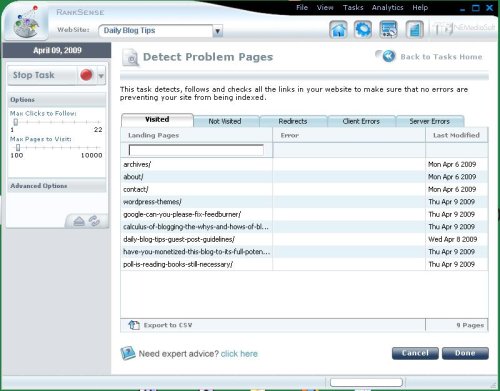 Module Two
Now let's move to the second set of tools, called "Market Research". The first task here is the "Search Engine Selection," and it will show where your search traffic is coming from. You will also be able to specify which search engines you want to target in the future.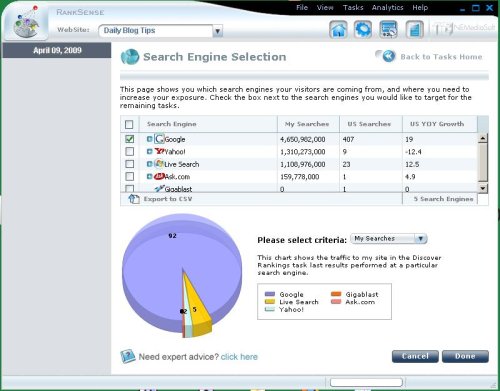 The second task is called "Keyword Selection." Here the software will make keyword suggestions for you, based on the keywords that it finds on your site. You can also input keywords directly if you prefer. Once you have the desired keywords in your basket, another task will start, called "Keywords Appraisal." This part will try to gather different metrics for each of your keywords, including the traffic, value and competition.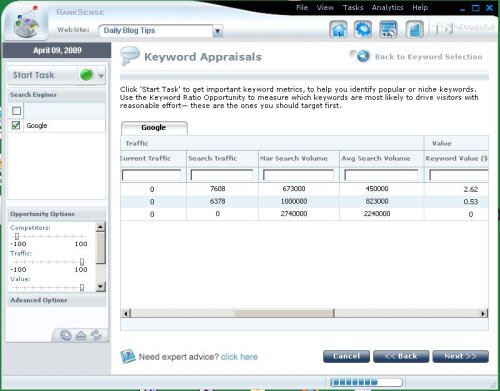 The last tool in this module is the "Competitive Intelligence" one. Here you will be able to select the keywords from your basket, and the tool will analyze the competition around the keywords for you. It will find the competitors that rank in the top positions, and it will gather a bunch of data about them, from link popularity to traffic level and social media exposure.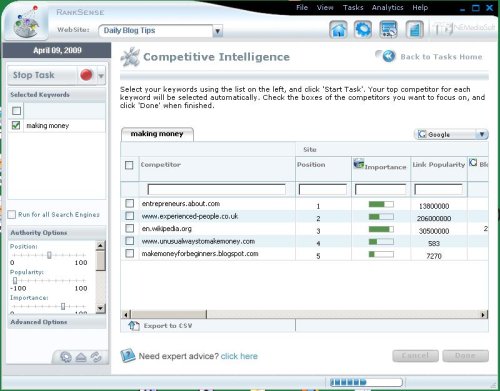 Module Three
Inside the third module you will find the "On-Page Analysis" tool. It asks you to list the keywords that you want to target, and then it will map the keywords into the internal pages that are relevant for those keywords. The result is an analysis of how well you are positioned for those keywords.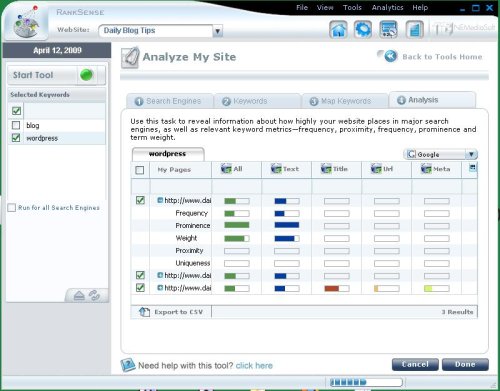 The second tool is this module will carry on this analysis, and it will analyze the on-page SEO factors of your pages that were listed in the previous step. It will list information like the frequency, prominence and weight of your keywords inside the individual pages. There is a useful tab in this tool that will "guide you" with steps that you can implement directly in your pages.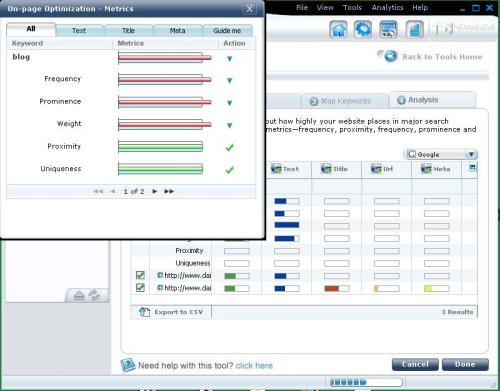 The other tool you will find here is a "Sitemap Builder." Inside that tool you can specify the pages that should be included, their priority, and how often they are updated. After that the sitemap will automatically be created for you.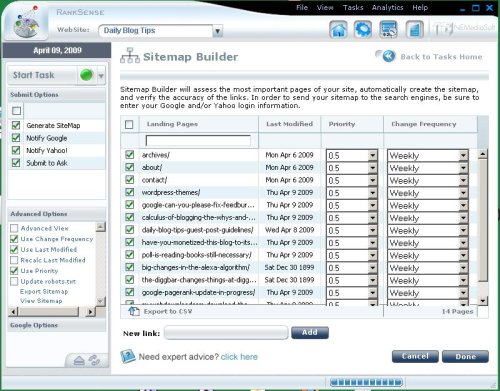 Module Four
The fourth module is all about backlinks. The first tool here, the "Link Structure Analysis," will let you specify some keyword and some competing websites, and the tool will gather the sites that are linking to your competitors, including some information about those links and their anchor text.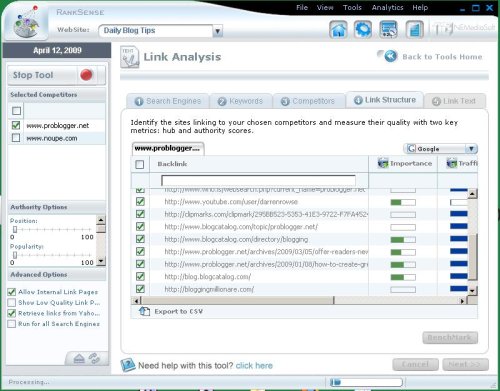 The second tool is focused on your own website. It explores your backlink portfolio and analyzes the anchor text used on the links.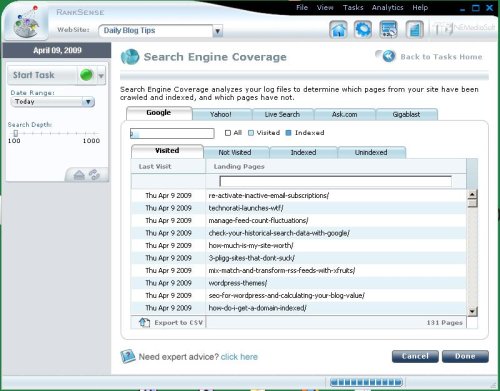 The last tool, called "Link Research," will help you find potential link sources for your website. After specifying your keywords, you will be presented with a link of potential lists, divided into blogs, directories, social media sites and article directories.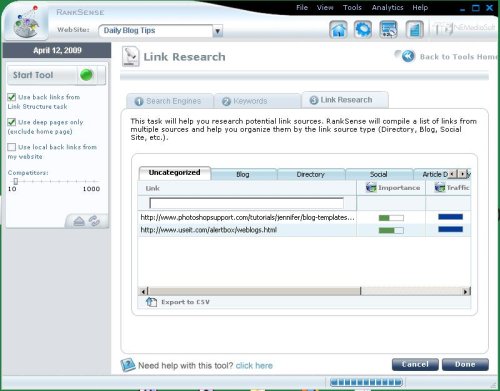 Other Features
The software can be run under a "Smart" or "Classic" mode. The "Smart" mode is useful for people who don't have search engine optimization experience, because it will guide them across the tasks. This mode also forces you to complete specific tasks before you can proceed.
I found the "Smart" mode a bit annoying, exactly because it tried to impose an order of tasks on me. The "Classic" mode solves this problems, as it allows you to access any tool anytime.
One feature that I didn't have the time to explore but I suspect could be useful is the "Schedule" one, which lets you schedule certain tasks to be run automatically.
Conclusion
Overall I found the RankSense software useful, but keep in mind that it is geared towards users with limited search engine optimization experience and users who don't want to spend time learning about SEO but still want to make sure that their website is well optimized for Google and company.
Try it Free and Decide for Yourself
You can also download the software, play around with it, and decide for yourself whether the product meets your goals or not. It is free for the first 30 days (and has a money guarantee guarantee for another 60 days on top of that). Just click here to download and try it.
Browse all articles on the SEO category
34 Responses to "RankSense SEO Software Review"
Rodel Gargullo

I am really looking for seo tools because search engines doesn't indexed by website yet. Hope this tool can help in promotion of my website.

ayman

good work

anurag

i really like all seo tutorials.

Hamlet Batista

Hi George,

As far as I know GA is not an SEO research and management solution. No white hat software can do the actual SEO work for your, i.e: writing the content or securing the links. You need human interaction.

However, you need different tools to research, plan and optimize your site following best practices or modeling your best successful competitors. RankSense uses the later approach.

I hope this answers your question.

Best,
Hamlet

George Williams

The product sounds good, but Google Analytics already offers me all the above information… however it doesn't offer any solutions. So does this software actually do the SEO work for you or would I still have to crawl submission sites and back-link sites in order to improve my links for example?
Analytics are all very well, but too many stats just confuse me, so solutions would be much more helpful.

tlpublic

Does anybody here have used Seo Elite?

Hamlet Batista

Hi Derek,

Thanks for your interest in RankSense. I'm not sure why you can't see the pricing page. It is listed in the top menu bar (bold blue letters with white background) which appears in all pages of the website. Our pricing starts at $29.95 a month.

Derek Kimball

Well, I just checked out the free trial signup page. Of course, no price anywhere to be seen (ateast not that I could see). Nothing I hate worse, than to have to fill out a bunch of crap, just to see what the software will cost after my trial period runs out.

This cost of a product, as well as information on whether the credit card will automatically be charged; should not be hard to find. This wastes my time and makes me angry enough to not want to buy your product. Why can't companies do away with the general sales b$ and just make things convenient for potential customers?

Derek Kimball

Very nice review article. I may just have to give this little app a whirl. Too bad there isn't a version for the mac though, and hopefully it's not too expensive.

webmastertip

thanks very much for soooooooooo detailed explanation.this soft ware are slightly like SEO elite.

Cheap iPhone 3g

I tried the trial… didnt help me really. Told me things i already knew and things that weren't even true. Maybe it was just me though. Smart piece of kit though.

Boerne Search

"I do not like "free" trials that require credit cards. Anyone else feel the same?"

Without a doubt. I agree 100% with Nate. You have to wake up pretty early in the morning and get me drunk to get my CC # for something FREE!

But I would like to try it.

Hamlet Batista

Hi Ad,

Thanks for your comment.

Curtis

*"search engine optimization software" keyphrase appears in your so obviously you are targeting it ?

"Targeting" and phrase in your content and actually putting all the effort it takes to rank for it are too completely different things. We tested those phrases using PPC, and the amount of leads and customers we can get, doesn't justify re-focusing our efforts from other marketing approaches, that have proven to be far more successful.

Unfortunately, not many people are looking for SEO programs. Many don't even know such program exist. As a business owner you need to focus on the marketing strategies that work best for you.

* Your whoIs shows your site has existed since 2004 so that's not "new company" right?

RankSense has been under development for five years. We made the first beta public by the end of 2007, and the first public release was February last year, so I guess for the public we are rather new in the marketplace.

*I'm sure you are aware of all the excellent free tools available on web that can be used for keyword research & link analytics.

Yes. I'm sure there are free alternatives to almost anything you can imagine from operating system, databases, office productivity programs, etc. But people don't stop buying the paid alternatives. Why?

Because most people understand that time is the only resource that you can not get back. Any time you can save by not having to lurk into newsgroups for a solution to your problem, but instead you contact the support team of your paid software package, is money you put in your pocket.

BUT then again, I agree that such integrated tools can be great for newbies who are not totally seo savvy as they can save lot of time.

I wish you the best for your success.

I'm glad you see this and thanks a lot for your wishes!

Cheers,
Hamlet

Anish K.S

Need to tray the trial

Patti McConville

Hi Daniel & Curtis,

Newer thought of trying the two programs at the same time……

I will do so and report back with my findings!

Curtis, if I try Rank Sense can my website manager also download it under my order if I decide to keep it?

Patti

AD

Curtis

*"search engine optimization software" keyphrase appears in your so obviously you are targeting it ?

* Your whoIs shows your site has existed since 2004 so that's not "new company" right?

*I'm sure you are aware of all the excellent free tools available on web that can be used for keyword research & link analytics.

BUT then again, I agree that such integrated tools can be great for newbies who are not totally seo savvy as they can save lot of time.

I wish you the best for your success.

Curtis R. Curtis

Hi,

First of all, I am with RankSense so I will start with Arun who asked about PayPal. It is not part of our order form but if you contact me we can make provisions for you to pay with PayPal.

Next, about AD asked about ranking for certain keywords like seo software.

You will not find us ranking for what are "high profile" keywords for a number of reasons.

First of all, RankSense SEO software is not about that, in fact it is just the opposite. Instead of going after the high profile words which are too costly for SMBs, RankSense helps them find the hidden long tail & local search keywords which are much more profitable for them. Besides there are not a lot of searches for these keywords.

Secondly, we are a new company in the marketplace and we want to first ensure that we work closely with our customers and our partners, to make sure that our software is doing what it promises and deal with their needs first. At this point we recognize what is most important and works best for us and that is "word of mouth" advertising. We want you the users to tell your friends, not as Patti noted; "some snakeoil sales person" or "SEO experts" telling you what to do.

We want people to experience what RankSense SEO software will do for them. Most of all, RankSense SEO was specifically designed for people who are not SEO experts.

One final note. While there are other SEO tools out there, I do want to mention that RankSense is the only fully integrated, intuitive step-by-step SEO software which guides you through the complete process. Others are collections of tools which require you to then go and implement what the tools derive…RankSense does ths for you.

So as Daniel mentioned, there is no risk in trying RankSense. You get 30 days to try it and decide if you want to keep it before we even bill you and after that 60 days money back guarantee.

Thank you for your interest in RankSense.

I have included my email address so any of you requiring more information can contact me.

Curtis R. Curtis
CSMO, RankSense SEO
Curtis@RankSense.com

Daniel Scocco

@Patti, first of all thanks for the nice words.

I personally never used Keyword Elite, so I can't comment on how good or bad the software it.

My review of RankSense was aimed to be as neutral as possible.

Additionally, both of those solutions have a complete money back guarantee. What you could do, therefore, is to get both, evaluate for 2-3 weeks, and then cancel the one that you like the less.

And don't worry, the free trial of RankSense is not limited in any way. It is exactly the same as the paid one.

Patti McConville

Hi Daniel,

I am at the point where I am very seriously considering buying an SEO program to optimize my website for Cranberry Corners Gift Baskets.

I have read dozens of adds for dozens of programs and have spoken to several of SEO 'pros'.

As a small business owner, I am tired of hearing 'SEO Experts' tell me they can optimize my site for thousands and thousands of dollars. When I advise I simply don't have that kind of money they usually try the sales nonsense of 'oh, you're not interested in investing in your company?' Well, with that type of nonsense hell would freeze over before I would consider mortgaging my house to buy their services!

I find the same type of 'snake oil salesman' tactics with SEO program companies. The hyperbole on most of their websites is beyond the ridiculous.

Some offer free trials but usually they are so limited in their functionality that you can't get a clear understanding of what the program actually does. This doesn't prompt me to buy a package-it turns me off!

I am sick, sore and tired of trying to obtain any down to earth information on what to buy.

I am writing to you as I have always found your style and information grounded, realistic and down to earth.

Some people have suggested I buy SEO Elite as you don't have to be a pro to understand it and use it.

Would you kindly give me your opinion of what program (s) you have found to be good to use for the small business owner. And too, I would appreciate your comments about SEO Elite.

Keep up the good work Daniel!

Patti

三顾互动

i don't understand i will look it

AD

Just one question that comes to my mind:

Where does Ranksense rank for their own keywords:

a) seo software

b) search engine software

I don't see them in Top 10 for their own keywords ?

Kampanye Damai Pemilu Indonesia 2009

Glad I stumbled into this article! I have you bookmarked to check out new stuff you post.

Arun Basil Lal

This software sounds promising and that was a great review Daniel, something to be learnt upon.

Does RankSense accept payment via Paypal..? Lemme check that out anyway, if they accept paypal, I might get it 🙂

Naz

Cool.. I wanna try this..

Hamlet Batista

Hi Daniel,

Thank you very much for your very comprehensive review of our software.

@Nate we ask for a valid CC for two reasons
1. We make a very generous offer by giving 30 days free + 60 extra days (money back guarantee.) Which gives you 90 days to use our software, and see if you can get good results. None of our competitors offer this. We do this because we are very confident in our product and customer support team. Unfortunately, we can only afford to offer this once per new customer.

If we did not ask for a credit card, some will take advantage of this by signing up, canceling/refunding before 90 days, signing up again with a different e-mail, etc. Effectively using our software for free and taking valuable time from our staff that could be dedicated to customers that really need it.

2. Having CC subscription agreement in place means that we do not need to have an expensive sales staff to chase customers and remind them about our trial. If we had to have a sales staff our prices would need to be much higher.

I hope this addresses your question and concerns.

@Franklin on the surface it might seem the same but the critical difference is that RankSense is a not a "toolbox" but a "wizard". The "wizard" has the proven SEO processes built-in. Our focus is on simplifying SEO and on saving significant time. I'm not aware of any other tool that works like this.

@Barbara Yes. You are welcome to try us out!

Thanks again everyone for your comments.

Hamlet Batista,
CEO RankSense

Daniel Scocco

@Barbara, yeah that is their plan I think.

Barbara Ling, Virtual Coach

For someone who needs assistance with figuring out SEO, this tools sounds like it delivers exceptionally well.

Blog Expert

Looks pretty cool. Seems the same as many other SEO products though.

Daniel Scocco

@Nate, many companies and services do this to make sure that only qualified people will use the free trial.

If you don't require a CC, you will get all sorts of people downloading your product, most of which will never buy it. They just want the free ride.

Nate @ Debt-free Scholar

I do not like "free" trials that require credit cards. Anyone else feel the same?

Thanks,
Nate
Comments are closed.