ProBlogger Launches its Hard Cover Book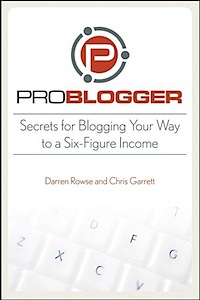 Darren just announced that his first hard cover book, co-authored with Chris Garrett, will start shipping on April 28, and you can already pre-order it. I have come across several blogging books on libraries and airports over the months, but I was not familiar with any of the author, so I am not sure how much practical advice they could provide.
These two guys, on the other hand, have been on the playing field for long, and judging by their websites they sure know what they are doing. I am sure that the book will be a success, and hopefully it will help to spread the word about blogs with the non-geeks.
Darren was kind enough to send me a review copy, so as soon as it arrives here and I start reading I will give you guys some personal feedback.
Browse all articles on the Blogosphere category
18 Responses to "ProBlogger Launches its Hard Cover Book"
GettyCash

I really want to read this book. I am waiting for this book hit my local bookstore.

Rice Blogger

wow…nice to have a review copy..

looking forward to buy this book

Ned

Do people ever make real conversation in these comments?

My Internet Business Review

Great book, i cant wait to read it, They are really pioners in blogging world!

Daniel Scocco

Gleb, my bad :).

Gleb

Glad for you! I'm going to pre-order it as well.

According to Amazon, the book is only available in paperback – so your hard cover book title may not be 100% accurate 🙂

Look forward to your review of the book!

Travis

The book will be great these two guys really know there stuff. Problogger meets SEO Book. What could be a better combination.

Voice Of Dingchao

It must be a great book, so i think i will buy one if i can. You know, I always like to read Problogger.

Otto

Look forward to reading….

Napster

The perfect combination, ProBlogger Book and SEO Book

Nisha

Owo…infact an great info.
I am very much interested in buying a copy.
But I am staying in INDIA.
And anybody who have read it, please please give your feed back about the book.
I will be waiting for all your comments here.
I know that the book will be a real hit……Feed back and all are just for my satisfaction!

Regards
NISHA
(please visit

Daniel Scocco

I believe so, check on Amazon.

Carol – Blog.ConchoLakeAZ.com

Is there an ISB number yet?

Ryan Cheley

I'm really glad to hear about this book. I've been looking for something written by folks that have 'been in the trenches'.

On a side note, it would have been nice to have a link to the book on amazon or some other site just for ease of pre-order.

Adam Singer

Lucky guy that you got a preview copy!

Can't wait to hear your thoughts, I'm def going to buy this to support Darren.

Hafiz Dhanani

I'm sure the book will be an excellent read. I'd expect nothing less from Darren and Chris.
Comments are closed.