Pro Blogger Test: Take it Now!
Ladies and gentlemen, Daily Blog Tips is honored to present the Pro Blogger Test! I had seen a couple of quizzes around the Web before, and I thought that making one about blogging would be interesting and funny!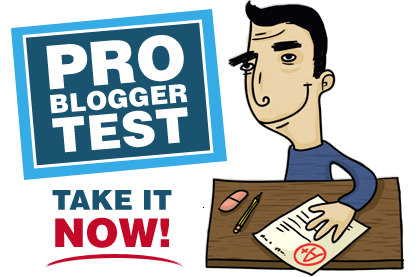 Test your blogging knowledge with the 20 questions and discover your Pro Blogger Score! As a preview, below you will find the first 2 questions:
1. What is, according to Google, the best performing Adsense format among these?
120×600 Skyscraper
336×280 Large Rectangle
468×60 Banner
728×90 Leaderboard
250×250 Square
2. Which of the following is NOT a popular online Forum?
Digital Point
Sitepoint
Digital World
Name Pros
Web Hosting Talk
So what are you waiting for? Take the Pro Blogger Test now!
Browse all articles on the Blogging Basics category
39 Responses to "Pro Blogger Test: Take it Now!"
Maeve

Daniel,
How does one create a test like this one? I'd like to be able to do it on my blog.

Daily Forex Calendar

Very good test! I Got a score of 55%. Not bad

Aneesh

he he i scored 55%..
Comments are closed.