Pro Blogger Test: Take it Now!
Ladies and gentlemen, Daily Blog Tips is honored to present the Pro Blogger Test! I had seen a couple of quizzes around the Web before, and I thought that making one about blogging would be interesting and funny!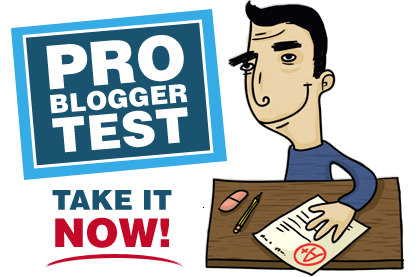 Test your blogging knowledge with the 20 questions and discover your Pro Blogger Score! As a preview, below you will find the first 2 questions:
1. What is, according to Google, the best performing Adsense format among these?
120×600 Skyscraper
336×280 Large Rectangle
468×60 Banner
728×90 Leaderboard
250×250 Square
2. Which of the following is NOT a popular online Forum?
Digital Point
Sitepoint
Digital World
Name Pros
Web Hosting Talk
So what are you waiting for? Take the Pro Blogger Test now!
Browse all articles on the Blogging Basics category
39 Responses to "Pro Blogger Test: Take it Now!"
reltrbasdar

darconoerli

Jos

Nice test! Got a score of 50%. I liked it so much I wrote a Dutch review 😀

Collis

Great quiz Daniel! Sadly I only just passed with 60%, will have to retake it after some more study evidently 🙂

Eli

These sort of tests make me feel puny, as I usually only get about half right 🙁

Very nice test though, it looks great.

Vijay

Hmm.. I didnt get confused by the nos. In fact, it was the line within brackets "(and supposedly highest traffic)"

I assumed that I should be looking for the site which has a low alexa rank but the highest traffic..

I was really muddled up then! Sorry about that.

Paul Hancox | InternetInfluenceMagic.com

Oh dear. 40%. It means I'm going to have to re-sit the exam next summer. 🙁

Daniel

Vijay, the trackbacks and pingbacks are pretty much the same thing, the difference is that they use different protocols.

Second, 98 is lower than 250 or 852 aint it :)?

That is why Digg has the lowest Alexa rank (and supposedly highest traffc), and the question states.

You might have been confused because Alexa rank is given in ascending order (the lowest the rank, the better).

Vijay

I did get a 80% but I have 2 queries.

1. I always thought that a trackback is sent voluntarily and only a pingback was sent by the network.

2. Reddit has the lowest alexa rank of 852 and digg has 98, netscape 555 and delicious 250 something..

Please do clarify this. Thanks

PS: Great selection of questions btw 🙂

HolisticGal

50% – but I knew which ones I didn't get right before the answers. . I'm happy to be learning from you.Fun quiz! More More More as my toddler would say.

Myo Kyaw Htun

45%, not bad.

Vincent Chow

70% for me too. A good one you have there Daniel 🙂

Jeba

Me scored a 70%..

It was informative.. Thanks for the quick test..

Skellie

I got 65% too. I'm just going to go and close my blog now.

😉

GnomeyNewt

I got a 65%! Cool little test. You should lash out some funny names for us depending on what we score. That would be funny.

LGR

Thanks for the quiz. It gave me a boost to my ego today when I got 85%.

Jamaipanese

55% -_-

great quiz Daniel

Daniel

I coded it myself, was quite a pain indeed :).

Glen Allsopp

Did you get someone to code that for you / make it yourself or is there some plugin im missing out on? 😉

Nice from Thailand (www.SE7ENize.com)

I got 55%
I'm not interested in making money from blog.

Luciano Passuello

55%. Being just a blogger (instead of a PROblogger) will suffice for now…

Ashwin

It was good! Learnt some new things. Scored only 50% thought I would score more…

Amanda

I got a 45% but a lot of that stuff I don't use for my site since its an different niche.

Rhys

70% I'm chuffed to bits with that 😉

qureyoon

only 45% 😐
far far away from bein' pro 😐

this sure need to take a note 🙂

nice quiz

Daniel

Yeah thanks Egon (egonitron.com) and DJ Flush (sizlopedia.com) for the test drive.

Egonitron

Did better this time. Glad I could help 🙂

Michael Martin

That was a lot of fun to do, and informative (Google Triangle??). 😀

Daniel

Yeah it is not supposed to be that easy :).

Celebrienne

80%, that's pretty good, huh? I failed on Technorati's Top 100 and the Stats questions 🙂

Ankur

I thought I was good at this…but scored a meagre 55% 🙁
Comments are closed.