DBT is research-focused. When you buy through links on our site, we may earn an affiliate commission. Learn more
The Keto diet—a high fat, moderate protein, low carb eating plan—has become increasingly popular in recent years.
The benefits are clear: the keto diet promotes weight loss and lower blood sugar. But it has several downsides as well.
Initial weight loss comes from water weight, and early on in the process, dieters may be at risk for dehydration.
Further, it can be particularly challenging to stick to this diet. But these are short term issues; the most significant long-term challenge is a deficit of micronutrients.
The Keto diet features minimal fruits and vegetables, making it a challenge to get the vitamins and minerals you need.
Vitamin deficiency can lead to fatigue, muscle weakness, and, left untreated, countless other, more severe symptoms.
If you're on a keto diet, it's imperative that you take action to avoid these effects. One of the best ways to do so is with a greens supplement.
These condensed, cold-pressed powders provide vitamins and minerals without the carbs and sugar in fruits and vegetables.
By our measure, one of the best green powders is Perfect Keto Greens.
Read on for our breakdown of everything you need to know about this keto powder, including ingredients, price, taste, pros and cons, and more.
What is Perfect Keto Greens?
Perfect Keto Greens is a leading green powder explicitly designed for keto dieters.
It is made with a blend of 26 fruits and vegetables, packed with essential vitamins and minerals.
The recipe also includes a variety of healthy additives, including Reishi mushrooms, MCT oil, inositol, and enzymes.
We'll have more information on each of these ingredients and their nutritional benefits shortly.
The powder is highly water-soluble; one serving can easily mix into an 8-ounce glass of water.
That said, if you're stirring it into a glass with a spoon, it can take some time to dissolve fully, and you might find some sediment at the bottom of the glass.
The best way to consume Perfect Keto Greens is with a shaker bottle if you have one.
Perfect Keto Greens Ingredients & Nutrition Facts
Perfect Keto Greens is made with a highly curated blend of healthy ingredients and supergreens.
A serving contains 60% daily value of Vitamin A, 45% Vitamin C, 25% Vitamin D, 25% Vitamin E, and 30% Vitamin K, with just 1g of carbohydrates.
The Perfect Keto Greens recipe is made with all-natural, all-organic ingredients and no filler.
It's designed to promote immunity, energy, and overall health, all while supporting ketosis.
Let's take a look at the ingredients group by group:
Greens Blend
The greens blend contains 4,000 mg per serving of alfalfa leaf juice, dulse, wheatgrass, barley grass, oat grass, broccoli, cabbage, parsley, kale, spirulina, chlorella, kelp, dandelion flower, and broccoli sprouts.
Berry Blend
The berry blend contains 500 mg per serving of apple, maqui berry, pomegranate, blueberry, strawberry, raspberry, cranberry, and apple extract.
Antioxidant Blend
The recipe also includes 950 mg per serving of a blend of berberine HCl, bromelain, alpha-lipoic acid, milk thistle seed extract, inositol, Gotu kola, reishi mushroom powder, and hibiscus flower extract.
The antioxidant blend helps boost overall immune health. Inositol helps regulate insulin and nerve conduction, while reishi mushrooms are a powerful ingredient that fights inflammation, fatigue, depression, and anxiety.
Absorption Blend
Perfect Keto Greens includes a proprietary DigeSEB enzyme blend, which includes amylase, cellulase, lactase, lipase, and protease.
That blend of enzymes works to ensure your body can absorb the maximum amount of nutrients from the green powder.
MCT Coconut Oil
Finally, the recipe includes 5,000 mg per serving of MCT coconut oil, a healthy fat that promotes energy and cognitive health.
Nutrition Facts
Per serving (scoop), Perfect Keto Greens contains:
Calories: 40
Fat: 3.5g
Carbohydrate: 1g
Protein: 1g
Vitamin A: 3,078 IU
Vitamin C: 28mg
Vitamin D: 100 IU
Vitamin E: 8 IU
Vitamin K: 25mcg
Calcium: 74mg
Greens Blend: 4000mg
Antioxidant Blend: 950mg
Berry Blend: 500mg
Absorption Blend: 300mg
MCT Oil Powder: 5000mg
How Much Does it Cost?
Pricing may vary, but at the time of writing, Perfect Keto Greens is available for $46.99 on their website for a 20-serving tub. That comes out to about $2.50 per serving.
What Does Perfect Keto Greens Taste Like?
Perfect Keto Greens are flavored with natural lemon flavor, citric acid, and Stevia.
The overall taste is sweet and refreshing, with fresh citrus overtones.
The biggest issue with the taste for most people is the Stevia. If you're on a Keto diet, there's a good chance you're already familiar with Stevia.
It is a non-sugar based sweetener with a sometimes harsh, licorice-like aftertaste.
If you don't mind Stevia, you'll probably enjoy the flavor quite a bit.
But even if the flavor isn't for you, it's not bad considering the excellent stuff you're putting in your body!
FAQ's
Now that you know all about Perfect Keto Greens let's take some time to answer a few of the most frequently asked questions about this product.
The simple answer is: yes, Perfect Keto Greens really work!
While it's true that your body absorbs vitamins better from whole foods than they do from powder supplements, Perfect Keto Greens uses a cold-press rather than a heat-based dehydration system to maintain nutrients.
Perfect Keto Greens also features an enzyme blend designed to help you absorb as many nutrients as possible.
One of the things that sets Perfect Keto Greens apart from other green powders is the fact that it is specifically designed for people on a keto diet.
It contains all the vitamins and minerals that you might not be getting in your diet.
But it also features just 1g of carbohydrates and a significant amount of healthy fat MCT coconut oil. It provides all the vitamins you need while promoting ketosis.
Green powders typically contain a wide variety of chlorophyll-rich vegetables, grasses, and herbs.
Some of the most common vegetables include:
Broccoli

Spinach

Kale

Tomatoes

Beets

Collards
Green powders may also contain probiotics, seed or tea extracts, and antioxidant-rich fruits.
Yes, absolutely. Greens powders that contain antioxidant-rich superfoods are an excellent way to boost immunity.
Final Thoughts
Perfect Keto Greens is an excellent supplement for people on a Keto diet.
Given the foods you'll eat in your day to day meals, it can be challenging to get enough vitamins and minerals to maintain health and energy.
Perfect Keto Greens, however, address this problem without disrupting ketosis. Order some today!
---
Perfect Keto Greens vs. Alternatives
---
Perfect Keto Greens Reviews
There are no reviews yet. Be the first one to write one.
Perfect Keto Greens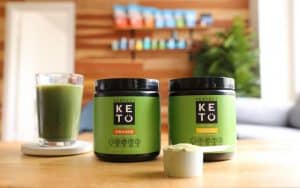 Perfect Keto Greens powder is a delicious and convenient way for keto dieters to ensure adequate micronutrient intake.
Product Brand: Perfect Keto
Product In-Stock: InStock