On Posting Frequency
What is the ideal posting frequency? That is the 1 million dollar question for bloggers. Most people will tell you that quality comes before quantity. I agree with that, but only to a certain extent.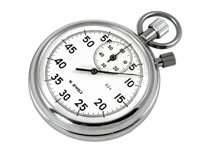 Quality must be there, that is beyond discussion. But if you are trying to build a popular blog, so must quantity. Sometime ago Darren wrote an article titled "34 Reasons Why Readers Unsubscribe from Your Blog." Surprisingly enough, the main reason for unsubscribing was "Too many posts."
Why is this a surprise? First of all because the vast majority of the popular blogs have a very high posting frequency (e.g., TechCrunch, Lifehacker, Problogger, Engadget). We are talking about two, three or even more posts every day.
Could it be that when people mention "Too many posts" they are actually referring to extravagant numbers above the ones that we see on such popular blogs? Maybe.
RSS readers certainly help us to keep track of our favorite websites and blogs, without the need of visiting them. But what if people want get all the information related to a certain topic from one single location? That is, what if instead of collecting 10 or 20 RSS feeds from different productivity blogs they just prefer to grab the Lifehacker's feed?
Secondly, only a small percentage of the Internet population uses RSS. The others bookmark and visit the websites directly. Once again, the majority of people will probably just choose one or two "authority" websites instead of surfing a myriad of smaller ones.
Perhaps this theory applies only to some niches and audiences, but you should take it in consideration. The bottom line is: if you are trying to build a popular blog, you should make sure that you are covering all the facets of your niche. This will inevitably require a high posting frequency, but it will also ensure that visitors get the feeling that they can find "pretty much everything they need" on your blog.
Browse all articles on the Blogging Basics category
31 Responses to "On Posting Frequency"
Daquan Wright

I think the frequency depends on your "goals." I know pro web developers with blogs and they don't post more than once a week, yet they are held high because of their valuable insight. I always look for quality.

Since readers aren't just subscribed to your blog, it's better to not overwhelm them. There are some people at home with nothing to do, but it doesn't represent the majority.

FrankFN

I heard from several sources that people didnt recieve the product they bought from amazon
is this true?

GeorgeBolo

Hi All !
I just wanted to say a BIG THANKS to the administrator for making this Great website ! I just have found what i was looking for.
Thanks!!!

Neurrileditte

Nothing seems to be easier than seeing someone whom you can help but not helping.
I suggest we start giving it a try. Give love to the ones that need it.
God will appreciate it.

sabrina

I've just joined this site and it looks great.

SEO Genius

Thanks another great article i too feel posting once a week is far substantial enough. I usually post a couple of articles a week however at the same time, i may consider altering this slightly as an experiment.

Benchiktovchik

Приветствую всех!
У меня такой вопрос,кто что интересное подскажет буду признателен.
Мы с друзьями собираемся поехать в круиз по просторам России и ближнего зарубежья месяца на два на своих машинах,но не как не можем согласовать маршрут,если у кого уже был опыт такого путешествия,может,что посоветуете.Девчонок с собой не берем,думаем,что во все городах России с этим не будет проблем,если у кого будут рекомендации и в вопросе отдыха с девушками тоже буду признателен.

С уважением Сеньчик

Ritakriti

Hi,
Nice article. If I talk about myself then there are few blog websites which I update 3-4 times in a day as I get more stuff on them. But there are other blogs handled by me which have stuff that is not common and I need to research a lot so it takes about 2-3 days also to update them.

Whannabasia

Hello,

I crave to buy Dedicated Server with persuasive DDoS charge in Europe.

Anybody be aware is there any principled dedicated servers with ddos protection against HTTP and SYN inundation attacks?

Our server has been loaded attacked, and i am looking for reliable ddos protected hosting in Europe.

For now I only got recommendation for Dragonara.net

oOgerryOo

Hi,
I'm Gerry.

Just saying hello – I'm new.

xztheericzx

i'm eric. joining a couple boards and looking
forward to participating. hehe unless i get
too distracted!

eric

XRumakTheBest

XRumer is the perfect program for promotion!
It's have CAPTCHA recognizer, email verificator, and a lot of other functions…

But. I forgot link to it 🙁

Can you give me URL to the xrumer description? screenshots, etc.

Thank you

ememjammer

So I was off work and surfing and found this place and thought I would join up. I don't have much more to say right now except I need to start reading some of the older posts to get up to speed before I can start posting.

Em

Khalid Hajsaleh

I think posting at least once a day for at least 4 days a week is one of the essentials to a successful blog. I unsubscribe from blogs that are updated once every week.

Bret

Hi Daniel, glad to get your positive support on the point of posting consistency. Here is the link to today's article I previously mentioned:

Daniel

engtech, I would agree with that because it is logical. But the facts contradict that view, take a look at the RSS count from the "frenzy-posting" blogs, it is just increasing over the time.

engtech @ internet duct tape

I think that a large part of the reason is the RSS software people use. If you're using something that checks each feed individually then you're going to get rid of the feeds that don't subscribe. If you're using a web client that can hide non-update feeds (like Google Reader) then you're only going to be concerned with the ones that post too frequently.

Daniel

Consistency is key if you are trying to build a professional blog. Also I believe in iron discipline, if you post 5 times week, than go with it, never miss a posting day.

Emergency posts and saved drafts are keying for being consistent.

devil

consistency matters a lot

HtCwP

Here's an opinion from another view…

The whole reason I like RSS feeds is that it doesn't then matter to me how often someone posts. Whenever they do, I see the post without having to do any work. They post … I'm happy.

From the perspective of being a blogger, I try to keep the work of doing my blog in proportion – it's a hobby. My blog has to fit into my life – not the other way around.

Obviously, that's me – everyone has to decide that for themselves. Your post is about building a popular blog – that's not my upper-most goal. Would be nice, and I'll work towards it, but I also want to keep having a blog fun for me, not a chore.

That said, I post religiously 3X per week, so I'll be very interested in your thoughts on consistency.

Better Blogging with Michael Martine

The insane frequency of gadget blogs means I never subscribe to them. Another great blog on the verge of posting too much is the Consumerist, which is otherwise a fantastic blog. There have been times when I felt snowed under by Boing Boing. For the most part, it seems 1 to 3 times a day is good for a single blogger. For team blogs, I expect at least two or more posts a day.

GnomeyNewt

I like the blogs that are doing about 1-2 a day consistently. The reason I like blogs over regular portals/websites is because I get my info in doses, rather than all at once. If I want more info I search the blog for past entries. So it's almost like taking a class each day, instead of a blast of information in my face.

I agree when the posts get to be too much, I just mark all read and move on. Eventually unsubscribe.

Max

Attempting to write posts to include "everything under the sun" is like trying to please everyone all the time (which eventually pleases no one).

It is hard to write quality posts in quantity. Even if you could it is hard for readers to digest it all. Blogs like Problogger are getting on my nerves by posting often with no substance.

Angela

My ideal is 1 to 4 posts per day. Any more than that and I become overwhelmed and just mark all as read. I don't like it when blog reading becomes a chore.

Daniel

Bret, consistency is key as well.

Send me a link when the post is live.

Bret

I prefer blogs that post a couple times a week and stick closely to that schedule. When blogs post less frequently, I am able to read more blogs and participate more regularly, which I enjoy doing. I have in the past unsubscribed to a blog because it posted too much.

On a related note, I have an article scheduled for Monday publication that reviews the importance of a related idea: posting consistency. Please pardon my shameless plug. 🙂

Daniel

Ram, exactly.

Think about mainstream media as well, most newspapers or magazines publish a lot more content than the reader can actually digest. Still they are popular because people can find all they need in one single place.

Ramkarthik

Daniel, since I'm now free and sitting in front of computer most of the time, I want to keep myself busy. So I like blogs which post 2-3 times a day. Also I like the blogs with posting frequency of one per day. But I can't bare blogs with no posting for 2 days or more without any reason. Few big blogs are actually not posting a lot recently.

Daniel

Frank, looks like my opinion is the opposite of yours though :).

I think one of the reasons why Problogger is so popular is its high posting frequency. Darren covers all the aspects of pro blogging, and in order to do so he must post a lot.

Frank

I totally agree with this concept. I used to subscribe to Problogger via RSS. Then I went on holiday for a few days, come back and have 50+ new posts in my RSS reader (most from Problogger). I still visit the site once in a while, but I don't need my RSS reader getting flooded with noise.
Comments are closed.