DBT is research-focused. When you buy through links on our site, we may earn an affiliate commission. Learn more
Bottom Line: Nomatic got its start when two cousins designed a new wallet and went on Kickstarter to crowdfund their project. The fundraiser blew up, and they've crowdfunded the development of more products. They manufacture items that work superbly for savvy business travelers and vacationers alike.
Pros & Cons
You can't make a good decision about any brand without knowing whether its pros outweigh its cons, so we've made a list of each for Nomatic's backpacks.
Have you pretty much had it with backpacks that can't withstand frequent traveling and that don't fit your business needs?
I've spent long periods of time looking for a backpack that will protect my electronics and carry other things I need for working on the go, and I often come up short.
Enter Nomatic. They produce backpacks and other luggage that fill my need for something durable, versatile, and protective when I travel.
We looked at several things when doing our research for this Nomatic backpacks review, and we've found the best three that should suit your needs quite well.
About Nomatic
Nomatic's roots go back to two cousins, Jacob Durham and Jon Richards, who designed a new and innovative wallet and tried to sell it on Kickstarter. They expected to get perhaps 50 sales at most.
They got over 6,000, leading them to design and launch more products using crowdfunding tactics, and have sold their products to hundreds of thousands of people worldwide. Their goal is simple: To inspire confidence in those who live their lives on the move.
Nomatic's purpose is built around the idea of "life on the move." While they know there are all kinds of people who could make use of their products, they've targeted business travelers and people who take short trips and need streamlined luggage, particularly carry-on luggage.
3 Best Selling Backpacks
These are the three best, most popular backpacks in Nomatic's line.
The Travel Pack will change the way you travel. It can be used for daily carry but also expands from 20L to 30L to add the things you need for your weekend trip.
If you like carrying a backpack around instead of a briefcase or computer bag, you might like this pack. You can take it with you to work, and you can pack it for short, one to three-day trips without worrying that it'll fall apart on you.
---
For those who like to look sleek without sacrificing function, the NOMATIC Backpack is designed to do just that.
This water-resistant backpack works best for everyday use. You can wear it on the bus or train or while walking to work, and it will keep all your electronics dry so long as it's not pouring.
It also works for short trips of a day or two.
---
Navigator Travel Backpack
The Navigator Travel Backpack 32L was built to maximize how and what you carry on your back.
Nomatic makes a 32-liter backpack that you can use for longer trips, whether they're for business or pleasure. You can expand it to a whopping 41 liters to pack up to five days' worth of clothing along with a 17-inch laptop and other items. And it still looks good no matter what.
Materials and Aesthetic
Most of Nomatic's line is black. That's because they're creating travel backpacks (among other things) that are just as suitable for carrying around town as they are for boardroom meetings.
No wild colors and no strange patterns, just a sleek, understated, professional design.
These backpacks are made from tarpaulin material, which is a tough canvas or other heavily-woven material coated in polyurethane. What you get is a piece of solid, waterproof fabric. Besides being sleek and understated, they're also tough to damage because of that.
These things make them excellent for frequent travel.
Backpack Features
Generally, these backpacks have soft, padded back panels, and some have foam ridges for added airflow so you don't soak your back with sweat during the summer.
They also include:
FAQ's
We've got the answers to some of the most frequently asked questions about Nomatic backpacks.
It depends on what you want. These backpacks aren't cheap, so you should be sure of what you're looking for before buying one. If you're looking for a practical, long-lasting backpack that goes straight from the plane or train to the CEO's office, then yes, they're worth it.
They can last for years. The more frequently you use them, the more wear and tear they sustain. Since they use such strong material in their construction, along with available repair and replacement parts, they can last a long time.
In general, yes. In fact, that's one of the purposes for which Nomatic designed them. However, you should always check with your airline before flying to be sure.
Yes. They also have warehouses in Canada and the Netherlands as well as the U.S., and they ship to most places in the world. A trademark issue prevents them from shipping to most of Europe, though.
Yes. You have 30 days from the date you receive it to return it. Make sure you have proof of purchase and the packaging and hang tags, which must be intact. You can also get an exchange, but keep in mind, you'll pay a $20 shipping fee for returns.
Why Purchase Backpacks from Nomatic?
Nomatic has an unusual way of thinking. They believe heavily in combining function and looks.
They want their customers to be able to carry backpacks that can turn into briefcases and look great whether they're out and about or sitting in high-level meetings wearing tailored suits.
While it's true that many other backpacks and luggage manufacturers feel this way, Nomatic takes it to a whole other level. They pursue their slogan of "Life on the move" with gusto.
In fact, you can bundle certain products together if a single backpack or other items won't work for you.
If your backpack gets damaged, you can order certain repair tools and replacement parts, including wheels, handles, and TSA-approved locks and their associated hardware.
Final Thoughts
For the professional on the go, Nomatic's backpacks are a high-quality option for carrying cases that go everywhere.
They're not only strong, practical, and minimalist, but most of them feature a strap system that allows you to turn them from backpacks to briefcases so you can present a certain professional image if necessary.
These backpacks can survive everyday use and frequent travel. While they aren't cheap, you get excellent value.
---
Nomatic Backpacks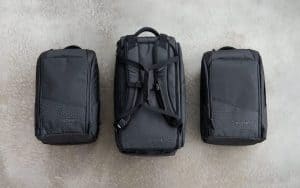 Nomatic creates the most functional gear ever to inspire confidence for life on the move.
Product Brand: Nomatic
Product In-Stock: InStock