Is Google Looking Different for You Yet?
Quick announcement: Writing Clinic is on hold for a week or two (sorry!) I hope to resume it next Friday. Many thanks to all who've sent in posts this week, which I'll be putting into the pool for next time: no need to resend.
A couple of days ago, I thought my browser had gone funny. Google looked … different.
Nothing had changed about the results, and there was no Google Doodle or Easter egg or anything obviously weird happening. But a quick search told me I wasn't the only one seeing a fresh Google design.
Have you noticed this too? Google's been rolling out the change gradually, so you may find that you're still on the old version … or you've had the new version for a while.
Here's a search for social media tips on the old Google:

And the new Google:

As you can see, the new version's titles look noticably different with:
A larger font size with more spacing.
A brighter blue colour.
No underline.
The URL is in a slightly smaller font.
What does this mean for you?
The key thing to note is that post titles need to be slightly shorter now. You may want to go back and tweak some of your post titles (keep the URLs the same) so they're more likely to fit.
Ads Display Differently
In the past, ads displayed on a pinkish background. Now, they're on plain white like regular search results.
The ads at the top of the search engine results have "Ad" next to their URLs, like this:

The ads in the right-hand sidebar have "Ads" above them all (rather than against each URL) and, again, no coloured background, like this: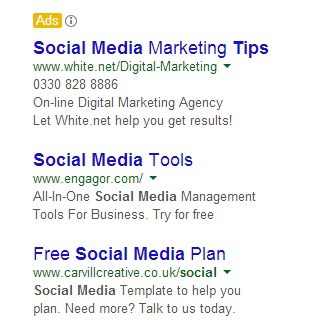 (For more on the changes to ads, see Mashable's post, You're Not Crazy: Google Search Results Look a Little Different.)
Have you got the "new" Google yet? Do you like the changes, or do you wish they'd kept things the way they were? Let us know your thoughts in the comments!
Browse all articles on the General category
11 Responses to "Is Google Looking Different for You Yet?"
Attique

Changing in google is helpful for peoples now google is placing new algorithm which is very important and save our time after the great success of penguin and panda now google introduce hummingbird. By hummingbird we can save our time.

Peter

I too like the changes however, shortening the length of the title is going to be a pain as you have less space to say what you want to say. I mean it's a title and it should be short but sometimes your title can be long.

The ad change is neat, it lets you know immediately that you're about to click the ad from the box. Very nice changes!

Good work on finding this by the way!

David Friedman

I like the change much easier to read on my tired old eyes

Steve Edula

I already noticed this style tweaks.. I like the way how they present ads now. It's more clear if it's an ad.
Regards, Steve

Renard Moreau

[ Smiles ] I happen to like Google's new look!

Ali Luke

Thanks all … good to know I'm definitely not the only one! 🙂

@Samiur — Yes, I agree this is just a visual change, rather than an algorithm one.

@Matthew — interesting suggestion! I've not noticed anything different about the authorship results though?

Ashley @ madlemmings

It seems Google is always tweaking their website and doing their best to make it readable for us. These changes are not as amazing as some they do, but every little bit counts I guess.
Thanks for the info
ashley

Vikas Yadav

Yes Ali Luke, I have also seen these small changes and also noticed all the things that you have mentioned in this useful article. In my opinion Google want more better user interface to its visitors and enhance the search engine results when a user perform the search for a particular query in the search engine like Google.
Thanks a lot for sharing this important article with us.

Samiur

I think it is only visual. I don't noticed any change on rankings.

Matthew Eaton

I think this is the plank they are building for "reducing authorship." It still has power, but it is being nerfed by other things, much in the same vein as guest blogging too much.

They are ever vigilant. I am reminded of a few video games with templars who are always on guard in case the magic users get too wild and start summoning demons, except the demons are sketchy ways to funnel traffic.

I'll have to keep an eye open for this in my future searches, though. Thanks for pointing it out!

Gestion de Operaciones

Hi Daniel
Searching results in spanish looks as you said in your post since the last weeks..
CTR for my mains keywords doesnt show relevant changes
Comments are closed.