New Backlink Analysis Tool
Since Yahoo! closed the Site Explorer service bloggers and webmasters (myself included) were left without any solid alternative. I have been looking for similar tools since then, and an interesting one I found recently is called ahrefs.com.
It's a paid service, but there are many free tools you can use on their website as well. For instance, right on the homepage you can type your domain name and click on "Explore Links" to get an overview of how your website is doing.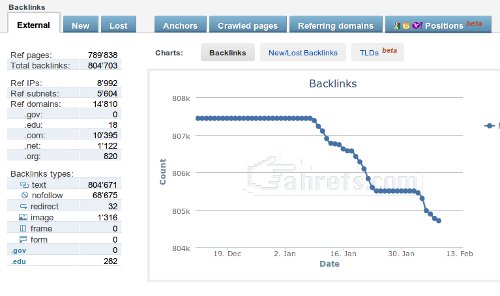 As you can see from the screenshot above you get a lot of data back. For instance, you can see the total number fo backlinks, how it evolved over the past 30 days, how many are coming from .gov and .edu sites, how many are text and image links and so on.
Paid users can also check all the links, including the Alexa rank of the site that is linking to you and the anchor text used.
Another free tool you can is the domain comparisson one. You basically input two domain names and the tool will compare their backlink profile for you, including an estimation of search engine traffic over time. I tested with some of my domains and the accuracy of the information wasn't bad.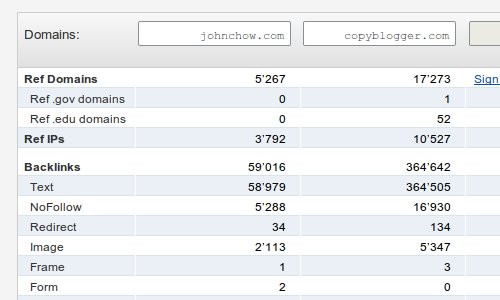 Finally there's a SERP analysis tool which will find all the keywords you rank for and organize them in a nice table, where you can see your position for each keyword, the average CPC spent for that keyword, the amount of traffic that keyword attracts and so on. Non registered users can see the first 10 keywords.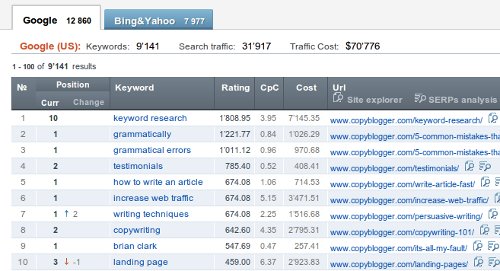 The basic plan starts at $49 monthly, which could be worth it if you are a professional SEO or webmaster. It looks like they are constantly adding more free tools, too, so check it out anyway.
Browse all articles on the Web Tools category
17 Responses to "New Backlink Analysis Tool"
Webdesign Erding

Thanks for this great tip – I'm definitely going to test this out. At the moment it's almost impossible to find a good working backlink checker.

Nimsrules

Quite a handy tool for amateurs and pros alike. I'm definitely gonna use this to optimize my blog's SEO. Thanks for sharing.

Daniel

Thanks for the heads up, Daniel.

I had a look at the tool to see how helpful the data is.

It does look like a handy tool to use.

I must admit, just as other people have mentioned in above comments, I am quite curious as to how they are gathering the data they provide.

There are way too many sites out there offering both free and paid Analysis of websites, yet, often the data is all over the place.

Anshul

I have been relying on Majestic SEO as I find Open Site Explorere to be a bit sluggish with the link updates but this tool definitely looks handy!

Jack Sander

Until know I still haven't found a consistent tool for the backlinks. Thank you for the tip, I really hope to work better as compared to other tools.

Steve

What is the traffic cost in SERP and how did they come up with that number?

Mike From Maine

For me these types of tools are just another way to get stuck in "analysis paralysis" and not get anything done. In Internet marketing you just need to throw a bunch of sh$% against a board and see what sticks IMHO.

Ehsan

I don't like this one, There's a lot of other tools better than this one!

Tushar@BloggersEthics

I am always in lookout for free tools and when it comes to SEO, I need to learn a lot. Will check this out surely

Marc

I'm curious as to how they can gather and contain this information, like Robert said without having embedded code?

Anyways, it seems like a useful tool, I'm going to have a play with now!

Robert Boland

This looks like a handy tool alright, of course I always wonder how accurate these tools are. I mean how can they track your site if you don't have any of their tracking codes embedded?

Alya

I am using Blekko tool. It gives out free data but Ahrefs is also a very good alternative.

Thomas

With Yahoo going bye bye it is very hard to find good backlink research tools.

Along with ahrefs I use opensiteexplorer and blekko

TechJunoon

After Yahoo! have closed the Site Explorer, most of the Webmasters were looking for similar tools. This looks interesting. Time to check it out.

Matthew Cantwell

This is important info and seems like a great tool. So many tools are evolving and changing. the info we need seems to stay pretty constant, though. I hope this helps. Thanks for discussing this new tools to help us stay productive.

Puneet

This seems to be great. I am gonna check it out. thanks for the information.

Leif G.S. Notae

Huh, this looks as though this will come in handy for my next set of projects. Always prefect timing from you, I have to admit. Thanks for sharing, can't wait to check it out!
Comments are closed.