My Top Commentators WordPress Plugin
I am glad to release the third WordPress plugin by Daily Blog Tips. My Top Commentators is a plugin that allows a blogger to discover who are the most active commentators on his blog (via the WordPress Dashboard, so other people will not see this information). You can also use different time frames for this, so you can see the top commentators:
Today
Yesterday
Last 7 days
This month
Last month
This year
Last year
Secondly, you can also see all the comments left by a single person, and edit or delete them via the plugin interface.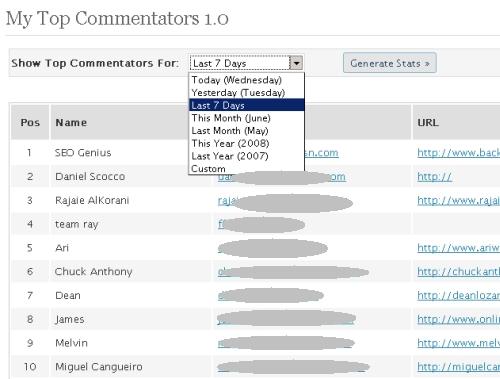 So, what are the possible uses for the plugin? Here are some ideas:
You could check your top commentators every month to write a post thanking them
You could see the most active people on your blog to link more often to their articles
You could see people that support your blog, and email them to propose joint ventures or ask for feedback
People that comment often on your blog are your most loyal readers, so I thought that it would be useful to know exactly who they are.
I would like to thank Pawan Agrawal from MaxBlogPress that coded the plugin specially for Daily Blog Tips. He has more outstanding plugins on his site so check it out.
Installation Guide:
Unzip the file
Upload the whole MyTopCommentators folder to your Plugins folder via FTP
Inside the Plugins section of your WordPress control panel activate the plugin
Under the Dashboard click on My Top Commentators, and use at will
Browse all articles on the WordPress category
109 Responses to "My Top Commentators WordPress Plugin"
SEO writer

[…]My Top Commentators – это плагин позволяющий блоггеру следить за самыми активными комментаторами своего блога[…]

Zaheer

Very useful plugin. I liked the idea that only the admin can see this info through the Dashboard.

autworld

Great idea!

Forumistan

Very nice. Commenting is very important in blogging. We should see the top commentators in the blog.

Pras

Good one. but, it could have been much better if there was an option to show the list on the sidebar. I don't like to use a separate plugin for this.

Htoo Tay Zar

I like this plug in but I also wanna show my top commentators on sidebar. How can I do?

Susan

I think this is a great idea. I love the 'dashboard' idea.

Missy from G34 Media

Hi, Daniel:
I have not downloaded a plugin in weeks, because i feel they are slowing my blog down. There are loads of good wp plugins, such as this, but how many is too many?

Can you write a post on this subject. I run several blogs, and my main blog (Groovy Vegetarian) has quite a few plugins. I would like to know at what point or quantity, should one cease to add more plugins?

Let me know. Thanxs!

Trent

This is the beauty of working with wordpress… the brilliance of other people can have a direct impact on how you grow your business to be more efficient and effective.

Michael

This is a great idea, the top commentators widget does nothing more then encourage spam, but with this plugin you could email the people who comment the most to thank them for it.

Hussein

I have now this plugin running on my dashboard. And I can say that it's quite good. 😀

Brian Auer

A nice feature would be a widget or code to display the top commentators in a sidebar or something (just like the "other" plugin). I've been using that for some time now and I don't find that my readers spam my blog to get in that list. In fact, some of my top commentators leave the lengthiest and most thoughtful comments.

PC

Great work. I think it is very useful.

team ray

this is a good feature

the other top commentator plugin encourage spamming sometimes

Keith Dsouza

Nice plugin I must say quite interesting from a statistical perspective

Assad

I agree with your point on utilizing this plugin is much safer than the "Top Commentators" one that people use on the sidebar. I often see spam comments by the commentators as their sick effort to attract more clicks.

Kudos to DailyBlogTips. I'll have it installed later.

Gary Jones :: BlueFur.com

Great plugin. I have been looking for one like this for awhile.

SEO Genius

That is a great plug in, i really wish i used wordpress templates now.

WordPress seems to be evolving and becoming more and more useful, i might have to try some of their templates.

It is a great idea to thank the most loyal readers i do admit the email i received from the website thanking me for commenting is a very good way of keeping me and others as daily readers of the blog. That along with the good range of articles you currently have on here.

Keep it up Daniel.

Hussein

Oops. This is what I'm looking for 😀 Downloaded! And installing… Thanks for this cool plugin.

Daniel Scocco

@Daniel Haririson, will do.

@Jacky, needs some time for that to change 🙂 .

Daniel Harrison

You could definitely do with a page/link that links to all of the DBT plugins that are available. I couldn't find the other 2!

Dan

Sharon Hurley Hall

I've been wanting something like this for ages, so I'll be testing it out. In fact, I've already downloaded it. 🙂

Daniel Scocco

@Satish, you can try to talk with people that code plugins to see if they are willing to do it, or go to elance.com or rentacoder.com and hire someone for the job.

Jacky Supit

nice work.
*still can see those emails here on feed readers lol*

SATISH

oki..Satisfied.Giving it a try!

And I too have some good idea if plugins, but don't know how to code it!
So, can you please advice me, where should I go with my ideas, to get a plugin constructed(coded) ?

Rajaie AlKorani

In that case, I think I should give it a try 🙂

Daniel Scocco

Ops, doing that.

Daniel Scocco

Rajaie, I think this plugin is much safer then the "Top Commentators" one that people use on the sidebar.

I might do a post once in a while thanking my top commentators, but I won't do it every month or so, so people will hardly be influenced by that to leave more comments I think.

With this plugin the owner remains in control.

Rajaie AlKorani

*Just Noticed Something*
I think that it would be wise to blur out the commenter's email in the screenshot. Some of them might not like their emails being show publicly.

Rajaie AlKorani

Nice work, the only problem is that people might start spamming the comments section to get a link to their blog.

Are you going to start using it on your blog?
Comments are closed.